The Carol Bike 2.0 is like no exercise bike we've tried before, capable of improving cardiorespiratory fitness and crushing calories in less than 10 minutes through its revolutionary REHIT workouts and AI-powered magnetic resistance. It's not for those who want to luxuriate in their workouts, but these credentials do make it a great option for anyone who struggles to find time for exercise.
Pros
+

Offers effective workouts in less than 10 minutes

+

Wealth of metrics provided post-workout

+

Sleek, sturdy frame
Cons
-

Workout graphics are data-driven rather than bright or engaging

-

No follow-along video workouts

-

Science is limited around "REHIT" USP
Why you can trust Live Science Our expert reviewers spend hours testing and comparing products and services so you can choose the best ones for you. Find out more about how we test.
Top-end exercise bikes tend to look, feel and perform in much the same way as the (admittedly, very good) Peloton Bike. Not the Carol Bike 2.0, however.
Specifications
Dimensions: 46 inch x 22 inch
Weight: 120 pounds
Max user weight: 330 pounds/150 kilograms
Display: 11 inch touchscreen
Resistance: AI-powered magnetic resistance adjusts to performance
Workouts: Six available, including three varieties of REHIT
Pedals: Dual-sided toe cage and SPD click pedals
While the sleek frame and touchscreen remain, gone are the enthusiastic instructors and follow-along studio spin classes that have proved so popular in recent years. Instead, the Carol Bike 2.0 takes a completely different route, promising the "shortest, most effective workouts — backed by science".
We knew we had to put this heady claim to the test, and after spending hours in the saddle, we came away impressed, hence its addition to our roundup of the best exercise bikes. Read on to find out how it won over our fitness writer.
Set up and usability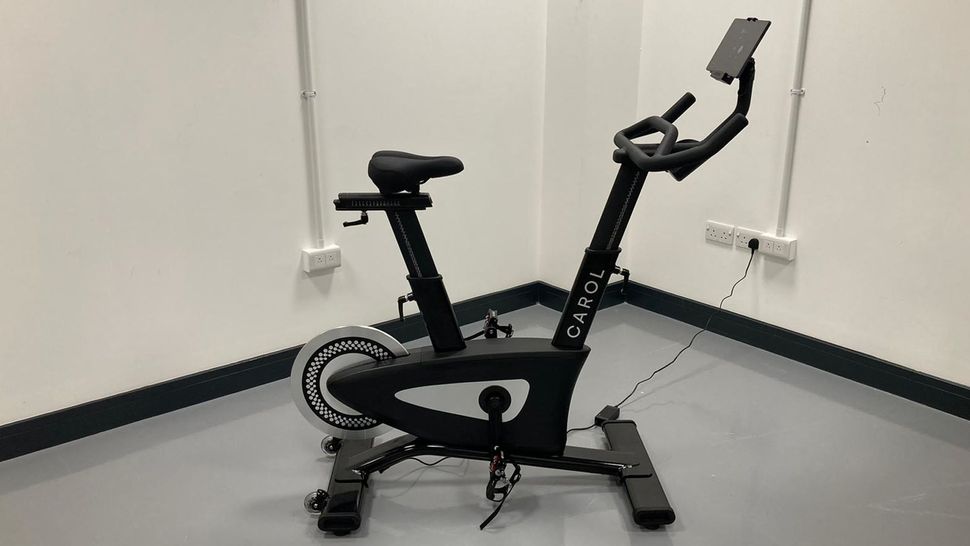 Set up and usability score: 5/5
The set-up of the Carol Bike was incredibly straightforward. It was delivered as a complete unit, so there was no messing about with bolts, screws and wrenches — it arrived ready to ride.
After the usual sign-up process to the app via an intuitive touchscreen, we were met with a clean, simple homepage. This, again, scored the Carol Bike bonus usability points because, rather than having to navigate the giant libraries of the Peloton, Echelon or iFit apps, we only had to choose from six workout options.
Each one is signified by an oblong button. All you have to do is tap the workout you want, and away you go.
Design and display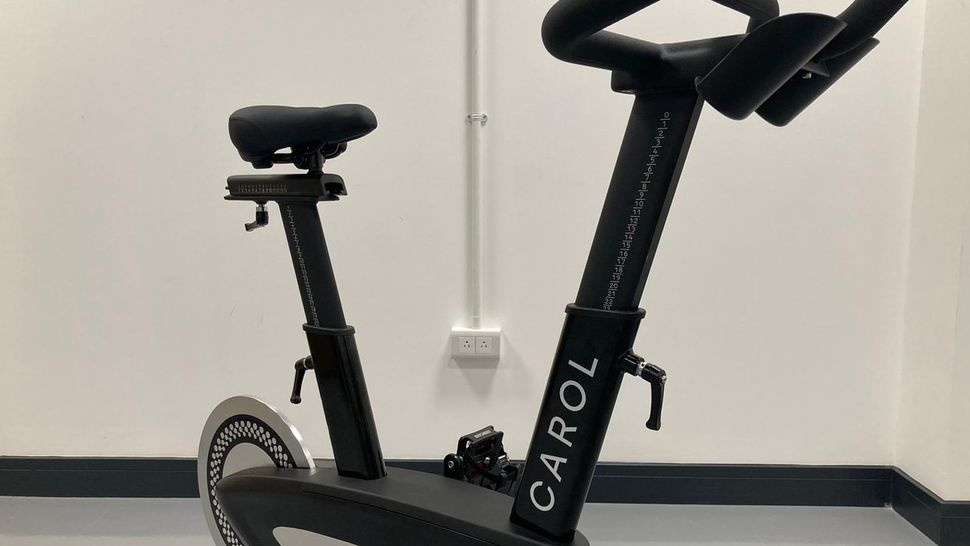 Design and display score: 3/5
The redesigned Carol Bike 2.0 is a sleek looking piece of equipment that would slip nicely into a modern city apartment. It's more polished than its predecessor, with a new five-grip position handlebar replacing the old straight one. This is something we appreciated, as the neutral grips set further forward really allow you to lean into the Carol Bike's signature all-out sprints.
We liked the slick black and silver finish too, finding the steel frame felt stable and robust, even when we pushed the pedal to the metal during sprints. The plastic casing around the bottom of the frame felt slightly cheaper, but still looked the part with a blended chrome and matte aesthetic.
Another design feature that earned this machine extra points was the adjustable handlebars and seat, which you can easily tinker with until you find a comfortable cycling position. We also appreciated the numbered marks on the side, allowing us to remember our favorite settings.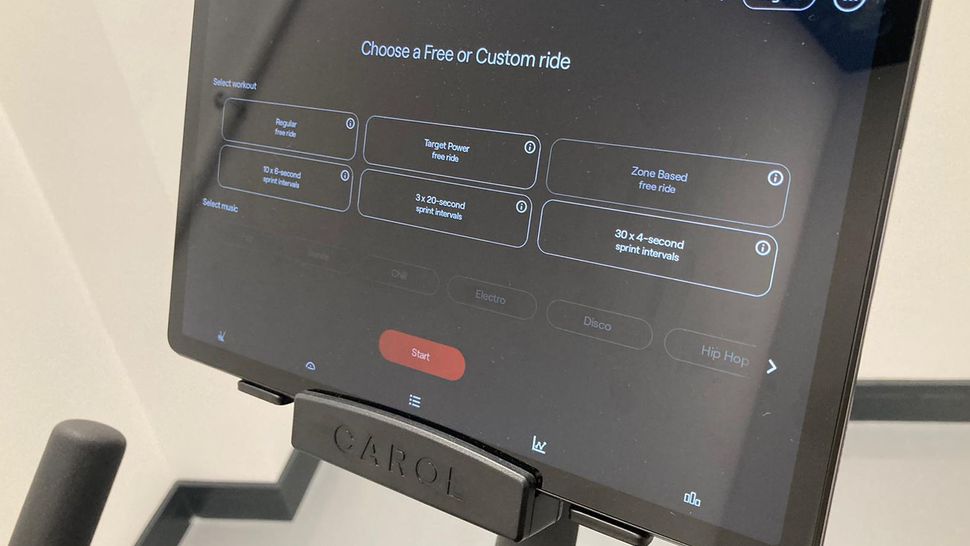 The display is the main area where the Carol Bike 2.0 lets itself down. The screen is visibly an Android tablet held in place by a holster extending from the handlebars. This works fine, but lacks the finesse of in-built screens like those seen in the Peloton Bike and Bowflex C7. At 11 inches, it's also on the small side.
This doesn't matter too much, however, as there isn't a lot to see. All workouts are displayed as a series of simple graphics, including a line graph to show your ride progress and three dials detailing your power, cadence and heart rate. This isn't going to win any design awards, and definitely isn't as engaging as the brightly lit studio settings or virtual rides on rivals' platforms, but it does what it needs to for the workouts provided.
Features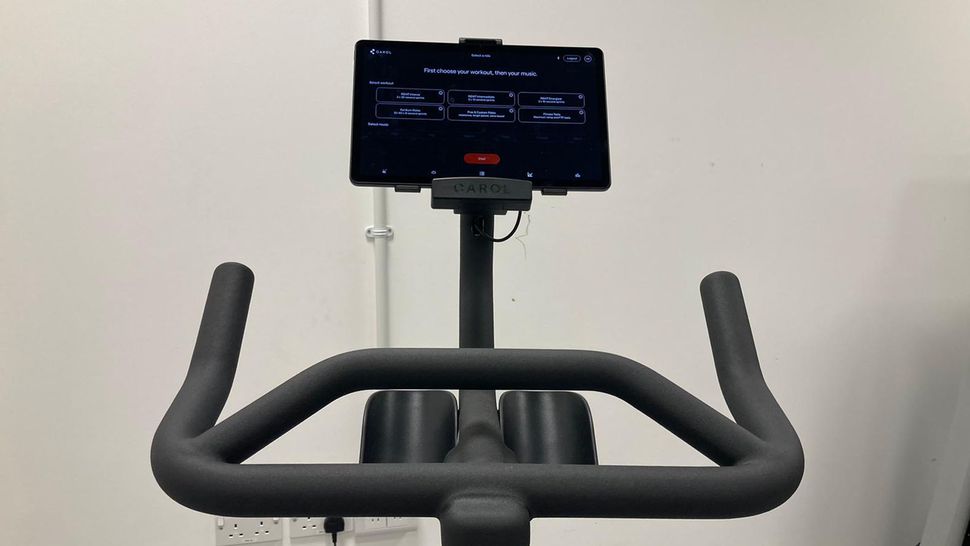 The Carol Bike 2.0 has a sturdy steel frame and 11 inch touchscreen, as well as an adjustable five-grip position handlebar and seat that can be moved up, down, forwards and backwards to find an optimum riding position.
You'll also receive a chest-worn heart rate monitor with your purchase. This is different from the heart rate monitor of the original Carol Bike, which was integrated into the handlebars, but it connected to the machine quickly and was great for tracking the intensity of our workouts, so we didn't mind the move.
These physical features are all well and good, but it was the digital elements of the Carol Bike that really caught our eye.
There are only six workout options on the homescreen, which is a dramatic departure from the swathes of classes available from the likes of Peloton, Echelon Fit, Bowflex's JRNY app or the popular iFit platform on bikes we've reviewed before.
Among these are three reduced exertion high-intensity interval training (or REHIT, the Carol Bike's secret weapon) options. These offer either two 20-second sprints, two 15-second sprints or two 10-second sprints embedded within a very slow five-nine minute ride.
During these, there is a stream of text at the top of your screen (which you can choose to be read aloud) explaining the method behind these workouts. You can also choose for your ride to be accompanied with several styles of music, or a story-like narration. This isn't what we expected from an exercise bike, but it mirrors the fight or flight feel of the sudden sprints well.
The other options include fat burn rides, where you choose to tackle anything from 30 to 60 8 second sprint intervals, free and custom rides, where you work off resistance, target power output or cardio heart rate zones, or you can take one of the Carol Bike's fitness tests.
Performance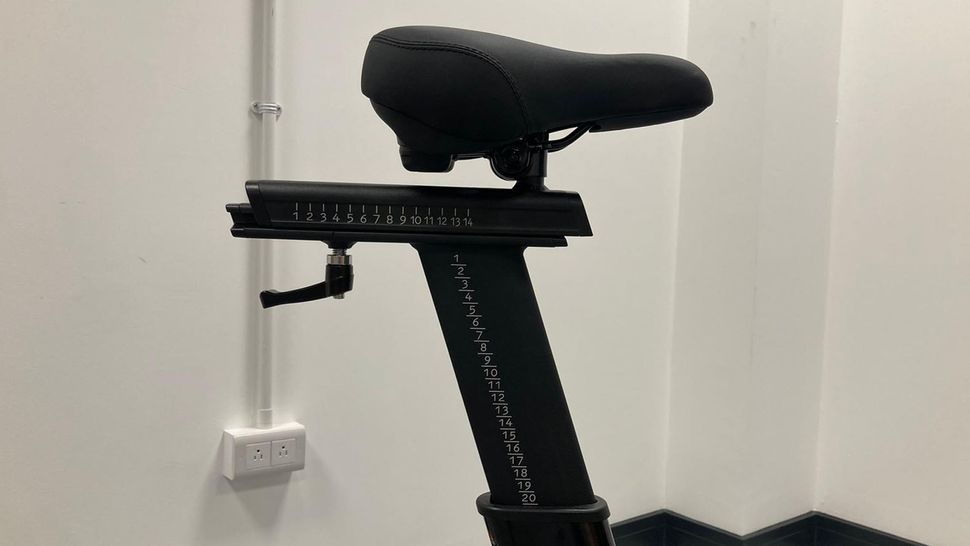 Physically, the Carol Bike 2.0 offers everything a good exercise bike should. The weighty flywheel moves smoothly and the AI-controlled magnetic resistance provides a challenge at high speeds with minimal juddering when you drop the pace.
The frame is sturdy and stable, so we felt confident giving our all during Carol's customary high-intensity sprints, while the adjustable seat allowed us to find a comfortable cycling position.
Touted as cushioned, the saddle felt a bit narrow and unforgiving for our liking, but you can easily remedy this by investing in a padded cover.
It was the Carol platform's performance that reality intrigued us though. It uses the REHIT (reduced exertion high-intensity interval training) principle to improve cardiovascular fitness and burn calories at a rapid rate — all you have to do is give your all for two 10-, 15- or 20-second sprints. These are broken up with three short, low-output recovery rides each lasting between one and three minutes, so REHIT workouts can be as short as five minutes.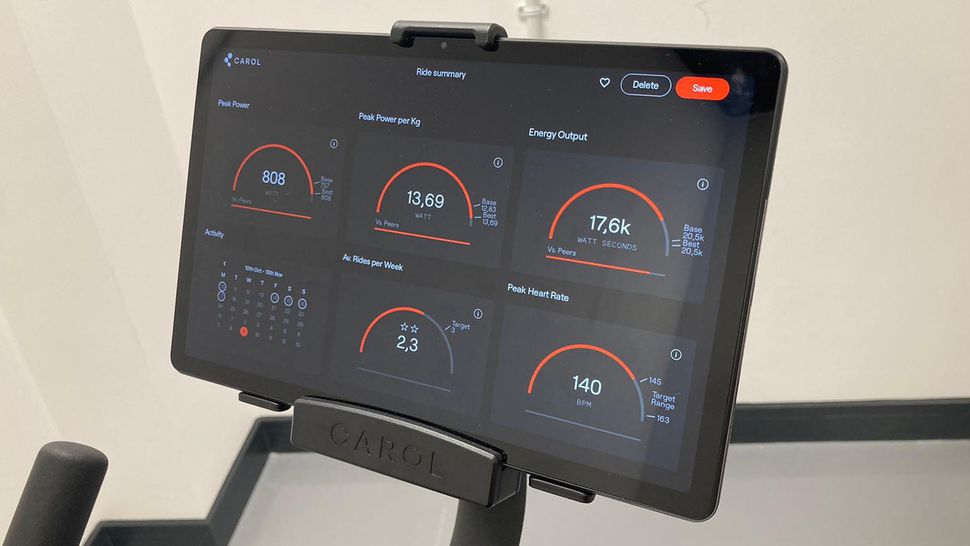 The brand claims they hold many of the same benefits as a 45-minute run. The science, while limited and in need of further study, leans towards agreeing with them.
A 2019 study published in the International Journal of Environmental Research and Public Health concluded that "eight weeks of REHIT was safe and elicited more potent, time-efficient improvements in cardiorespiratory fitness and cardiometabolic health when compared to moderate-intensity continuous training" (e.g. a steady-state run on one of the best treadmills).
We tried each of the three REHIT variations on offer and found they felt completely different to a standard spin session. We didn't break a sweat once and the relaxed pace held for most of the five-minute workout feels like a crawl. As a result, we walked away from each one feeling surprisingly fresh.
But, during the workout, Carol's prized AI-powered resistance made sure our legs had little left to give at the end of each sprint interval.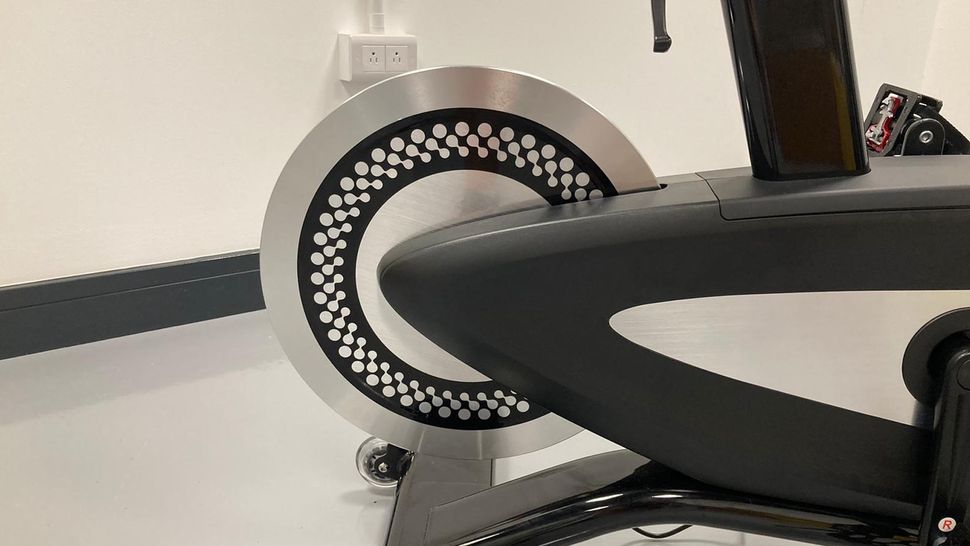 The fat burn rides felt more familiar, with a relentless barrage of eight-second sprints followed by a 12-second chaser of rest leaving our legs shaking and our brow sodden.
But are these short interval-style REHIT workouts effective? The myriad data presented on the touchscreen post-workout seemed to suggest so, detailing our heart rate, power and calorie burn. What was most noticeable was our reported elevated calorie burn after the workout had finished, otherwise known as excess post-exercise oxygen consumption (EPOC).
A 2021 study published by the International Journal of Research in Exercise Physiology reported that an intense, 8 minute 40 second REHIT session and a 15 minute fat burn workout on a Carol Bike burned fewer calories (43.4 and 95.1 respectively) than a 20-minute vigorous-intensity and a 30-minute moderate intensity treadmill session (158.5 and 182.5).
However, if you take into account EPOC, the Carol's fat burn ride topped the charts with a total energy expenditure of 281.2 calories to the second-placed vigorous treadmill session's 230.6. The sub-10 minute REHIT workout also registered a total of 131.1 calories burned — impressive given its short timeframe.
While we would need a lab of our own to verify the data provided by the Carol Bike 2.0, this evidence certainly suggests its unique approach to exercise is a time-efficient way to train, ideal for those who struggle to fit fitness into their hectic schedules.
Value for money
Value for money score: 2/5
The Carol Bike 2.0 is an impressive piece of equipment. However, as is often the way, it's also an expensive piece of kit. Its future-facing approach to fitness will cost you $2,595/£2,595. To access the app, you will also have to pay a $15/£15 per month membership fee.
From our tests, we'd say that what you're paying for here is the technology and unrivaled time-efficiency of this bike.
For the average exerciser, that might not be worth a four-figure fee, but it does represent good value for money if it fits the criteria you're looking for from an exercise bike: a machine that allows you to enjoy the benefits of exercise in a fraction of the time.
Should you buy the Carol Bike 2.0?
For a generally active person who enjoys exercising, the Carol Bike 2.0's elevated price tag probably isn't worth it. After all, it costs nothing to head outdoors for a run, while the cheapest gym memberships can be picked up from about $10 per month.
Yet, there are people for whom we think the bike does represent good value for money.
The revolutionary technology offers impressive health benefits in a fraction of the time of a normal workout, with Carol claiming the AI-controlled resistance is the only way to replicate the conditions for REHIT outside a lab. The bike also offers a low-impact way to exercise, saving your lower-body joints from the repeated impact of running or other field sports.
So, if you're looking to stay fit but find you're always short on time, or you're struggling to keep moving while recovering from injury, the Carol Bike 2.0 is a ready-made solution, enabling you to burn calories and boost your cardiorespiratory fitness in as little as five minutes.
Related products
The Carol Bike places practicality above general enjoyment, which is perfect for some people. But if you want a more immersive workout alongside a thriving global online community, the Peloton Bike is the machine for you.
The bike screams premium with its solid metal frame and matte black finish, offering a cinematic 21.5 in display that hosts an expansive platform of engaging follow-along workouts, from spin sessions to HIIT to yoga.
It's refreshing to see a quality exercise bike for less than $500, and that's exactly what you get with the Yosuda Indoor Stationary Cycling Bike.
Don't expect the bells and whistles of its pricier counterparts — there is no touchscreen or custom-built platform packed with workout classes. But the basic LCD monitor has all the metrics you need for a great workout, including calories, distance, time elapsed and speed, and you can always pop your phone in the holster to follow spin classes from third party apps.
How we tested the Carol Bike 2.0
We put the Carol Bike 2.0 through its paces at our testing center and quickly set about testing every workout it had to offer, from REHIT rides to the challenging fat burn sessions.
We quickly accumulated hours in the saddle, paying close attention to the set-up, usability, design, display and overall performance of the bike. We also observed physical factors such as stability and durability that can make or break an exercise bike.
After rigorous testing, we considered the cost of the Carol Bike 2.0 to deliver a final verdict on whether it represents good value for money, and who might benefit from buying it.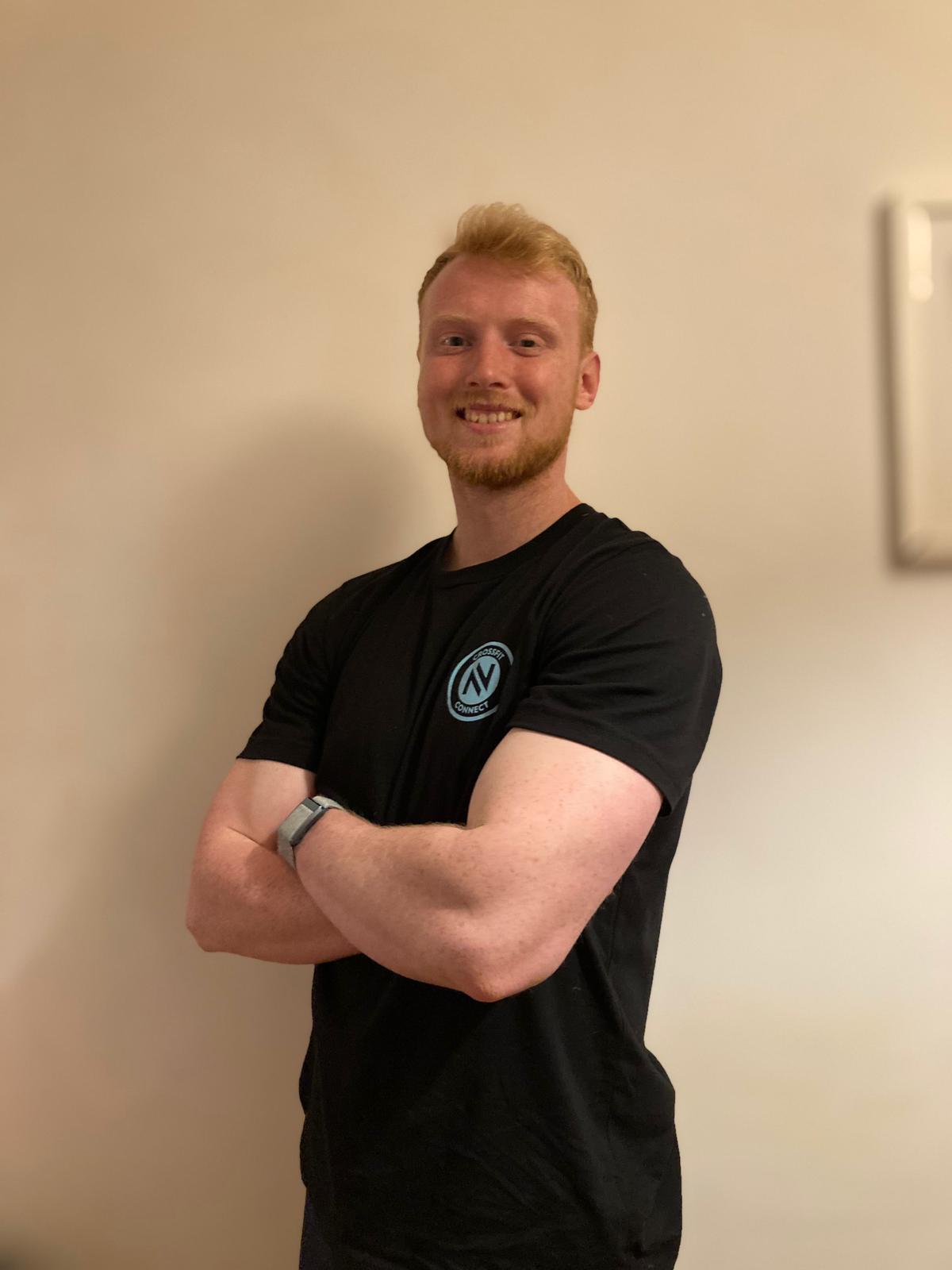 Harry Bullmore is a fitness writer covering everything from reviews to features for LiveScience, T3, TechRadar, Fit&Well and more. So, whether you're looking for a new fitness tracker or wondering how to shave seconds off your 5K PB, chances are he's written something to help you improve your training.
When not writing, he's most likely to be found experimenting with a wide variety of training methods in his home gym or trying to exhaust his ever-energetic puppy.
Prior to joining Future, Harry wrote health and fitness product reviews for publications including Men's Health, Women's Health and Runner's World. Before this, he spent three years as a news reporter with work in more than 70 national and regional newspapers.