'First Bank of Antimatter' Issues Anti-Money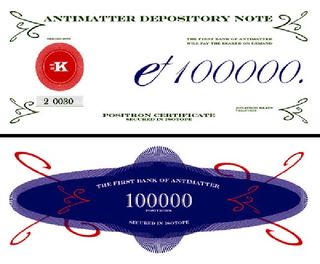 (Image credit: Jonathon Keats)
The First Bank of Antimatter will open on November 12 in San Francisco. This institution, with its own unique financial instruments, is the brainchild of conceptual artist Jonathon Keats. It will be backed by private Swiss funding.
"Economic equilibrium is upset by our unbalanced pursuit of material wealth," explains Mr. Keats. "My plan is to offset materialism with modern science, by exploiting the economic potential of antimatter, which is the physical opposite of anything made with atoms, from luxury condos to private jets."
The bank will serve as a hub for antimatter transactions worldwide, eventually financing the building of antimatter infrastructure and providing the public with a full range of investment opportunities. "But our first order of business will be printing money," says Mr. Keats. "Cash is the foundation of any economy, and an anti-economy is no exception."
The new currency will be issued in three convenient denominations, ranging from 10,000 positrons to 1,000,000 positrons. The anti-money will be backed by antimatter stored in the bank's own vaults. Owing to the unstable nature of antimatter in our matter-based economy, new antimatter will be produced continuously by the decay of the radioactive isotope potassium-40. The antimatter depository notes will trade initially at $10 to $1,000.
"We want our customers to be confident that the antimatter is available on demand, but we're advising clients to conduct transactions strictly in paper currency," says Mr. Keats, who has used his artistry to design the money in multiple colors including red, blue and green. "The paper is cotton rag, archival enough to survive economic armageddon" he promises. "It's an essential asset in any balanced portfolio. Antimatter is a natural haven for wealth when everything becomes worthless."
Jonathan Keats is a creative artist; like him, science fiction writers have also created their own fictional currencies. For example, Philip K. Dick used genetically unique truffle skins in his 1965 novel The Three Stigmata of Palmer Eldritch. More recently, writer Cory Doctorow created the idea of a currency based on Internet reputation called "whuffie."
I congratulate Mr. Keats on yet another fine project; those who live in San Francisco should be sure to go the Modernism Gallery at 685 Market Street from 5:30 to 8:00 PM on Thursday, November 12, 2009 for the public reception.
Don't miss Keats' earlier work, including universe kits (create your own!).
(This Science Fiction in the News story used with permission of Technovelgy.com)
Stay up to date on the latest science news by signing up for our Essentials newsletter.
Bill Christensen catalogues the inventions, technology and ideas of science fiction writers at his website, Technovelgy. He is a contributor to Live Science.