Landmark Climate Treaty Could Be in Jeopardy: Here's Why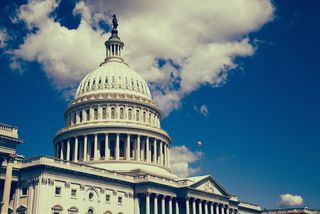 (Image credit: njene/Shutterstock)
The jubilation and relief that flowed from United Nations climate talks in Rwanda over the weekend may be short-lived in the U.S., where legal experts say the agreement risks being blocked by Republican senators.
Weary U.N. diplomats finalized a deal Saturday to phase out the use of most HFCs, which are chemicals used in refrigerators and air conditioners and by other industries. The agreement was designed to accelerate a shift to safer substitutes for some of the world's fastest growing and worst greenhouse gases.
"We're seeing an unparalleled momentum to tackle climate change," said Harjeet Singh, a Delhi-based climate change expert with the nonprofit ActionAid. "The willingness to act has resulted in an enthusiastic plucking of low hanging fruits. But in order to keep people and the planet safe, we need to reach much further."
The agreement was struck weeks before a more all-encompassing global climate deal, the Paris agreement takes legal force, following its hurried ratification in recent months by President Obama and other world leaders. Global temperatures have risen about 2 degrees Fahrenheit since the 1800s, with heat-trapping air pollution making heat waves, floods and destructive storms more likely and more severe.
The Paris agreement calls on countries to voluntarily reduce their overall climate impacts, focusing heavily on electricity, clean transportation and land clearing. The voluntary nature of the agreement was accepted by other countries in part to help Obama avoid the need for lawmaker approval prior to U.S. ratification of the pact.
Landmark Paris Climate Pact to Take Effect in 30 Days 3 Ways Trump Could Abandon the Paris Climate Pact World Unites, Delivers Hopeful Climate Deal
But American experts on international environmental law say ratifying the new HFC agreement would almost certainly require a two-thirds vote from the Senate. If enough countries formally agree to join, the new agreement could take effect in 2019.
"This is different from Paris, in that it requires ratification — and that's concerning to me," said Michael Wara, and expert on energy and environmental law at Stanford. "This is going to require getting Republicans to vote for it."
Although past generations of Republican leaders, including presidents Richard Nixon, Ronald Reagan and George Bush Sr., championed environmental laws, Republican presidential candidate Donald Trump and most Republican senators today oppose efforts to slow global warming.
Republicans currently control both chambers of Congress and they have been steadfast in their opposition to nearly all legislation involving climate change.
If Trump wins next month's election, his campaign statements on environmental issues strongly suggest he would not pursue American ratification of the HFC agreement. But even if Hillary Clinton wins, Republicans may yet be able to block America from entering into the agreement.
"I worry about her ability to have enough cocktails with enough Republican senators to get this over the hump," Wara said. "That's a heavy lift."
The U.S. State Department, which helped negotiate the HFC deal, is saying publicly that it hasn't figured out whether the new agreement will require Senate ratification.
If America failed to ratify the agreement, it's hard to predict how the global use of HFCs would be affected, though it may cause the leaders of other countries to balk at the idea of joining the pact, slowing momentum on climate action.
"We will need to examine the content and the form of the agreed amendment, as well as relevant practice, in order to determine the appropriate approval process," State Department spokeswoman Emily White said in an email on Monday.
The agreement reached in the Rwandan city of Kigali on Saturday would expand the kinds of gases covered by the Montreal Protocol. That was a 1987 agreement that helped save the ozone layer by nearly eradicating the use of chemicals called CFCs. Countries and companies often complied with the agreement by switching to HFCs, which are safe for the ozone layer but contribute to global warming.
As demand for air conditioners and fridges has been growing, including in rapidly developing countries, HFCs have been escaping into the atmosphere. The HFC pollution has been helping to heat the planet — further increasing demand for air conditioning.
By limiting the use of HFCs, the new Montreal Protocol amendments could reduce global warming by 1 degrees Fahrenheit by 2100. They could also drive investments in research and development, making alternative products more affordable.
"Prices are going to be dropping faster than people expect," said Durwood Zaelke of the nonprofit Institute for Governance & Sustainable Development.
The EPA is working to force American manufacturers to find climate-friendly alternatives to HFCs. The White House has been pressuring world leaders to update the Montreal Protocol to cover climate-changing gases since early in Obama's presidency.
In 2014, India dropped its opposition to using the Montreal Protocol for climate protections, formally embracing America's proposal, allowing the HFC deal to be struck over the weekend. Under the terms of the new agreement, developing countries like India and Pakistan could take longer to phase out their uses of HFCs than developed countries.
If America fails to join the new agreement, developing countries may also be dissuaded from joining, threatening to scuttle its potential success.
"The amendment would, in fact, require a two-thirds vote of the Senate for the U.S. to join," said University of Virginia professor John Setear, pointing to provisions in the Vienna Convention, a 1961 agreement dealing with treaties that underpins the Montreal Protocol.
"The president is going to have to go to the Senate or face a lot of political heat," Setear said. "This amendment has been sold as a climate change measure, not an ozone layer measure. The Senate hates climate change measures."
You May Also Like: The World's Poorest Most at Risk From Drought, Conflict September an Exclamation Point on String of Hot Months Sea Level Rise Upping Ante On 'Sunny Day' Floods
Editor's note: Global temperatures have risen about 2 degrees Fahrenheit since the 1800s, not 1 degree Fahrenheit as originally stated in this article.
Originally published on Climate Central.
Stay up to date on the latest science news by signing up for our Essentials newsletter.