Solar Eclipses and Thailand's Kings: A Curious History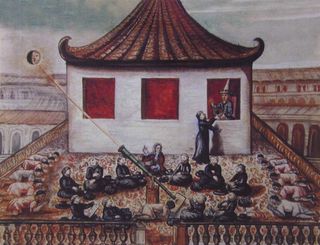 (Image credit: National Astronomical Research Institute of Thailand)
Skywatchers in Southeast Asia are being treated to a special celestial show today — a total solar eclipse that will darken the skies over Sumatra, Borneo and other islands in the Pacific. But perhaps one of the keenest watchers of today's eclipse is Visanu Euarchukiati, a Thai astronomy enthusiast and science historian.
This will be the third time Euarchukiati has witnessed an eclipse of the sun, and he has made his way to the Indonesian island of Belitung in the Java Sea, about midway between Sumatra and Borneo, for the occasion. That puts him right in the path of the moon's shadow for this eclipse, which occurs early Wednesday (March 9) local time (late Tuesday, March 8, EST).
As a historian, solar eclipses are of special interest to Euarchukiati, who has written a book as well as many articles and podcasts on the topic. At least twice in Thai history, the science of eclipses has played a curious part in the affairs of kings: first in April 1688, when King Narai viewed a solar eclipse from his palace at Lopburi in central Thailand, and then in August 1868, when King Mongkut led an international expedition to the southern village of Wa Ko to observe a solar eclipse — an event now known among astronomers as "The King of Siam's Eclipse," after the former name for Thailand. [Sun Shots: Amazing Eclipse Images]
The two kings had very different reasons for their interest in astronomy and eclipses, Euarchukiati said. For King Narai, who enjoyed diplomatic ties with the "Sun King," Louis XIV of France, the "new astronomy" taught by French Jesuit missionaries had important uses for time-keeping and map-making. (Louis XIV himself, after ordering France to be accurately measured with the latest astronomical techniques, grumbled that his astronomers had lost more of his territory than his generals.)
After hearing from visiting French missionaries about the Observatory at Beijing, which had been refitted by Jesuit astronomers for the emperor of China, Narai ordered an observatory built on the grounds of his palace at Lopburi (the ruins of which can be seen today), according to research presented in 2012 at the C41/ICHA Science Meetings at the IAU XXVIII General Assembly. It was equipped with the latest European technology, and in 1685, under the guidance of French astronomers, King Narai watched through a telescope an eclipse of the moon.
"Although he knew about eclipses from his court astronomers, this was probably the first time that he'd ever seen one taking place, the first time that anyone had ever shown him," Euarchukiati said.
On April 30, 1688, King Narai had his first chance to observe an eclipse of the sun at Lopburi, but it would also be his last. A Thai court painting from the time shows the king with the Thai and foreign guests at the observatory. The painting also shows a Thai nobleman named Phetracha watching the eclipse projected on a screen while crouched on his elbows and knees in the style of the court. Phetracha resented the king's friendships with foreigners, and may have feared that the king might convert to Christianity, according to historians in "Southeast Asia in the Early Modern Era" (Cornell University Press, 1993), edited by Anthony Reid. [A Demon Ate the Sun: How Solar Eclipses Inspired Superstition]
According to legend, a fortune teller had warned Phetracha to watch for a sign from heaven that he would become king, and it seems he took the eclipse as a premonition of his ascension: Just days later, he deposed Narai, crowned himself king, and either executed or ordered foreigners out of the kingdom.
The science of eclipse astronomy returned to Thailand around 150 years later, under King Mongkut of Siam (the monarch played by actor Yul Brynner in the 1956 movie "The King and I"). The real King Mongkut was much more scholarly than his movie portrayal, and his passion for astronomy arose from his dedication to Buddhism and his plans to reform the Siamese religious calendar, Euarchukiati said.
Mongkut had been a Buddhist monk for more than 20 years before becoming king, and he had studied European astronomy and mathematics alongside the traditional Siamese astronomy that was used to fix the dates of religious ceremonies, which was based on astronomical texts from India and the Bagan kingdom of Myanmar. After taking the throne, Mongkut criticized his court astronomers as old-fashioned and inaccurate, and set about to reform the calendar with the help of scientific astronomy.
For the solar eclipse on Aug. 18, 1868, King Mongkut invited foreign astronomers and important guests to the village of Wa Ko, near the southern port of Prachuap Khiri Khan, which his astronomical calculations had determined would be the best site for scientific observations of the event. Steamships ferried workers and supplies from the capital to build an observatory and residences for hundreds of guests and dignitaries, including almost the entire Thai court, senior French and British diplomats, and a French-led astronomical team. [Fiery Folklore: 5 Dazzling Sun Myths]
Mongkut's predications of the exact timing of the eclipse would be proof of his efforts to reform the Siamese calendar and astronomy — and his rebuke to his court astronomers. According to a report from a French diplomat who was present, the king proudly reported that the French astronomers had confirmed that his predictions were of greater accuracy than their own, says historian Thongchai Winichakul in his book "Siam Mapped". But for King Mongkut, as for King Narai, this first solar eclipse would also be his last; like many who journeyed to Wa Ko, Mongkut caught malaria and died in Bangkok a few weeks later.
When Euarchukiati gives public lectures about the history of astronomy in Thailand, people are most interested in the eclipse seen by King Mongkut, he said.
"Whenever I mention eclipses, everyone wants to talk about the eclipse at Wa Ko," Euarchukiati said.
The date of the 1868 eclipse —Aug.18 —is celebrated as National Science Day in Thailand, and Wa Ko is now a national park and the site of an observatory involved in astronomy public outreach. It's one of several observatories in Thailand hosting events to help members of the public view today's eclipse safely. From this location, people may see a partial eclipse, where between 40 percent and 60 percent of the sun's light will be blocked.
But for many, the event will bring to mind the story of King Mongkut's eclipse: "It's part of our national psyche," Euarchukiati said. "When we think of eclipses we think of Wa Ko."
Follow Tom Metcalfe on Twitter @globalbabel. Follow Live Science @livescience, Facebook & Google+. Original article on Live Science.
Stay up to date on the latest science news by signing up for our Essentials newsletter.
Tom Metcalfe is a freelance journalist and regular Live Science contributor who is based in London in the United Kingdom. Tom writes mainly about science, space, archaeology, the Earth and the oceans. He has also written for the BBC, NBC News, National Geographic, Scientific American, Air & Space, and many others.