The Cute and Complicated Science of Raising Twin Pandas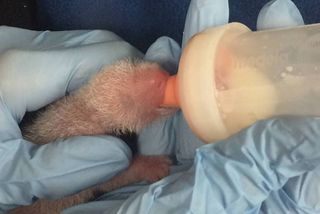 (Image credit: Shellie Pick, Smithsonian's National Zoo)
This story was updated at 12:08 p.m. EDT.
The little panda was cold, low energy and having trouble breathing before its heart stopped beating. But the zoo baby left an indelible mark on its caretakers and admirers before it died, just days after being born to mother Mei Xiang, along with its brother. During its short life, the twin rode atop a lacrosse stick, snuggled with its mother and fed from a bottle, the last of which may have led to its demise.
The final necropsy results aren't complete, but the butter-stick-size panda likely died when fluid got into its lungs and caused inflammation, a condition called aspiration pneumonia. Veterinarians are unsure whether the cub got the condition during a bottle-feeding blunder or from formula it regurgitated, said Dr. Donald Neiffer, the chief veterinarian at Smithsonian's National Zoo.
"Whether or not the baby aspirated some of that [regurgitated] material or whether he aspirated material earlier in the day, we don't know, and we will never know," Neiffer told Live Science. [See Photos of Mei Xiang's New Twin Panda Cubs]
Express delivery
The pink and fuzzy cubs are part of a delicate plan, orchestrated on an international level, to preserve the giant panda species and, one day, introduce captive-bred pandas back into the wild. Just 1,864 giant pandas (Ailuropoda melanoleuca) exist in the wild, according to a 2015 panda census. An additional 395 of the roly-poly fur balls live in breeding centers and zoos around the world, said Devin Murphy, a spokesperson for Smithsonian's National Zoo.
Wild panda numbers increased by about 17 percent in the past decade, according to the 2015 census. American zoos are doing their part to breed and raise the animals, all on loan from China. Right now, there are 13 giant pandas in U.S. zoos, including San Diego Zoo, Memphis Zoo, Zoo Atlanta and the National Zoo.
The new twins were born to Mei Xiang (may-SHONG), the star mother at the National Zoo. Mei Xiang, whose name means "beautiful fragrance," has three surviving offspring, including Tai Shan (born in 2005), who now lives in China; Bao Bao (born in 2013), who lives at the National Zoo; and the surviving panda twin, which will be named this autumn.
Each pregnancy is a carefully timed operation, as female pandas are only fertile for about two days a year. (Finding that fertile window can be tricky.) Mei Xiang didn't go into estrus in 2014, because she was still nursing Bao Bao. But this year, the zoo's endocrinologists began monitoring the panda's hormones, a glamorous job that consists of analyzing panda urine on a weekly basis, Murphy said.
Zookeepers have also done their part to encourage Mei Xiang to mate naturally with Tian Tian (t-YEN t-YEN), a male giant panda at the National Zoo, but "unfortunately, our pandas have never figured out how to successfully breed," said Laurie Thompson, a giant panda biologist at Smithsonian's National Zoo. "They both have positioning issues, so we always have had to artificially inseminate her."
So, as Mei Xiang's urinary estrogen levels spiked, zookeepers kept an express delivery of semen on hand from potential father Hui Hui (h-WEI h-WEI), a genetically diverse match, who hails from the Chinese Conservation and Research Center for the Giant Panda in Sichuan. And to increase the likelihood of a pregnancy, veterinarians supplemented the sample with fresh semen from Tian Tian. On April 26 and 27, veterinarians artificially inseminated Mei Xiang.
"Then, we waited," Murphy told Live Science. "Since pandas have delayed implantation, we just had to wait it out to see when she would start exhibiting behaviors consistent with a pregnancy or pseudopregnancy." During such false pregnancies, a female panda can snooze a lot, craft bamboo nests, and even cradle foods and toys as if they were real cubs — making it nearly impossible for zookeepers to know if there's a fetus in the panda's belly.
Then, on Aug. 19, an ultrasound revealed a fetus, and zoo staff began a 24-hour watch for a delivery. Shortly after, on the morning of Aug. 22, Mei Xiang went into labor. [In Photos: Giant Panda Mei Xiang Gives Birth]
Twin birth
The first cub popped out at 5:35 p.m. EDT.
"I believe there was a cheer and high-fiving," said Thompson, who was watching the panda cam with colleagues in another room.
Mei Xiang looked so calm that Thompson emailed the zoo's panda team, saying it didn't appear that a twin was on the way. But at 10:07 p.m., Mom surprised everyone by delivering a second cub.
"When they're born, they come out screaming, so there was a little, squealy thing on the ground, and she [Mei Xiang] had one that she was already holding," Thompson said. "She was figuring out how to pick up the second one without dropping the first one, and she wasn't really able to do it."
Immediately, the zookeepers began to follow a "twin protocol" used by panda experts in the United States and China. The caretakers dressed in scrubs, approached Mei Xiang's den and grabbed the squirmy cub that was on the ground — the larger of the twins.
Newborn cubs can't regulate their own temperature, so zookeepers put the cub in a heated and humidified incubator, said panda-keeper Juan Rodriguez. Then, they did a medical checkup, and put the cub they'd retrieved to bed in the incubator.
Newborn cubs feed every 2 hours, so the zookeepers prepared for a cub swap. They put the larger twin on the ground about 3 feet (1 meter) away from Mei Xiang. When she heard it crying, she put down the smaller twin, allowing zookeepers to whisk that cub away after Mei Xiang picked up its brother. Soon, the smaller twin was in the incubator and then getting a medical checkup.
"The little one was really feisty," Rodriguez said. "He tried to jump out of the scale area. We had to wrap him up like a burrito to get a good weight on him."
The panda team was tired, but the twins were doing well.
Lacrosse-stick solution
The swaps went without a hitch, until Aug. 24, when a curious thing happened: Whenever zookeepers would put a squealing cub on the ground near Mei Xiang, she wouldn't retrieve it. Instead, she would act as if the cub in her possession were crying, and tend to it.
"We had to change the process a little bit," Rodriguez told Live Science. "We had to bring the cub closer, so she could actually visualize it a little bit better and realize, 'Oh, this is the cub that's crying, not the one on me.'"
Zookeepers couldn't enter Mei Xiang's den, for safety reasons — after all, she's still an undomesticated, protective mamma bear, Rodriguez said. [Baby Panda Photos: See a Cub Growing Up]
Surprisingly, a lacrosse stick did the trick. The panda team covered the lacrosse-stick net with brown paper (so the cub's feet wouldn't get stuck in the netting) and held it out to Mei Xiang, so she could see the crying cub. Then, a member of the panda team stuck a hand into a hole in the den's wall, felt around for Mom's right armpit (where she usually tucked the cubs) and removed the other twin.
It was an unnerving situation.
"Your arm is in there with the bear," Rodriguez said.
Luckily, in her post-pregnancy haze, Mei Xiang was largely oblivious to the outside world, focusing most of her attention on the cub. Even so, each swap required three to four people, each of whom received training, Murphy said.
The lacrosse-stick method helped the swaps proceed, allowing the team to continue switching the cubs between the incubator and Mom, Rodriguez said.
Last days
Until the panda team developed the lacrosse-stick method, they couldn't always switch the twins on time. During one long stint in the incubator on Aug. 24, the little panda twin needed fluids and nutrients. So, the panda team fed it with a handheld bottle holding formula made from water, and human and puppy formula, Neiffer said.
"We noticed that he was having some trouble with the nipples, a little bit of troubling swallowing. The milk was pooling up in his throat," Neiffer said. "And we worry about aspiration of that material into the lungs. It's one of our biggest concerns."
Feeding baby animals is as challenging as it is gratifying, and usually involves two to three people, he said.
"With small mammals and birds, you can be the most talented and excellent bottle feeder, and you can have these [aspirations] occur," Neiffer said. "If the baby is literally sucking a drop of milk from a bottle and decides it's going to squirm or vocalize, and that drop falls into the trachea, even a small amount can start a pretty significant reaction."
To be cautious, the caretakers started the cub on antibiotics that target respiratory tissue. Neiffer described it as a catch-22 situation: "We're trying to get enough calories into cub to survive, but at the same time don't want to cause any problems," he said.
They attempted another twin swap that night, but it was not successful. On the way back to the incubator, the little cub regurgitated, and formula came out of his mouth, again raising concerns about aspiration.
Finally, at about 2 p.m. on Aug. 25, the zookeepers successfully swapped the cubs again. The little cub stayed with Mom until the next morning — its last day living on Earth. [Butter Balls: Photos of Playful Pandas]
The end
The panda team quickly realized the little twin had not increased in weight, appeared weaker and less vocal, and had possible respiratory issues.
The zookeepers placed the cub in the incubator, but "all through the morning until the baby died, we had a lot of challenges with keeping the baby's body temperature at a level that we felt was compatible with life," Neiffer said.
The treatment ramped up immediately: They gave the cub fluids (to prevent dehydration), a sugar called dextrose (to prevent low blood sugar), antibiotics (to target possible lung infections) and a drug that helps pull fluid off the chest. The caretakers used the incubator's nebulizer (which atomizes fluids into a breathable steam) to give the cub a saline solution that kept the animal's respiratory membranes moist, and a drug that helps break up mucus.
Sometimes the cub appeared to be improving, but it stopped breathing at about 1:50 p.m. Zoo staff began resuscitation efforts, but to no avail: The cub died at 2:05 p.m. on Aug. 26.
A postmortem X-ray showed that at least 70 percent of the cub's lung tissue was inflamed. Neiffer said he suspects the damage from the aspiration pneumonia happened quickly, probably within 24 to 48 hours of the aspiration event.
Aspiration pneumonia could technically happen to a cub while nursing on its mother, but Neiffer said he has never seen that happen in his career of about 20 years. A cub with a cleft palate might have a greater risk of aspirating its mother's milk, but the condition is typically associated with hand-raised babies, Neiffer said.
To avoid future deaths like this, the zoo plans to modify the nipple sizes and holes on the handheld bottles, and copy nipple designs that have been used by other institutions, Neiffer said.
The twin who lived
The larger, surviving twin is "doing gangbusters" Neiffer said. This cub now spends all of its time with its mother, unless she leaves to drink, defecate or urinate outside her den. In those rare moments, zookeepers sometimes sneak in and weigh the cub to make sure it's growing.
And it is. The little guy's waistline is widening, and it's now able to push itself up on all fours. It's moved from screaming vocalizations to grunting, as expected, Neiffer said. The black saddle patch on the cub's back is coming in, and admirers can catch a glimpse of the cute cub on the panda cam.
The other pandas at the zoo, Tian Tian and Bao Bao, haven't met the twin, but seemed to sense something was up after the birth, the zookeepers said. The animals stopped vocalizing as much, providing quiet to Mei Xiang as she nursed her young, the panda team said.
"We are very happy that the other baby seems to be doing great," Neiffer said. "And Mei Xiang is a great mother. We are hoping that we just get to watch him grow."
Editor's Note: This story was updated to better reflect when the surviving panda cub will be named. It may be named this autumn before it is 100 days old, according to the zoo.
Follow Laura Geggel on Twitter @LauraGeggel. Follow Live Science @livescience, Facebook & Google+. Original article on Live Science.
Stay up to date on the latest science news by signing up for our Essentials newsletter.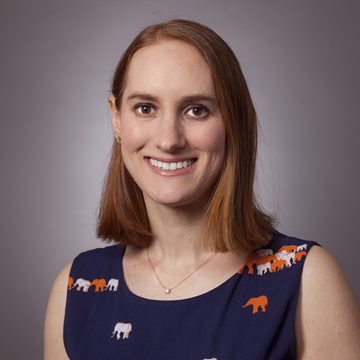 Laura is the archaeology and Life's Little Mysteries editor at Live Science. She also reports on general science, including paleontology. Her work has appeared in The New York Times, Scholastic, Popular Science and Spectrum, a site on autism research. She has won multiple awards from the Society of Professional Journalists and the Washington Newspaper Publishers Association for her reporting at a weekly newspaper near Seattle. Laura holds a bachelor's degree in English literature and psychology from Washington University in St. Louis and a master's degree in science writing from NYU.