Ancestor of Matrix Sentinel Robot Born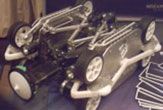 The Wizard, a remote-operated duct-inspecting robot, has won the the Best Engineering Award in Britain in the Knowledge Transfer Partnership 2007 awards. Designed by Breval, a Glasgow-based company, the robot works inside ventilation sytems - just like their scary remote grandchildren, the robotic Sentinels of the Matrix movies.
The Wizard robot has eight wheels, lights and cameras.
"We feel sure that the investment we have made in this direction will in the near future offer many of our existing and new clients a probable solution to ventilation ductwork problems, be they bacterial contamination, refurbishment or poor efficiency, this could be the answer" said Patrick McBride, contracts director of Breval.
When I saw this little guy, I naturally thought about alien robotic organisms inside the walls, having recently written a story about how Unwanted Life Forms Abound In Sick Spacecraft, in which micro-organisms were found to flourish inside the walls of the Mir space station. The Russian space program really could have used something like the Wizard on Mir.
The Wizard robots are the remote ancestors of the duct-diving robotic Sentinels of the Matrix movies. In the movies, the Sentinels restlessly search the ductwork underlying the Matrix infrastructure, searching for unwanted elements skulking therein (Keanu Reeves, Laurence Fishburne, Carrie-Anne Moss, et al).
What's inside your walls?
Robots are getting better at working in tight spaces - see these cool bots:
Snake-arm robots are going places they had never been before.
The first untethered robot used to inspect underground natural gas distribution pipelines.
A successful cable inspection robot must overcome many obstacles.
From Wizard the AC robot works magic on judges via Robot Gossip.
(This Science Fiction in the News story used with permission from Technovelgy.com - where science meets fiction .)
Stay up to date on the latest science news by signing up for our Essentials newsletter.
Bill Christensen catalogues the inventions, technology and ideas of science fiction writers at his website, Technovelgy. He is a contributor to Live Science.