Flu shot facts and side effects
What's in flu shots and how effective are they at fighting influenza this season?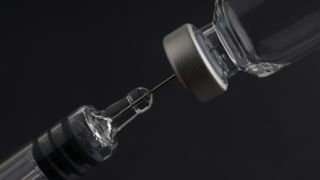 (Image credit: Mohd Yazid Zainal / EyeEm via Getty Images)
The seasonal flu shot is a yearly vaccine administered to protect against the flu, or influenza. In the United States, flu shots are recommended for everyone ages 6 months and older, according to the Centers for Disease Control and Prevention (CDC).
The flu can be a very serious illness, especially in young children, adults ages 65 and over, those with underlying health conditions and pregnant women. The flu shot is the best way to protect yourself and your family from the flu, according to the CDC.
Strains of the flu virus are constantly changing, so a new flu vaccine is made each year. Scientists make the vaccine before the flu season starts by predicting which flu strains are likely to be the most common during the upcoming season.
"Since the flu virus frequently drifts in its genetic composition, you have to reformulate the vaccine, and this is one of the reasons that people have to [get a flu shot] on an annual basis," Dr. William Schaffner, a preventive medicine and infectious disease expert at the Vanderbilt University School of Medicine in Tennessee told Live Science.
When should you get a flu shot?
Exactly when the flu season starts and ends is unpredictable, so health officials recommend that people get their flu shot in early fall, ideally by the end of October, according to the CDC. Flu activity typically peaks in February.
"We'd like to get as many people protected against influenza before influenza becomes active in communities across the country," Schaffner said.
Most flu vaccines are given before Thanksgiving, Schaffner said, but people can still get their shot throughout the winter months. Each season's flu shot expires in June of that year, but Schaffner said he would consider it "too late" to get a flu vaccine after March, unless a person is traveling to the Southern Hemisphere (where the flu season will then be starting).
After vaccination, it takes a person about two weeks to build up immunity against the flu.
People can visit the CDC's Vaccines.gov website to find flu shot locations.
Who should NOT get a flu vaccine?
Children younger than 6 months cannot get a flu shot. Those who have had a severe allergic reaction to a flu vaccine in the past should not get that type of flu shot again, and they should speak with their health care provider about whether they can receive another type of flu shot, according to the CDC.
Similarly, people who have had a life-threatening reaction to flu-vaccine ingredients besides egg proteins shouldn't get flu vaccines with those ingredients, and they should speak with their health care provider about whether there is a flu vaccine that's right for them, the CDC says. These other ingredients might include gelatin or antibiotics, which are added to some flu shots to prevent bacterial contamination during manufacturing. (Not all flu shots contain antibiotics.)
People with egg allergies can still receive any type of flu shot that's recommended for their age group, even if the flu shot is made with egg-based technology (and thus contains a small amount of egg protein), according to the CDC. Studies have found that people with egg allergies are very unlikely to experience a severe reaction to flu vaccines. People who've had a severe allergic reaction to eggs should get their flu shot under the supervision of a health care provider who can treat severe allergic reactions, the CDC says. In addition, several types of flu shots are egg-free, including recombinant flu vaccines and cell-based flu vaccines.
People with a history of Guillain-Barré syndrome (GBS), a rare, acute autoimmune disease that can cause paralysis, should talk with their doctor about whether they can get a flu vaccine. Some people with this condition cannot get a flu shot, according to the CDC. The cause of GBS is not known, but it is often linked with infections with viruses or bacteria; and in very rare cases, the condition has been linked with flu vaccination.
If you're not feeling well, you should talk to your doctor before getting a flu shot while you have symptoms. You should not get the flu vaccine if you have a high fever; you should wait until the fever is gone, according to Schaffner. However, if you have a minor illness, like a mild cold or a headache, you may still be able to get a flu shot.
Flu shot side effects
According to the CDC, mild side effects from the flu shot include soreness, redness or swelling at the injection site; low-grade fever; and aches. Only about 1% to 2% of people who get a flu shot will have fever as a side effect, Schaffner said. These mild effects should go away within a few days.
Rare but serious side effects can occur, including allergic reactions. Symptoms of serious side effects include difficulty breathing, swelling around the eyes or lips, hives, racing heart, dizziness and high fever, according to the CDC. If you experience serious side effects, you should seek medical care immediately. In addition, it's important to ask your health care provider to file a Vaccine Adverse Event Reporting System report either online or by calling VAERS at 1-800-822-7967, the CDC says.
The flu nasal spray vaccine, which is approved for healthy, non-pregnant people ages 2 to 49, can cause a slightly different set of side effects compared with other types of flu shots. For children, side effects of the flu nasal spray can include runny nose, wheezing, headache, vomiting, muscle aches and fever. For adults, side effects from the nasal spray might include runny nose, headache, sore throat and cough. These side effects last a short time compared with the actual flu illness, the CDC says.
How effective is the flu vaccine?
The effectiveness of the seasonal flu vaccine depends upon several factors, including how well the flu strains in the vaccine match the strains in circulation. Some studies show that when the strains in the vaccine are a good match with the ones that are circulating, vaccinated individuals are 40% to 60% less likely to visit the doctor for flu illness than people who aren't vaccinated, according to the CDC.
Flu vaccine effectiveness can also vary depending on the age and health status of the person being vaccinated. For example, older adults may have a weaker immune response to the H3N2 component of the flu vaccine (the component that protects against the H3N2 flu strain), according to the CDC.
Benefits of the flu vaccine
But even though flu vaccines don't offer 100% protection against illness, there are numerous benefits to vaccination. For example, several studies have found that individuals who do get sick with the flu develop less-severe symptoms if they are vaccinated. A 2021 study published in the journal Vaccine that reviewed data from multiple flu seasons found that, among adults who were hospitalized with the flu, those who were vaccinated were 26% less likely to be admitted to the intensive care unit (ICU), and 31% less likely to die from flu, compared with those who were unvaccinated, according to the CDC. And according to a 2018 study, among adults admitted to the ICU for flu between 2012 and 2015, vaccinated patients spent four fewer days in the hospital, on average, than those who were not vaccinated.
Related: Why is the flu shot less effective than other vaccines?
What kinds of flu shots are there?
Flu shots known as "quadrivalent vaccines" protect against four strains of flu virus. These include two influenza A strains H1N1 and H3N2 — and two influenza B strains — the lineages B/Yamagata and B/Victoria. All flu shots for the 2022-2023 flu season are quadrivalent, according to the CDC.
In addition to the standard-dose flu vaccine given through a needle, flu shots are available in several other forms. These include a high-dose version for people ages 65 and older; an "adjuvanted" version that contains an ingredient that helps boost the immune response to the vaccine for ages 65 and older; a "cell-based" version that's grown in animal cells rather than in hens' eggs and is approved for people ages 6 months and older; a "recombinant" vaccine that does not use the full influenza virus or chicken eggs in the production process and is approved for people ages 18 and older; and a nasal spray, which is approved for healthy people ages 2 to 49 but not for pregnant women or those with weakened immune systems.
There is also a needle-free flu shot, delivered by a so-called jet injector, which uses a high-pressure stream of fluid to inject the vaccine, the CDC says. It is approved for adults ages 18 to 64.
Starting in the 2022-2023 flu season, the CDC recommends that people ages 65 and older preferably get vaccinated with one of the three following flu vaccines: the high-dose flu vaccine, called Fluzone High-Dose Quadrivalent vaccine; the adjuvanted flu vaccine, called Fluad Quadrivalent adjuvanted flu vaccine; or the recombinant flu vaccine, called the Flublok Quadrivalent recombinant flu vaccine. This recommendation was made because recent studies suggest that these vaccines are potentially more effective for older adults compared with other versions of the flu shot, according to the CDC. Among these three vaccines, the CDC does not recommend one over the other, as they were all linked with increased protection for older adults. But if the recommended shots aren't available, older adults shouldn't wait to get vaccinated and should receive a standard-dose version of the shot instead.
What's in this year's flu vaccines?
The composition of the 2022-2023 flu shot is different from last season's flu shot. Specifically, one influenza A component of the flu shot (H3N2) and one influenza B component of the shot (Victoria lineage) were updated for the 2022-2023 season.
According to the CDC, the 2022-2023 quadrivalent egg-based flu shot contains the following strains of the flu virus:
A/Victoria/2570/2019 (H1N1) pdm09-like virus
A/Darwin/9/2021 (H3N2)-like virus (updated from last year's shot)
B/Austria/1359417/2021-like virus (B/Victoria lineage) (updated from last year's shot)
B/Phuket/3073/2013-like virus (B/Yamagata lineage)
Then, there are the two types of flu vaccines that don't involve eggs: cell-based and recombinant-based flu vaccines. In cell-based flu vaccines, the inactivated flu virus is grown in cultured cells from mammals rather than in hens' eggs. Recombinant flu vaccines are created synthetically: To make this type of vaccine, scientists combine a lab-made antigen specific to the flu virus with a baculovirus (this type infects only invertebrates, not humans).
For the 2022-2023 season, these two types of flu vaccines contain the same components as the egg-based vaccine except the H1N1 component, which in the cell- or recombinant-based flu vaccines will be A/Wisconsin/588/2019 (H1N1) pdm09-like virus, according to the CDC.
What's flu activity like this season?
As of mid-September, flu activity in most of the U.S. was low or minimal. But activity is already increasing in Texas, New Mexico and Georgia, which are currently reporting moderate levels of flu activity, and the District of Columbia, which is reporting high flu activity, according to the CDC.
Even if flu activity is currently low in your community, you shouldn't wait to get your flu shot. Flu activity could begin to increase at any time, and it takes people about two weeks after receiving their shot to develop antibodies against flu viruses, the CDC says.
Some health experts are warning that flu season could be bad this year, based on what was seen in the Southern Hemisphere, which experiences its flu season during the summer months.
"I do think it's going to be a worse year [for flu] than we've seen in the last few years," Dr. Bessey Geevarghese, a pediatric infectious disease physician at Northwestern Medicine Central DuPage Hospital in Illinois, told The New York Times. The end of most COVID-19 restrictions has opened the door for the return of flu. What's more, people are likely more susceptible to flu this year because they've had less exposure to the virus over the past two years during the pandemic, Geevarghese told the Times.
Flu shot and COVID-19: Your questions answered
How do I know if I have the flu or COVID-19?
Symptoms of COVID-19 and the flu can be similar, but your doctor can order a test to determine if you have COVID-19 or the flu. There are even tests that check for both flu viruses and SARS-CoV-2, the virus that causes COVID-19, at the same time.
Should I get a flu shot during the COVID-19 pandemic?
Yes, getting a flu shot every year is the best way to protect yourself and others from the flu. You can take precautions to protect yourself from COVID-19 while getting a flu shot, such as getting vaccinated against the coronavirus and wearing a mask.
Will a flu vaccine protect against COVID-19?
No, flu shots do not protect against SARS-CoV-2. (Separate vaccines against SARS-CoV-2 have been approved or authorized for emergency use in the U.S.) But flu shots do protect against strains of seasonal flu viruses and can reduce your risk of getting sick from the flu, as well as the risk of hospitalization and death from flu, according to the CDC.
Can I get a COVID-19 shot and flu shot at the same time?
Yes, people can get a flu vaccine and a COVID-19 vaccine — including the new COVID-19 bivalent booster shot — at the same time, according to the CDC. People tend to experience a similar set of side effects, and receive the same protection from diseases, whether vaccines are given alone or with other vaccines, according to the CDC. However, people may be slightly more likely to experience systemic side effects, such as fatigue and muscle aches, if they receive both shots at the same time. A study published July 15, 2022, in the journal JAMA found that people who got a flu shot and a COVID-19 booster shot at the same time were 8% to 11% more likely to have systemic side effects, compared with people who received just a COVID-19 booster shot. But these side effects tended to be mild and resolve quickly, according to the CDC.
If you haven't been vaccinated against COVID-19, you should get vaccinated as soon as possible to protect yourself from the disease and stay up to date with COVID-19 booster shots, and you should aim to get a flu shot by the end of October.
Myth #1: You get the flu from the flu shot.
"It's a myth that you can get flu from the flu vaccine," Schaffner said.
The viruses in the flu shot are killed, so people cannot get the flu from a flu vaccine. However, because it takes about two weeks for people to build up immunity after they get the flu vaccine, some people may catch the flu shortly after they've been vaccinated if they are exposed to the flu during this time period. Some people may also mistakenly attribute symptoms of a cold to the vaccine, Schaffner said.
The nasal spray vaccine contains a "live attenuated" flu virus, but the virus is weakened so that it cannot cause the flu. The viruses in the nasal spray can't replicate in the warm temperatures of the lungs and other parts in the body. However, because temperatures in the nose are colder, the virus causes a small infection in the nose. This infection does not cause symptoms in most people, but in some people, it causes symptoms such as runny nose and sore throat, Schaffner said. These symptoms are typically short-lived, the CDC says.
This local infection will prompt the body to make antibodies against the flu virus, Schaffner said. "That provides better protection against the real flu, which is, of course, a virus that can make you seriously ill," Schaffner said.
Myth #2: The flu vaccine isn't safe for pregnant women.
Studies show flu vaccines are safe for women in any stage of pregnancy, the CDC says. There are several reasons why it's important for pregnant women to get a flu shot, Schaffner said.
"Pregnant women, when they get influenza, have a tendency to get a more severe disease" and are at increased risk for complications and hospitalization from the disease, Schaffner said.
In addition, flu vaccination in pregnancy helps to protect the baby against flu during the first six months of life, when the baby is too young to receive a flu shot, Schaffner said. The mother "passes that protection on to her newborn baby," Schaffner said.
Related: Am I pregnant? 12 early signs of pregnancy
Myth #3: Antibiotics can fight the flu if you get it.
Antibiotics only kill bacteria, but the flu is caused by a virus. Therefore, antibiotics do not help people recover from the flu.
There are antiviral drugs that can fight flu infections, but they've only been shown to work when they're given within 48 hours of the start of symptoms. "Most people, by the time they go to the doctor, they're past the 48-hour mark," said Dr. Dennis Cunningham, system medical director of infection prevention at Henry Ford Health System in Detroit.
For patients hospitalized with severe flu, the drugs may help, he said. But they aren't a cure, and for most people who aren't hospitalized, these drugs may only cut down on the duration of the flu by a day or two.
Myth #4: You don't need to get the flu vaccine every year.
There are two reasons doctors recommend that people get the flu vaccine every year, Cunningham told Live Science.
For one, the strains of the flu virus that are circulating change from year to year. "It's like the common cold — there's more than one type of virus that causes the flu," and, in fact, there are hundreds of influenza viruses, he said. Each year, health officials identify the virus strains that are the most likely to cause illness during the upcoming flu season, according to the CDC.
Second, the immunity you develop after getting the shot wanes by the following year. "If you get your shot in August, you'll be safe through March, but those antibodies won't be for the next flu season," Cunningham said.
Myth #5: It contains thimerosal, which may be harmful.
Thimerosal, a preservative that contains mercury, has never been shown to be harmful, Cunningham said. The type of mercury linked with nervous system damage is called methyl mercury, he said. Concerns over levels of methyl mercury have led to recommendations that pregnant women avoid eating large amounts of certain types of fish, such as swordfish.
In contrast, thimerosal is an ethyl mercury compound that has antimicrobial properties. Still, because the preservative raised controversy, especially over a now-disproven link to autism, it was taken out of almost all U.S. vaccines starting in 2001, Cunningham said.
The injectable form of the flu vaccine is available to health care providers as large, multidose bottles and small vials carrying individual doses. A tiny amount of thimerosal is added to the multidose bottles to ensure that no bacteria will grow in the vaccine, Cunningham said. The individual-dose bottles contain no thimerosal.
The nasal spray form of the flu vaccine also contains no thimerosal, he noted.
Myth #6: The flu isn't serious.
"The flu is certainly a very serious disease," Cunningham said.
Every year, between 15 million and 60 million cases of the flu are reported in the U.S., Cunningham said. More than 200,000 people with the flu are admitted to hospitals yearly, and between 3,000 and 50,000 people in the U.S. die of the flu annually. During the 2019-2020 flu season (the last flu season with data available before the COVID-19 pandemic), the CDC estimated that 38 million Americans were infected with the flu and 22,000 people died from it.
One reason people may not perceive the flu as being serious is that cases of the "stomach flu" are mistaken for influenza virus infections. "True influenza is an infection of the lungs and respiratory tract," Cunningham said. Infected people may develop a high fever, body aches and nasal congestion, he said.
People with the stomach flu — which is commonly caused by a type of virus called a norovirus — have diarrhea, cramping and other gastrointestinal symptoms. Influenza does not typically cause such symptoms.
This article is for informational purposes only and is not meant to offer medical advice.
Editor's note: This article was last updated on Sept. 22, 2022. Live Science staff writer Nicoletta Lanese and contributor Rachael Rettner contributed to this report.
Originally published on Live Science.
Stay up to date on the latest science news by signing up for our Essentials newsletter.
Rachael is a Live Science contributor, and was a former channel editor and senior writer for Live Science between 2010 and 2022. She has a master's degree in journalism from New York University's Science, Health and Environmental Reporting Program. She also holds a B.S. in molecular biology and an M.S. in biology from the University of California, San Diego. Her work has appeared in Scienceline, The Washington Post and Scientific American.
Are the shots made in England. Seems useless to use eggs or other resources from another continent. Why not us local eggs and/or other local resources?

Reply

Seems to me that the flu vaccine can also enhance the flu, much like the COVID I vaccine did to the ferrets and mice. Whenever I got the vaccine, I'd get so sick (2-3 times/season) every time I got the vaccine, I'd have to go to the doctor for treatment - and at least once I ended up in the hospital with it. I was young and healthy. Does anyone else have a better explanation for why this happened? (I don't get the vaccine any more - and I don't get the flu any more) I found out later that people can even die from the flu they'd been vaccinated for. Everyone I know still gets the flu in spite of being vaccinated. They fortunately didn't end up with it 2-3 times/season like I did, but they still got it. Btw, I wouldn't call this "anecdotal" - it's EXPERIENTIAL. There are medical records to back it up.

Reply