North Carolina Tornado Outbreak Mapped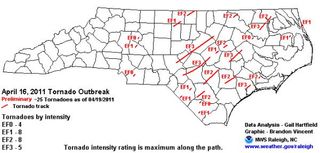 (Image credit: NWS.)
A new map shows how this past weekend's tornadoes carved through North Carolina during the deadliest tornado outbreak since 2008.
The map shows the preliminary paths of 25 tornadoes that touched down on April 16, a potential state record for the most tornadoes in one day. That number could change, however, as storm survey teams from the National Weather Service (NWS) are still analyzing the damage. Nearly 100 tornadoes were reported in North Carolina by storm spotters and others during the outbreak, but many of them are duplicate reports.
The outbreak could surpass North Carolina's record of 25 tornadoes, which struck on March 28, 1984, killing 42, according to the National Climatic Data Center. But the official word is still up to a week away.
"As of this morning, that was as close to the number as we could get," said Ryan Ellis, a meteorologist with the National Weather Service Office in Raleigh.
Unlike this month's earlier record tornado outbreak in Wisconsin , North Carolina's capital was not spared. One of the EF-3 twisters spawned by the storms ripped through 63 miles (101 kilometers) of Raleigh, killing five people. Storm spotters captured images of dangerous rain-wrapped tornadoes in the area.
The Raleigh office has finished their storm survey work, but NWS offices to the east are still assessing the damage, Ellis told OurAmazingPlanet.
The count so far includes eight tornadoes rated EF-2 and five rated EF-3 on the Enhanced-Fujita tornado damage scale. An EF-2 storm has winds up to 135 mph (217 kph), and EF-3 storms have winds up to 165 mph (265 kph).
The deadly three-day storm spawned more than 250 reported tornadoes from the Midwest to the South over the weekend, according to the Storm Prediction Center in Norman, Okla. But not all of these were single funnel clouds some were what you might call tornado twins and triplets .
North Carolina suffered 22 of the 45 reported fatalities during the weekend storms. That's the deadliest outbreak since the "Super Tuesday" storms in February 2008, when 57 people died in Dixie Alley , located in the southeastern extension of Tornado Alley.
Email OurAmazingPlanet staff writer Brett Israel at bisrael@techmedianetwork.com. Follow him on Twitter @btisrael.
Stay up to date on the latest science news by signing up for our Essentials newsletter.
Brett Israel was a staff writer for Live Science with a focus on environmental issues. He holds a bachelor's degree in biochemistry and molecular biology from The University of Georgia, a master's degree in journalism from New York University, and has studied doctorate-level biochemistry at Emory University.