New Wisconsin Tornado Record: 11 Twisters in One Day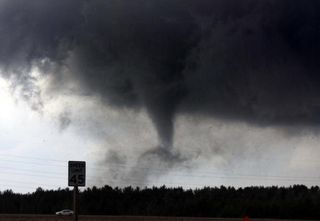 (Image credit: Samual L. Hall/NWS.)
In Wisconsin, April 10, 2011, is now in the state's record books as the day with the most tornadoes during the month of April.
The National Weather Service has confirmed that 11 tornadoes touched down on that day, besting the previous April record by one.
That new record could jump even higher. The NWS received 19 tornado reports from storm spotters and others during the outbreak. NWS storm-survey teams are still checking out those reports. [Infographic: Tornado! An Inside Look at Tornado Season ]
The single-day outbreak ranks the ninth greatest in Wisconsin history.
Major metropolitan areas like Madison and Milwaukee were spared by the April 10 twisters, but rural areas were hit hard. At least three strong tornadoes struck rural central and northern Wisconsin. Those storms included one that rated EF-3 and two that rated EF-2 on the Enhanced-Fujita tornado damage scale, with winds up to 140 mph (225 kph).
The tornado with the longest track was the EF-3, which scoured a path 22 miles long and 0.25 miles wide (35 kilometers by 0.4 km).
Forecasters had warned of a potential tornado outbreak almost a week in advance, which may have been a factor in the scarcity of injuries. (Precise tornado forecasts are nearly impossible .) No major injuries were reported during the outbreak, according to the nation's Storm Prediction Center in Norman, Okla.
Wisconsin averages about 21 tornadoes per year, so such a large single-day outbreak is unusual weather for the state. The other big April tornado outbreak was on April 27, 1984, when 10 tornadoes touched down. Six of them were considered strong. This included the violent Wales Tornado in Waukesha County, rated an F-4 on the old Fujita damage scale (similar to an EF-4 today).
The recent EF-3 and EF-2 tornadoes were the first strong tornadoes in 17 years for the month of April in Wisconsin as a whole and in central and southern Wisconsin specifically.
The day with the most tornadoes 27 occurred in August 2005.
Email OurAmazingPlanet staff writer Brett Israel at bisrael@techmedianetwork.com. Follow him on Twitter @btisrael.
Stay up to date on the latest science news by signing up for our Essentials newsletter.
Brett Israel was a staff writer for Live Science with a focus on environmental issues. He holds a bachelor's degree in biochemistry and molecular biology from The University of Georgia, a master's degree in journalism from New York University, and has studied doctorate-level biochemistry at Emory University.