Most kids love everything gross and slimy and with the best slime kit deals, you can't go wrong. Slime kits provide a simple yet engaging way to introduce basic concepts in chemistry, math and other fields of science. Kids will even learn how to follow a recipe to measure and mix certain ingredients to create something new ... and, of course, slimy! From dinosaur slime and zombie poop to confetti slime, unicorn slime and even lab-made boogers, you're sure to find a slime kit that fits the interests of any child in your life.
To help you find the perfect slime kit deal, Live Science has rounded up a range of science-infused, gooey activities in a box. These fun slime kits are on sale at Amazon: Playz Disgusting 'n Gross Slime Kit (opens in new tab), Elmer's Confetti Slime Kit (opens in new tab) — a great option for a beginner slime maker — and the Kiko Unicorn DIY Slime Making Kit (opens in new tab), so your child can customize their concoction.
And make sure to check out Live Science's guide to more science kit deals for 2021 (opens in new tab).
Today's best slime kit deals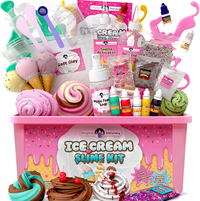 (opens in new tab)
Original Stationary Fluffy Slime Kit: was $34.90 now $32.95 at Amazon (opens in new tab)
This ice cream slime kit from Original Stationary is 8% off at Amazon right now. This kit is a fun one because of all the customization options and accessories. It provides everything kids need to practice principles of chemistry while stretching their imagination as they "serve" the colorful slime in pretend ice cream cones.
When shopping for a slime kit, be sure to consider the kit's difficulty level, because some kits are more advanced than others. For kids who are new to making slime, look for kits that require only three steps. Choose one of the more complex slime kits with extra ingredients for increased customization for the kids who are slime-making pros.
Make sure that the kit provides everything you need to make slime. Some slime kits come with all the ingredients and utensils, while other kits provide only the basic ingredients. So, if you're not thrilled about using your kitchen mixing bowl to make slime, check if the slime kit you choose comes with bowls and stirring utensils.
If you want more gifting options, we have guides to the best microscopes for kids and the best binoculars for kids, to help you fill those Holiday wishlists.