Build muscle at home for 58% less with this discounted Decathlon adjustable dumbbell
This beginner-friendly weight is a great way to start working out at home, and you can buy two for less the price of one before the deal ends.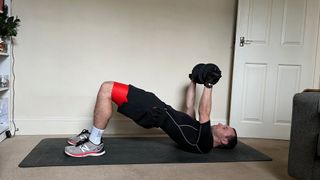 (Image credit: Future)
Adjustable dumbbells don't often come cheap; a premium set could easily set you back a few hundred dollars. But you don't have to break the bank if you're looking for some reliable weights to build muscle at home, as the Decathlon Adjustable Dumbbell is 58% off at Target right now.
As with many of the best adjustable dumbbells, you can easily change the weight either mid-set or gradually as you get stronger. The plates are made from iron, so they're durable enough to store outdoors or be packed away into the carry case.
There's a textured grip on the bar too, so you can focus on your form whether you use gloves or bare hands. However, they're sold as individual dumbbells, so you'll need to buy two to make up a pair. But at $50 for two, that brings them in at the same price as the entry-level Amazon Basics Adjustable Dumbbells.
Overview: The Decathlon Adjustable Dumbbell is a great beginner-friendly option for working out at home. The weight plates are held in place with quick-release collars, so you can adjust the load between 4.4lbs and 22lbs per dumbbell, allowing you to add resistance to bodyweight exercises like squats, or tackle muscle-building moves like biceps curls.
Price comparison: $25 at Target | $25 at Walmart | $25 at Decathlon
Price history: The Decathlon Adjustable Dumbbell isn't often on sale, and the last time we saw it down at this price was Black Friday 2021 at Walmart. Although all three stores (Target, Walmart, Decathlon) have it at the same price, Target claims it can deliver quicker.
Key features:
Type: Weight plates
Weight range: 4.4-22lbs
Size: 49.5 x 19 cm / 19.5 x 7.5 inches
Warranty: 5 years
Buy it if: This adjustable dumbbell is an affordable way to get into resistance training at home. The weight plates are simple to adjust, the collar keeps them tightly in place (so you won't have weights flying across the room), and the textured handle means you don't have to worry about the dumbbell slipping out of sweaty hands.
Don't buy it if: The 22lb maximum weight is good for beginners, but you'll need something heavier if you want to challenge your muscles as you get stronger. Plus, changing the plates is a manual process. If you want something a bit more convenient, then a set like the 55lb Flybird Adjustable Dumbbells is a better option.
Stay up to date on the latest science news by signing up for our Essentials newsletter.
James is a Staff Writer for Live Science's sister site, Fit&Well. Before joining Future in 2021, he was the Buyer's Guide Editor and a Senior Staff Writer for the consumer technology website MakeUseOf and has bylines at Blocks Decoded, Lifewire, and Happiness.
He regularly tests out fitness equipment, including smartwatches, headphones, and writes about affordable ways to improve your health and wellbeing. James studied Mechanical Engineering at the University of Surrey, which is where he learned about the fundamentals of thermodynamics, fluid mechanics, and material design.