Best adjustable dumbbells 2023: Space saving weights for your home gym
The best adjustable dumbbells can take your home workouts to the next level. We've tested the best brands to help you choose.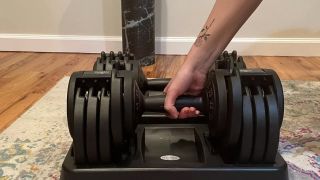 (Image credit: Brielle Diskin)
The best adjustable dumbbells are great for toning the body, building strength and getting lean – and because you can adjust the weights, they are well suited to beginners and pros. They have a space-saving design with lots of different weights in one dumbbell, making them a cost-effective fitness solution for home workouts in the long-term.
They tend to be more expensive upfront, because you are essentially buying a full set of dumbbells in just one bit of kit, but the advantage is you don't need to find somewhere to store all your weights, and it is very easy to move the resistance up or down. You simply click a button to increase or decrease the weight, with many of the best adjustable dumbbells having an impressive range from 5-50lbs (with the NordicTrack Select-A-Weight going up to a meaty 165 pounds).
It's recommended that American adults should do strength training at least twice a week, according to the US Department of Health and Human Services. Weight lifting has a ton of benefits, from improving overall fitness and cardiovascular health to blasting belly fat, burning calories and lowering the risk of obesity and other chronic illnesses. Regular strength work is also a great way to see changes in body composition, if fat loss is one of your health goals.
Combined with a cardio machine like a walking treadmill or one of the best rowing machines, having the best adjustable dumbbells makes it easy to stay fit from the comfort of your own home gym.
To help you choose the best adjustable dumbbells to suit your needs, our tester put a selection of models through their paces, looking at a bunch of different criteria. We considered the weight range, style, price, and smart features to help you find the right fit. Once we'd tried all the different adjustable dumbbells in a range of different types of workout, we made our verdict. Take a look at our detailed guide below. Happy shopping!
Best adjustable dumbbells: Tried and tested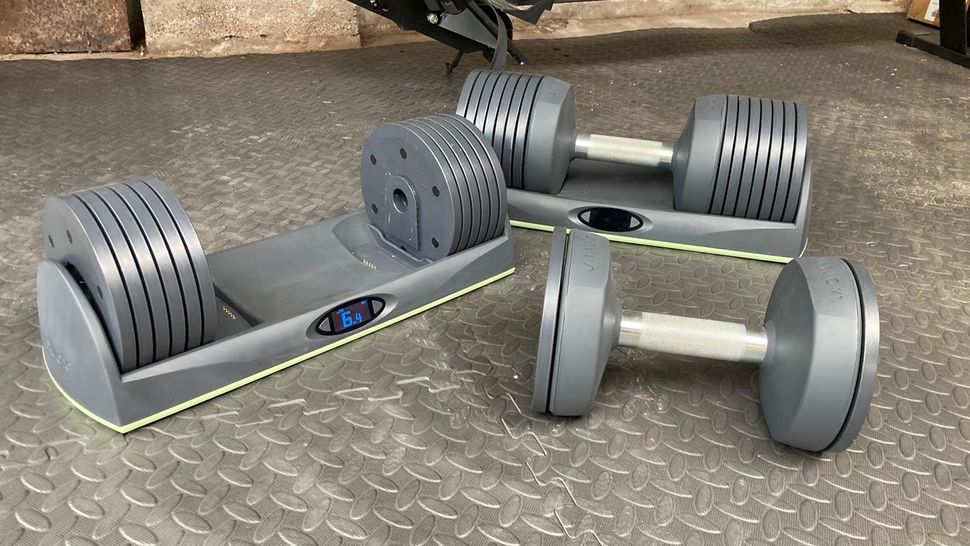 Best adjustable dumbbells overall
Reasons to buy
+
Sleek, sturdy design
+
Changing weight is effortless
+
Innovative features
Reasons to avoid
-
Need to be charged up to work
-
Screen on the dock can be hard to see at some angles
The Jaxjox DumbbellConnect is unlike any free weight we've ever tried before, improving on the long-serving fixed dumbbell in almost every way. They're sleek, stylish and smart, offering eight different weight options from 8lb to 50lb that you can switch between seamlessly with the touch of a button.
The way it does this is rather clever; as the only digital dumbbell on this list, it uses tech to save you time and effort. All you have to do is load a series of weight plates and base 8lb dumbbells into the docking stations that come with the product. Then, use the up and down buttons on the dock to choose an appropriate load for your next exercise, and a metal bar will extend from the central dumbbell to connect the necessary weight plates — far less time and labour intensive than spinning collars into place or fetching a second set of weights for your next exercise.
Through this clever mechanism, they can offer a range of weights that will can challenge beginner-intermediate exercisers, though advanced lifters may find them too light for compound exercises like squats and chest presses. What's more, they take up just 19.5in x 7.5in of floor space, so you can clean up your cluttered home workout space.
When testing these dumbbells, we loved how secure they felt when we were pressing them overhead, experiencing none of the rattling and jangling exhibited by some other models. We also liked the compact, rounded shape, which made the weights more maneuverable than some of their chunkier rivals. You will have to plug them into a mains outlet fairly regularly so the docking station has enough charge to change the weight, but this was the only real downside we came across.
What the users say
The Jaxjox DumbbellConnect Adjustable Dumbbells score 4.7 out of a possible five stars from 28 reviews left on the Jaxjox website. Users say they can replace a whole rack of dumbbells, and praise their sleek, compact design.
---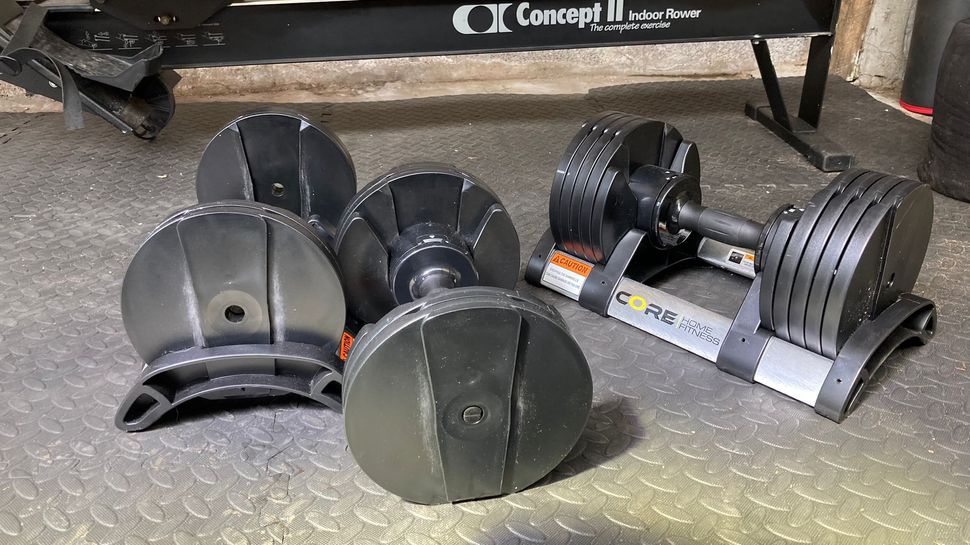 Best budget adjustable dumbbells
Reasons to buy
+
Clever yet simple method of changing weight
+
Neat design
+
10 different weight options
Reasons to avoid
-
Stiff to remove from holding dock
-
Large (5lb) jumps in weight
Providing quality at a lower cost, the Core Home Fitness Adjustable Dumbbells offer a more affordable alternative to the premium products on our roundup. But, despite their price, they still offer the functionality of the best adjustable dumbbells, with eight weight options from 5lb to 50lb (2.3kg-22.7kg). And the positives don't end there.
Our favorite feature was the nifty weight-changing mechanism embedded within the handle, similar to the Flybird pair. All you have to do is twist the central grip left or right and the load will increase or decrease by five pounds, with the current weight displayed in a small window on the handle. This is delightfully simple, takes just seconds, and means there's no need for a dial on either end of the dumbbells, making them a compact, comfortable shape.
Unfortunately, the Core Home Fitness Adjustable Dumbbells were let down by how tightly they fitted within their holding dock. With no segregated sections between the plates, they're crammed into a space that is slightly too small. So, particularly at higher weight settings, a considerable tug is needed to remove them from the dock, and we sometimes had to put our foot on the tray to stop it lifting up with the dumbbell.
However, once we'd unracked the weights, they were a joy to use. They aren't as long as other adjustable dumbbells, so they never felt unwieldy whatever exercise we were doing, and the plates felt secure with no wobbling or rattling.
It's for these reasons that we think these free weights are the best cheap adjustable dumbbells available.
What the users say
The Core Home Fitness Adjustable Dumbbell Set scores 4.6 out of five stars on Amazon, with more than 650 reviews left on the site. Buyers said they were simple to set-up and use, and were great for space-saving, though several people warned not to drop them from any height as this had caused their dumbbells to break.
---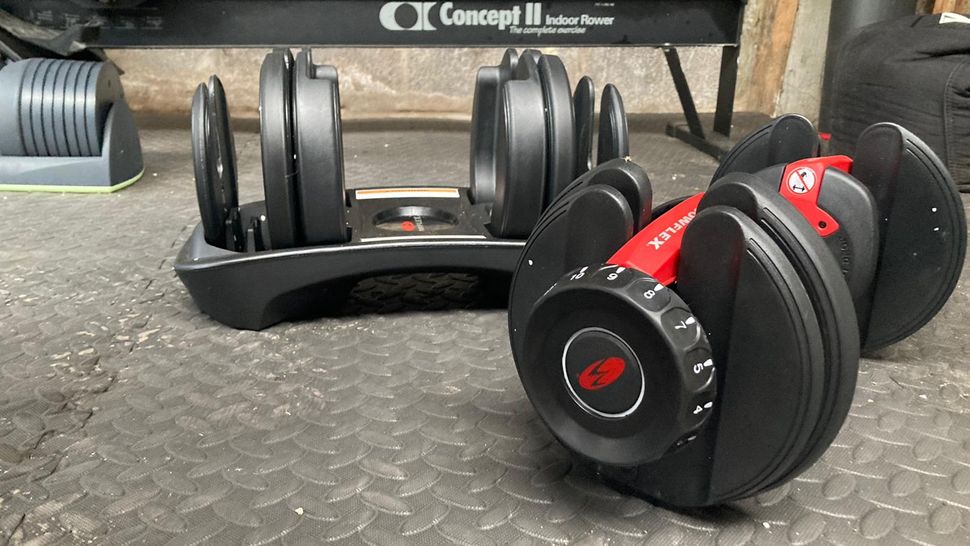 Best selectorized adjustable dumbbells
Reasons to buy
+
Smooth, quick weight changes
+
15 weight options
+
Secure and silent in use
Reasons to avoid
-
Plastic finish feels cheaper than metal alternatives
-
Holding the dumbbells can feel awkward in the goblet position
If the idea of a digital dumbbell is a step too far, don't worry. The Bowflex SelectTech 552 adjustable dumbbells offer an impressive 15 weight options (the joint highest number of all of those we tested) from 2kg to 24kg without bringing electricity into the equation.
Easy to use dials on either end of the dumbbells can be twisted to select your weight of choice, with small 2.5lb (1kg) jumps between most loads making these a great option for those new to strength training. These allow you to increase the load you're lifting gradually, so you can keep challenging yourself as you grow stronger and make use of the progressive overload training principle – a key pillar of resistance training.
The weight-changing mechanism is intuitive to use and takes just seconds, making it great for more advanced training protocols like supersets and dropsets. The dumbbells are effortless to remove and re-rack from their holding dock (something that certainly wasn't the case with all adjustable dumbbells we tried) and the plates felt secure when pressed overhead.
The plastic finish of the plates cheapens the overall aesthetic somewhat, and we found the way they attach for some weights can be tricky to hold in a goblet position. However, the overall product is still first class, with the small increments in weight and smooth performance making these adjustable dumbbells a top option for anyone looking for a versatile home workout tool.
What the users say
The Bowflex SelectTech 552 adjustable dumbbells have a rating of 4.8 out of five stars on the Bowflex website, with more than 6,700 reviews submitted.
---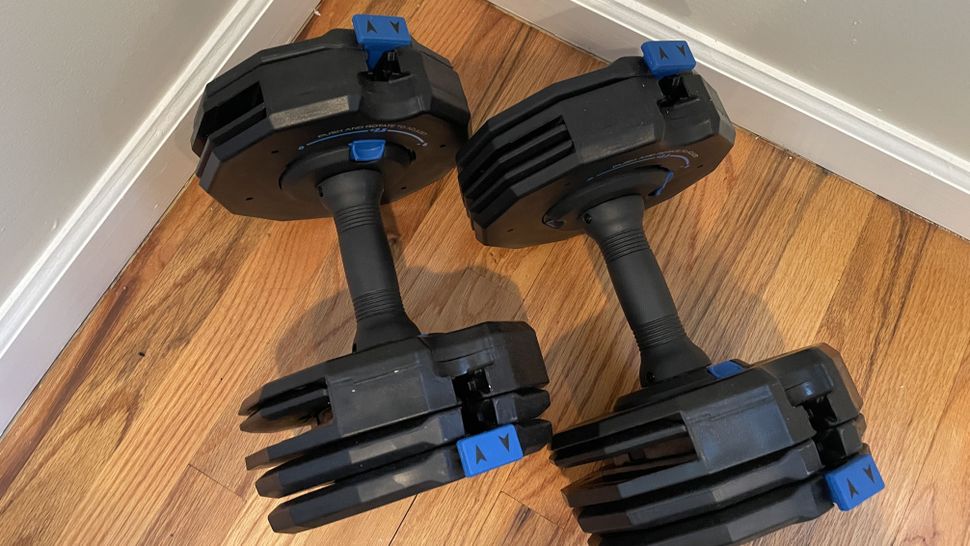 Best adjustable dumbbell for weight variety and spread
Specifications
Dimensions:
70" x 34" x 55"
Max user weight:
300lbs / 136kg
Tread belt size:
20" x 55"
Other features:
Dual grip heart rate monitoring, 30 inbuilt workouts, Bluetooth speakers, rapid-charge USB charging port, headphone jack, one-touch controls, fan, foldable
Reasons to buy
+
Very quiet
+
Affordable
Reasons to avoid
-
No touchscreen
-
Not suitable for taller / heavier people
Equalling the Bowflex SelectTech's 15 weight settings record, the NordicTrack Select-A-Weight adjustable dumbbells are another strong choice for those just starting their strength training journey.
Unlike any other pair we tested, they have two separate ways to switch the load you're lifting. Sliding pins on either end of the dumbbells allow you to add or remove pairs of larger 5.5lb plates to the central bar, while secondary sliding pins on the inside of the handles enable you to choose whether to add zero, one or two 2.5lb plates.
This provides more weight options and means you can increase the load you're lifting in smaller jumps – ideal for beginners looking to make incremental gains. However, we found it a bit fiddly having to tinker with up to four separate pins per dumbbell when you want to change the weight.
They're a bit bulky too, making them slightly unwieldy, and the plastic-laden design definitely didn't scream 'premium' to us.
Still, there was a lot to like. The octagonal shape means you can place them on the ground without worrying about them rolling away; the dumbbells felt sturdy and secure in our hands; and with your purchase you gain 30-days' access to the iFit app – an enormous resource of follow-along workout videos perfect for anyone needing exercise inspiration.
What the users say
The NordicTrack Select-A-Weight adjustable dumbbells have a rating of 4.6 out of a possible five stars on Amazon from more than 870 reviews. Buyers praised their 'great value' and said the weights are 'functional' and 'effective'.
---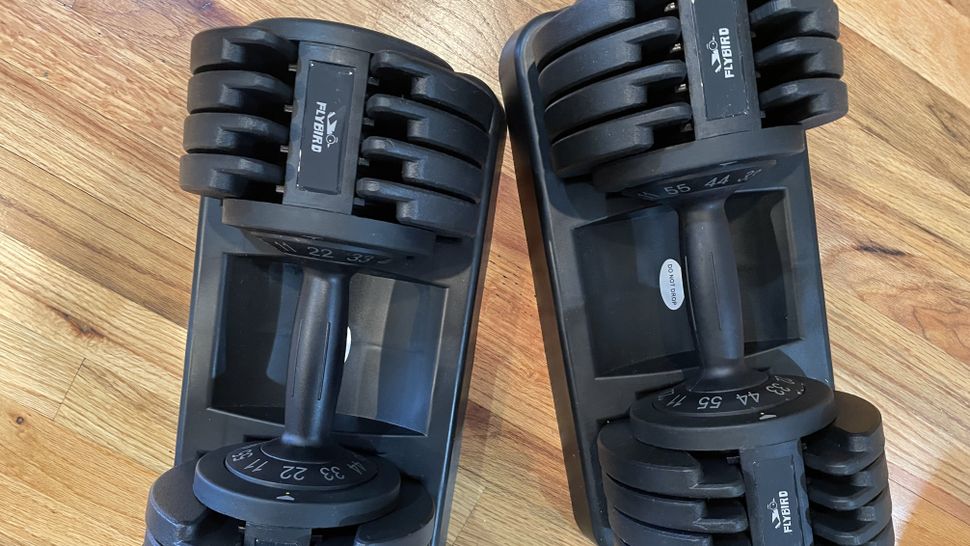 Best adjustable dumbbells with 'twist' changing mechanism
Reasons to buy
+
Easy to change the weight
+
Clean design
+
Compact
Reasons to avoid
-
Only five weight options
-
Round shape means weights can roll away
The Flybird's sleek and simple design makes them one of the best-looking adjustable dumbbells around, which is definitely a major plus for anyone like us, whose living room doubles up as their home workout space. This also made them ideal for fitting in snack-sized workouts while working from home, with the changeable weights rarely out of arm's reach.
The dumbbells we tested offered five weight settings, starting at 11lb (5kg) and working up to 55lb (25kg) in 11lb increments. These jumps are quite large for beginners – a bicep curl with an 11lb dumbbell will feel very different to one with 22lb on the bar – but the brand does offer a 25lb (11kg) option which has five weight options from 5lb, increasing by 5lb.
Rather than the dials featured on either end of most selectorized adjustable dumbbells, this Flybird set has a neat system whereby you only have to twist the central handle to change the weight. The different loads are clearly labeled on a buffer at either end of the handle, and the plates lock into place when you remove the dumbbell from its holding dock, ensuring a speedy and secure transition.
The plates didn't rattle during lifts (a problem we encountered with the Ativafit 55lb pair) and the tightly-packed design never felt cumbersome to lift. As long as you choose the best weight option for you, of the 55lb and 25lb variations available, then you can't go far wrong with this solid adjustable dumbbell.
Editor's note: We are currently in the process of reviewing these adjustable dumbbells and will update this guide accordingly when we have finished our testing process.
What the users say
The Flybird Adjustable Dumbbells score 3.8 out of five stars on Amazon. Those who have bought the product say they enjoy having the functionality of several dumbbell in a single free weight, though several say the weight plates have fallen off during their workouts. This was not something seen during our tests.
---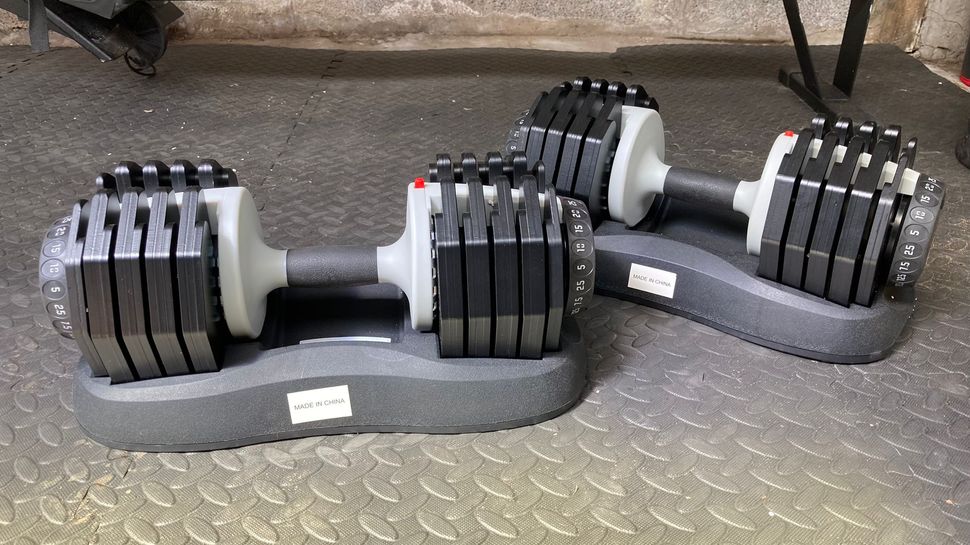 The best adjustable dumbbells for slow-paced exercise
Reasons to buy
+
10 weight settings from 5.5lb-55lb
+
Clean design
+
Security lock for safety
Reasons to avoid
-
Plates rattle during use
-
Plastic handle and holding dock feel cheap
-
Long, chunky shape feels unwieldy
The Ativafit 55lb Adjustable Dumbbell set does exactly what it sets out to, offering 10 weight options from 5.5lb to 55lb (2.5-25kg) in one space-savvy package. But, don't expect any bells, whistles or additional features that make it stand out from its counterparts.
During our tests, we found the Ativafit's shape allowed us to complete most exercises comfortably. Presses, rows and deadlifts presented no problems, but we found with movements like bicep curls, the greater length of these dumbbells could catch against our hips. They were also slightly awkward to hold in the goblet position (for exercises like squats and lunges).
Easy access dials on either end of the dumbbells make changing the weight an easy procedure, and a small red security button next to the handle makes sure the plates are attached securely before you start lifting. However, they jiggle and rattle slightly during most movements, which can not only be annoying, but also means slipping them back into their holding dock can be tricky as the plates don't align.
It's for this reason that we think these adjustable dumbbells are best-suited to someone looking to use them exclusively for slower tempo strength training. Although, if you want to add weight to your home HIIT workouts, we recommend looking elsewhere.
What the users say
The Ativafit Adjustable Dumbbells score 4.4 out of five stars on Amazon, from more than 4,900 reviews. Buyers say it is quick to switch weights and good value thanks to the wide range of weights (from 5.5lb to 55lb). Some reviewers said they had experienced problems with weights coming loose during workouts, but this is not something we encountered during testing.
How we test adjustable dumbbells
We put the best adjustable dumbbells to the test to see which pairs were worth their (considerable) weight in gold, and which sets didn't live up to our high standards.
We tested each pair over the course of a couple of weeks, adding them to our home gym set-up and using them for a series of workouts varying in type, duration and intensity. We also completed a standardized weights at home workout with each model to make sure they could stand up to the rigors of strength training staples such as supersets of bench press, bent over rows, shoulder press and deadlifts.
Each pair was reviewed based on its set up and ease of use, design, features and functionality, performance and value for money. Only products that provided several weight options in one compact package, allowed us to change the load with minimal effort, and felt comfortable and secure when lifted, earned a spot on our roundup of the best adjustable dumbbells.
---
Frequently asked questions
How do adjustable dumbbells work?
Different adjustable dumbbells will work in different ways, but most fall under one of three umbrellas; digital, dial and spinlock. These are named after the way they change weight, and we've endeavoured to explain each one in layman's terms below.
Digital: Digital dumbbells (like our winning Jaxjox Connect pair) are few and far between, but they make changing weight an effortless task. They come with docking stations which need to be plugged into a mains outlet and charged before using. Then all you have to do is load the dumbbells into the docking stations and use buttons on the base to change the load. An LED screen will show you the weight you are selecting, and when you settle on a figure a metal bar will automatically extend or retract from the weights to add or shed weight plates to the bar in a matter of seconds. Any plates that are surplus to requirements will be left in the docking station. These premium free weights don't come cheap, but they're usually sleek, well-made and packed with other innovative features.
Dial: These adjustable dumbbells do what they say on the tin, changing weight using dials either found on the end of the weights or within the handle. Like their digital counterparts, they usually have to be in a complementary docking station to work, then you can twist the dials to attach or release weight plates until you hit your desired load. Dial adjustable dumbbells are often more affordable than digital ones, but the best ones will still feel sturdy and be able to change weight in the blink of an eye.
Spinlock: The old faithful of the home workout world, a good pair of spinlock dumbbells will be straightforward, sturdy and dependable. They tend to come as a set with two grooved central bars, a selection of weight plates and four spinlock collars (hence the name). Changing the weight is more labor intensive than with digital and dial dumbbells, as you have to add the appropriate plates yourself before securing by spinning the collars into place on top. But, this simplicity usually means they are incredibly robust and long-lasting.
Are adjustable dumbbells worth it?
The upfront cost of an adjustable dumbbell set may seem steep at first, until you break it down.
Our winning dumbbell, the Jaxjox DumbbellConnect, offers eight different sets from 8lb to 50lb. Even a light set of fixed weight dumbbells is likely to set you back $20 or more, and this figure will only increase as the weights get heavier. So, an adjustable dumbbell with a wide range of weight options can actually be a shrewd purchase.
When you factor in their space-saving credentials and the time you might save changing weights between exercises then, if you can find a quality pair of adjustable dumbbells at a good price, we think you've got yourself a great deal.
We spoke to personal trainer and Bio Synergy ambassador, Wayne Gordon, who said: "With a traditional fixed weight dumbbell, you would need to buy a new set to increase the load. However, with an adjustable dumbbell, you simply need to switch it to the next highest weight setting and you're good to go. This is our favorite benefit of adjustable dumbbells, and is a great way to ensure your training doesn't stagnate or plateau."
Are adjustable dumbbells good?
We've been over the space-saving benefits of adjustable dumbbells, but there's also a key reason why they're an incredibly effective training tool: the progressive overload principle.
Progressive overload essentially means continually challenging your body so it adapts to new stimuli. When it comes to weight training, this involves completing more challenging lifts over time to build strength. So, for example, you may start using a pair of Jaxjox DumbbellConnect dumbbells for four sets of 12 bicep curls with 8lb in each hand. However, as you grow stronger, this will begin to feel easier. To continue to challenge yourself and progress in your training you need to increase the reps, switch to a more difficult exercise targeting the same muscle or up the weight.
"Adjustable dumbbells can provide you with a good and intense workout comparable to the gym, depending on your fitness goals, motivation/discipline and the exercises you perform," said Gordon. "Adjustable dumbbells allow you to change the weight load by adding or removing weight plates, giving you the flexibility to adjust the resistance according to your needs.
"With adjustable dumbbells, you can perform a wide range of exercises targeting different muscle groups. Compound exercises like squats, lunges, deadlifts, overhead presses, and rows can be effectively done with dumbbells," said Gordon. "Additionally, isolation exercises like bicep curls, tricep extensions, lateral raises, and chest flies can also be performed."
---
Our Expert
Wayne Gordon is a Jamaican-born actor and personal trainer. Famously known as Doom in the hit TV show, Gladiators, Wayne Gordon has also competed for his country in bobsleigh and has featured in a wealth of media publications. He is now a world leading trainer, recently working as the cast trainer on Hollywood movie WW84. He runs fitness company Pace & Go with his wife and business partner, Jenny Pacey.
Stay up to date on the latest science news by signing up for our Essentials newsletter.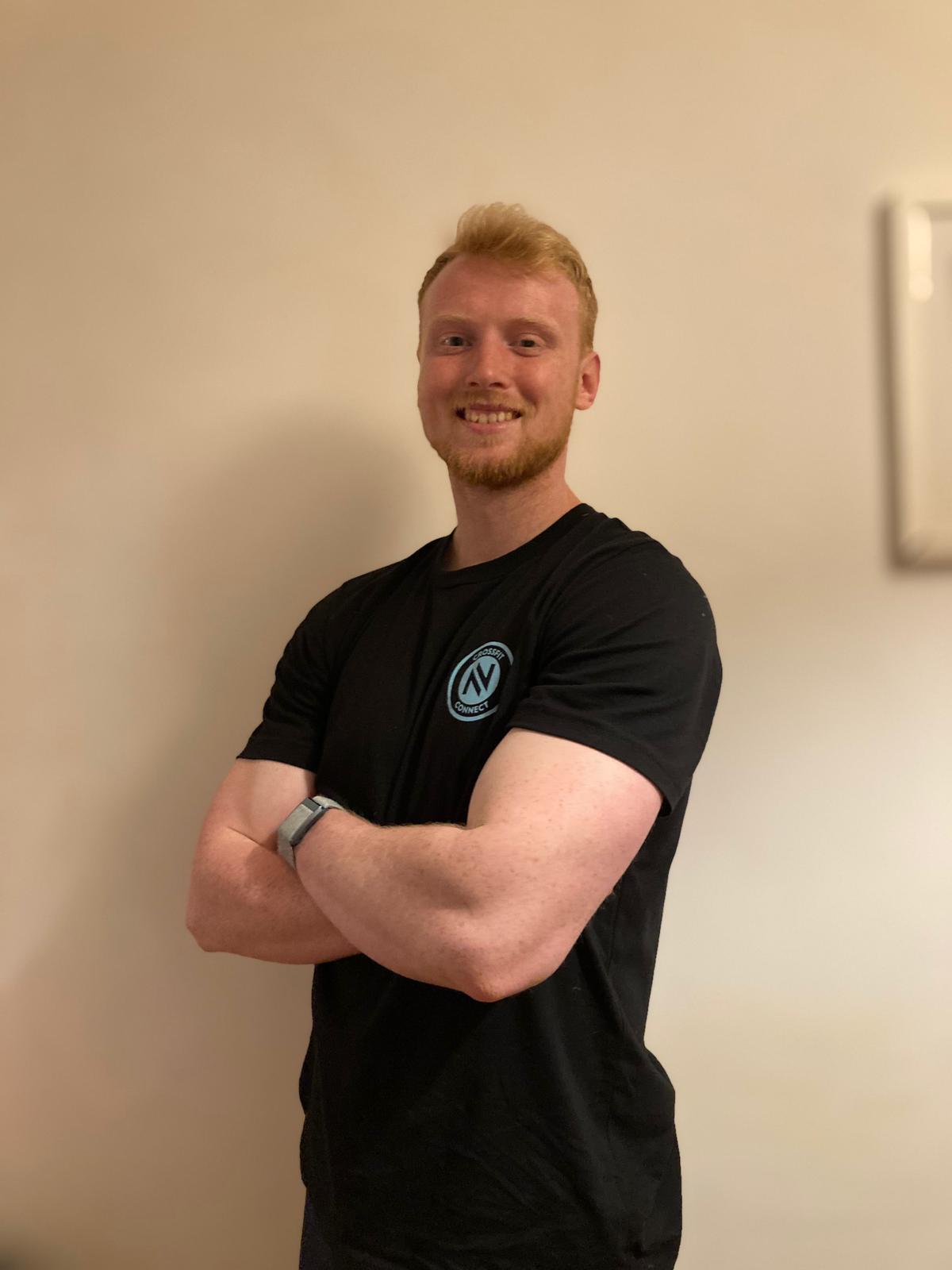 Harry Bullmore is a fitness writer covering everything from reviews to features for LiveScience, T3, TechRadar, Fit&Well and more. So, whether you're looking for a new fitness tracker or wondering how to shave seconds off your 5K PB, chances are he's written something to help you improve your training.
When not writing, he's most likely to be found experimenting with a wide variety of training methods in his home gym or trying to exhaust his ever-energetic puppy.
Prior to joining Future, Harry wrote health and fitness product reviews for publications including Men's Health, Women's Health and Runner's World. Before this, he spent three years as a news reporter with work in more than 70 national and regional newspapers.