Apple hardware can be expensive, but the ecosystem is a great place to be in. This deal makes it that much easier to get there.
Apple's latest addition to the tenth-generation iPad lineup is a continuation of what makes its most popular tablet so impressive - except for the price.
Sadly, the tenth-generation model saw a considerable price hike, meaning it's out of reach for many consumers looking to get started in the much-vaunted Apple ecosystem or applications and services the App Store provides.
And yet, the answer is right in front of us - the ninth-generation iPad remains an excellent, if slightly dated tablet, that brings solid performance and a more "classic" design for $330. It's one of the best tablets for students around.
With Best Buy's latest deals, though, the iPad (9th Gen) is down to $249.99 (opens in new tab) - making it a great place to jump in and start your Apple journey, with $80 off the MSRP.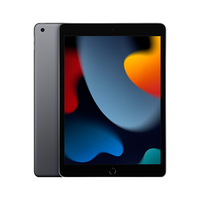 (opens in new tab)
iPad (9th Generation) - was $329.99, now $249.99 at Best Buy (opens in new tab)
Save $80 on the iPad (Ninth Generation) and get access to the App Store, iCloud, and plenty more for just under $250.
This iPad comes with 64GB of storage, which we'll admit is low if it's going to be your only computer.
There's very little the iPad can't do, with the biggest downsides being a lack of USB-C and true external monitor support via iPadOS 16. Still, it'll run every productivity app, game, or social media platform on the App Store, and allows access to iMessage, iCloud, and Apple Music.
If you do decide you want to move to a more laptop-like experience, you can connect any Bluetooth mouse and/or keyboard and use it like a traditional computer.
In our four-star iPad (9th Gen) review, we noted that despite the dated design, the ninth generation iPad is a great value proposition. And with this offer, the value only gets better.
We said: "If you want an inexpensive tablet, the iPad 2021 is the easiest way to get up to plunge into the Apple ecosystem. It's fast, and while its design isn't the freshest around, it'll undoubtedly appeal to those not looking to learn a variety of gestures."