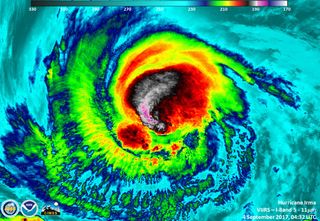 (Image credit: UWM/SSEC/CIMSS, William Straka III)
Hurricane Irma, a ferocious storm brewing in the Atlantic Ocean and currently heading toward Puerto Rico, was classified as a Category 5 storm early this morning (Sept. 5).
With maximum sustained wind speeds of 185 mph (nearly 300 km/h), the hurricane is now the strongest hurricane on record to ever form in the Atlantic Ocean, not including the Caribbean basin or the Gulf of Mexico, according to the National Hurricane Center's Atlantic operations. While it's still too soon to say whether the monster storm will make landfall in the United States or if it will keep its destructive force, its mind-bogglingly high wind speed has earned Irma a place in the ranks with other Category 5 superstorms such as Katrina, Andrew, Rita and Mitch.
But how exactly are hurricanes categorized, and how do the categories correspond to a storm's destructive power? [Hurricane Season 2017 Guide]
It turns out that the scale, which was invented in the 1960s, may not take into account other destructive factors that have more impact on people's lives, experts said.
"There are hazards, such as rainfall and storm surge, which are not captured by these scales, and the maximum sustained winds are only felt in the eye wall, the small area surrounding the eye [of the hurricane]," said Neal Dorst, a meteorologist with the Atlantic Oceanographic and Meteorological Laboratory, part of the National Oceanic and Atmospheric Administration (NOAA). "Most people who experience a landfalling cyclone don't experience the peak [winds]."
The Saffir-Simpson scale
The current system used to categorize hurricanes is called the Saffir-Simpson scale, and it was created in 1965 by Herbert Saffir, an assistant civil engineer for Miami-Dade County in Florida, as a method for evaluating wind damage from the storms, Dorst told Live Science in an email. The United Nations Center for Building had requested an assessment of storm damage as it related to wind speed, in order to make recommendations for building guidelines in storm-plagued areas, Dorst said. Saffir looked at wind speeds for different hurricanes; then he visited the areas that were damaged and assessed how damage corresponded to wind speed, Dorst said.
Originally, the five categories he named were evenly spaced by wind speed.
In 1968, Saffir's friend Robert Simpson, who was the director of the National Hurricane Center (NHC), was looking for a way to help emergency and disaster planners respond to threats from hurricanes, and used the scale in a slightly modified form, Dorst said. The modified scale was officially adopted in 1972 and named the Saffir-Simpson Wind Damage Potential Scale.
Each category corresponds roughly to the damage that could be sustained by the corresponding wind speeds. Originally, the scale included the central pressure of the storm, but that didn't perfectly correspond to maximum sustained wind speed, so the measure was dropped, Dorst said.
Source: NOAA's National Hurricane Center
To measure wind speed, pilots with NOAA will literally fly into hurricanes and drop a tube connected to a parachute — called a dropsonde — directly into the storm. This will measure not only wind speed, but also things like pressure, humidity and wind direction, according to the Hurricane Hunters Association, which is the association of the 53rd Weather Reconnaissance Squadron, part of the Department of Defense.
It isn't totally clear which storm was the most powerful hurricane to ever make landfall in the United States, but the Labor Day hurricane that struck the Florida Keys in 1935 had extremely low pressures, said Thomas Downs, a meteorologist with WeatherBell Analytics in New York City (at the time, scientists couldn't measure wind speed accurately). And Hurricane Camille, which made landfall around Mississippi in 1969, was one of the strongest storms to ever hit the continental United States, with maximum wind speeds of 175 mph (281 km/h), Downs said.
Limitations of the categories
In recent years, however, there's been a growing realization that wind speed doesn't tell the whole story of a hurricane's destructive power. For instance, though Hurricane Harvey was a Category 3 or 4 when it made landfall in Port Aransas, Texas, on Aug. 25, it was downgraded to a Category 1 storm when it began dumping its unprecedented levels of rainfall on Houston. Hurricane Sandy was technically only a Category 1 storm when it hit the coast, but its storm surges seemed to more closely correspond with those usually seen in Category 3 storms, Downs said.
Currently, there is no single scale that can capture the potential for storm surge damage, because the exact place a storm makes landfall has a huge impact, Downs said.
"Each hurricane is unique," Downs told Live Science. "The difference of a few miles can mean a whole lot."
For instance, the steepness of the continental shelf and the coastline geometry will determine how much water is pushed up by a storm, and that can vary on a mile-by-mile basis, Downs said. Meanwhile, storm-track forecasts can be off by tens or hundreds of miles many days in advance. By 36 hours prior to landfall, scientists can make better forecasts of a storm's track and therefore more accurate storm-surge predictions, Downs said.
The NHC now issues separate storm surge warnings for landfalling storms because of this variation, Dorst said.
Another problem with the category system is that a storm's wind speed may jump by just a few miles per hour, but can be boosted into a new category level.
In recent years, scientists have been developing other metrics for measuring storm damage potential. One such scale is the Integrated Kinetic Energy (IKE), which looks at the whole envelope of the storm's winds and estimates the entire amount of energy the storm contains. "This number can reveal when a storm may not have a high peak wind but is very broad and can bring damage to vast areas," Dorst told Live Science.
However, there are problems with this scale as well, and for now, the NHC has decided to stick with the familiar categories people know, Dorst said. In other regions of the world, scientists may use different scales, but those scales all rely on maximum sustained wind speed for now, Dorst said.
Originally published on Live Science.
Stay up to date on the latest science news by signing up for our Essentials newsletter.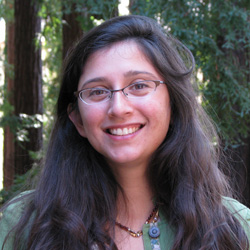 Tia is the managing editor and was previously a senior writer for Live Science. Her work has appeared in Scientific American, Wired.com and other outlets. She holds a master's degree in bioengineering from the University of Washington, a graduate certificate in science writing from UC Santa Cruz and a bachelor's degree in mechanical engineering from the University of Texas at Austin. Tia was part of a team at the Milwaukee Journal Sentinel that published the Empty Cradles series on preterm births, which won multiple awards, including the 2012 Casey Medal for Meritorious Journalism.