Scientists Pinpoint How to Calm Oklahoma's Human-Made Quakes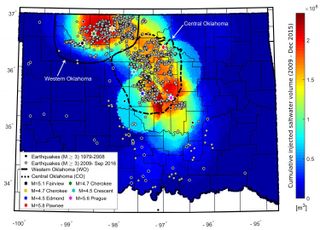 (Image credit: Image courtesy of Cornelius Langenbruch)
Human-induced earthquakes have rattled Oklahoma in recent years, a state known more for its wide-open plains than havoc-wreaking temblors. But now, scientists said they may know how to calm the shaking.
In a new study, researchers found that limiting the amount of wastewater pumped into wells deep underground could reduce the number of widely felt earthquakes measuring magnitude 3.0 or higher. This water is pumped as part of the oil and gas production process in Oklahoma and other states in the central and eastern United States.
Injecting wastewater from oil and gas extraction into underground wells has occurred for decades in Oklahoma without raising concern over induced seismicity, but in 2009, the rate and volume of injection massively increased, according to the study. Researchers estimate that billions of barrels of wastewater were injected over the past six years into the Arbuckle formation, a highly permeable rock unit in Oklahoma that sits atop billion-year-old rocks containing numerous faults. In 2015, due to underground pressure buildup from injections, earthquake activity in parts of Oklahoma increased 900-fold compared to past levels, according to researchers. [The 10 Biggest Earthquakes in History]
Wastewater disposal differs from hydraulic fracturing (also known as fracking), a process that pumps water, sand and chemicals into the Earth to break up rock and extract oil and gas. The U.S. Geological Survey (USGS) has said that fracking probably less frequently causes felt earthquakes. However, wastewater from fracking is generally pumped back into wastewater injection wells, which has been connected to earthquake activity.
This year, regulators in Oklahoma called for a 40 percent reduction in the volume of wastewater being injected into seismically active areas in response to the dramatic rise in earthquakes. In the new study, researchers used data on observed earthquakes and reported injection rates to create a model that could predict how seismicity will change in response to the reduced injection levels.
The statistical model predicted that if wastewater injection continues to be limited, that will lead to a decline in widely felt earthquakes measuring magnitude 3.0 or higher, the study said. Additionally, Oklahoma could see a return to the state's regular seismicity levels in about five years, the study showed.
The researchers said the volume of wastewater injection peaked in 2015, during which time the state experienced two or more magnitude-3.0 earthquakes per day. Before 2009, however, the rate of earthquakes was about one per year, they added.
"Several months after wastewater injection began decreasting in mid-2015, the earthquake rate started to decline," Langenbruch said in a statement. "There is no question that there is a significatnly lower seismicity rate than there was a year ago."
Last year, study researcher Mark Zoback, a geophysicist at Stanford University, co-authored a separate study published in the journal Science Advances that established a correlation between massive wastewater-injection sites and induced earthquakes. The research showed how pressure buildup resulting from wastewater injection can spread, triggering earthquakes tens of miles from the injection wells.
"If these injection rates are reduced, the pressure may not be reducing, but it will be increasing slower. That is why less earthquakes are triggered," Langenbruch told Live Science. "This process cannot just be switched off. The wastewater is still propagating through the ground in Oklahoma and building pressure, albeit more slowly."
Based on their new models, Zoback and Langenbruch predicted Oklahoma could see about 250 earthquakes of magnitude 3.0 or higher in 2017. There is also a 40 percent chance that an earthquake higher than 5.0 magnitude will hit the state, the scientists said.
In September, Oklahoma's largest temblor on record, a magnitude-5.8 earthquake, shook the city of Pawnee, according to the USGS.The Pawnee earthquake was linked to the state's increased seismicity from wastewater injection.
Langenbruch said the next phase of research should measure the exact relationship between wastewater injection and pressure buildup underground. Current models are based on statistical analysis, using the injection rates as a proxy for the pressure, Langenbruch said.
"This is not the end of the story," he added. "What will be really important is to actually measure the pressure in the formation where wastewater is injected. Currently, there are no exact measurements of this pressure."
The study was published online today (Nov. 30) in the journal Science Advances.
Original article on Live Science.
Stay up to date on the latest science news by signing up for our Essentials newsletter.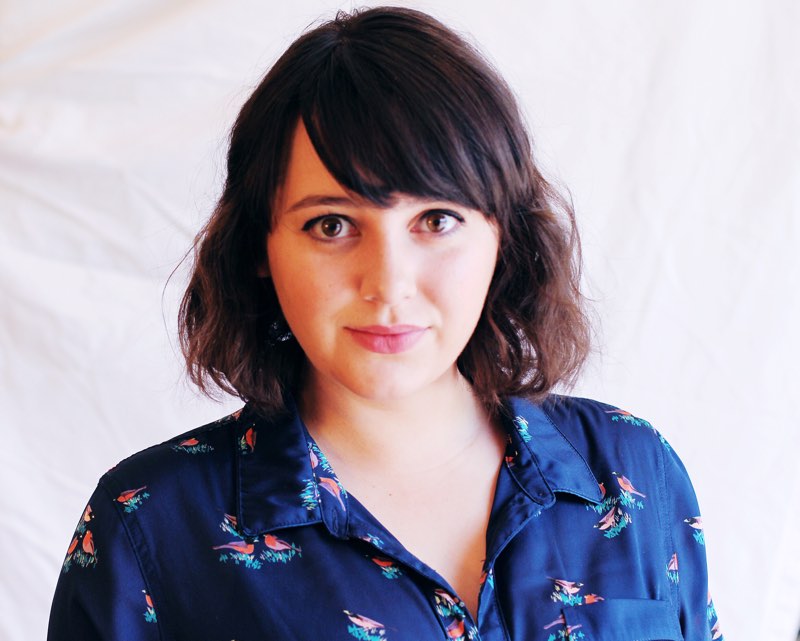 Kacey Deamer is a journalist for Live Science, covering planet earth and innovation. She has previously reported for Mother Jones, the Reporter's Committee for Freedom of the Press, Neon Tommy and more. After completing her undergraduate degree in journalism and environmental studies at Ithaca College, Kacey pursued her master's in Specialized Journalism: Climate Change at USC Annenberg. Follow Kacey on Twitter.