CDC Updates Its Ebola Guidelines for Health Care Workers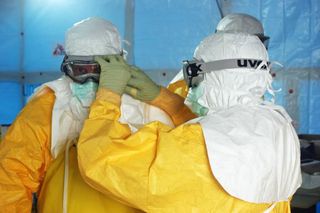 (Image credit: CDC/Sally Ezra/Athalia Christie (Public Domain))
To better protect health care workers against the risk of contracting Ebola, the Centers for Disease Control and Prevention now recommends that workers undergo rigorous training in putting on and taking off personal protection equipment, according to new guidelines announced this evening (Oct. 20).
The CDC also recommended that workers not leave any of their skin exposed when caring for an Ebola patient, and that they put on and take off equipment under the close supervision of a trained supervisor, said CDC director Dr. Tom Frieden, speaking at a news conference this evening.
Previous guidelines were established in 2008 and were updated in August, Frieden said.
Those guidelines had been used successfully before, but the Dallas hospital where Ebola patient Thomas Eric Duncan was treated was relying on those guidelines, and still two nurses became infected with Ebola after caring for Duncan. "This is unacceptable," Frieden said. [2014 Ebola Outbreak: Full Coverage of the Viral Epidemic]
The new guidelines provide "an increased margin of safety" for workers, he said. They were developed with input from workers at the three specialized care units — Emory University Hospital in Atlanta, Nebraska Medical Center in Omaha and the National Institutes of Health Clinical Center in Bethesda, Maryland — where Ebola patients have been treated.
"The greatest risk in Ebola care is the taking off of whatever a health care worker has on," Frieden said. The new guidelines standardize and ritualize how this is done, he said.
In the guidelines, the CDC also recommends that workers wear a specialized respiratory mask, rather than just a facemask. The care for Ebola patients that takes place in U.S. hospitals is quite different from the care that Ebola patients in hospitals in West Africa receive, Frieden noted.
"What gets done in U.S. hospitals — suctioning, intubation, other things — that may not be done in Africa or the parts of the world where Ebola is spreading now," mean that additional safety measures are needed for workers in this country, he said. (The Ebola virus is not airborne; it spreads through contact with an infected patient, or their bodily fluids.)
On Sunday (Oct. 19), the last of the people who had contact with Duncan in the Dallas community, before he went into isolation at the hospital, cleared their 21-day monitoring period, and no cases of Ebola developed within that group. A number of health care workers who had contact with Duncan during his treatment are still within their monitoring period, Frieden said.
To date, the two nurses who contracted Ebola while treating Duncan are the only people to ever become infected with Ebola while in the United States. As of Oct. 14, there were at least 9,200 confirmed or suspected cases of Ebola in West Africa, and more than 4,500 people have died of the disease in that region.
Follow Karen Rowan on Twitter @karenjrowan. Follow Live Science @livescience, Facebook & Google+. Originally published on Live Science.
Stay up to date on the latest science news by signing up for our Essentials newsletter.

Karen came to LiveScience in 2010, after writing for Discover and Popular Mechanics magazines, and working as a correspondent for the Journal of the National Cancer Institute. She holds an M.S. degree in science and medical journalism from Boston University, as well as an M.S. in cellular biology from Northeastern Illinois University. Prior to becoming a journalist, Karen taught science at Adlai E. Stevenson High School, in Lincolnshire, Ill. for eight years.