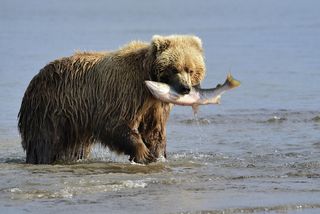 (Image credit: Shutterstock)
For a bear, it's the equivalent of an all-you-can-eat buffet.
A secret feeding site that draws dozens of grizzly bears has been identified along a Canadian river where salmon spawn.
Finding the feeding site for the grizzly bears and the "highways" they take to get to it could help policymakers ban trophy hunting in the region. The resulting protection could allow dwindling grizzly populations to rebound.
"Our hope is for grizzly bears to start returning to their historic range," said study co-author said Chris Filardi, director of Pacific programs at the American Museum of Natural History in New York. [7 Iconic Animals That Humans Are Hunting to Extinction]
Bear country
The Heiltsuk people, a coastal First Nations people in British Columbia, have long known that grizzlies congregate along the Koeye (pronounced "kway") River.
"We have this traditional knowledge that has existed amongst our people for thousands of years now," said study lead author William Housty, the director of Coastwatch, a scientific initiative led by the Heiltsuk to manage resources and conservation in their territory.
To the Heiltsuk, the bear is a symbol of strength and authority, to be treated with respect.
"We look at it as though we're on their territory," Housty told Live Science, referring to the grizzly bears. "So we keep our distance, we give them their space."
But Canadian laws don't dictate that everyone leaves the bears alone: Grizzly hunting is still allowed in the region, Housty said.
Bear congregation
To better protect the bear population, the Heiltsuk teamed up with scientists from the American Natural History Museum and the Nature Conservancy to create a bear census.
Grizzly bears are incredibly driven to investigate new and interesting smells, Filardi said.
"They're like big, thousand-pound noses wandering around," Filardi told Live Science.
So Housty and two other Heiltsuk researchers laced barbed-wire lures with a pungent scent such as skunk musk, and strategically placed them on trees and other spots that bears like to rub against.
The bears, lured by the scent, would sniff around, rub themselves on the snares, and leave stray hairs behind.
The team then genetically analyzed the hairs to identify individual bears. There were 50 to 60 bears congregating along a 5-mile-long (8 kilometers) stretch of river, Filardi said. (For comparison, Yellowstone National Park's grizzly population boasts just a few hundred, he noted.)
Many came all three years of the study, but a significant fraction came one year and not the next, or vice versa, suggesting the underlying grizzly population was fairly large, he added.
Over the course of the study, they team counted fewer new bears, which suggests the population was decreasing along the Koeye River, likely because fewer salmon were spawning there
Bear superhighways
By coordinating their findings with those of other First Nations tribes, the team found that some of those bears were coming from many miles away, along several bear "highways," with "on" and "off" ramps at certain key sites, Filardi said.
In some spots bears' footprints have worn holes the size of dinner plates in the mossy forest floor, Filardi said.
"The bears have just been stepping in each other's footprints for hundreds of years," Filardi said.
Those footprints make it easy to figure out how some bears reach the Koeye River watershed. But there may be many more as-yet-undiscovered bear migration routes to piece together, Housty said.
The Heiltsuk are now creating a map of these bear trails, though they are not sharing the map with outsiders, to avoid giving trophy hunters clues on where to hunt, Filardi said.
The map could help conservationists and the Heiltsuk regulate hunting in the region, making trophy hunting off-limits wherever the grizzlies like to congregate, Housty said.
"The support for the trophy hunt has decreased significantly in the last couple of years. I think it's only a matter of time, probably within the next regional election, that we'll have the trophy hunt banned from these areas," Housty said.
The research is detailed in the June issue of the journal Ecology and Society.
Follow Tia Ghose on Twitter and Google+. Follow Live Science @livescience, Facebook & Google+. Original article on Live Science.
Stay up to date on the latest science news by signing up for our Essentials newsletter.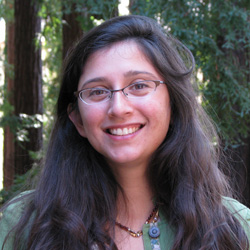 Tia is the managing editor and was previously a senior writer for Live Science. Her work has appeared in Scientific American, Wired.com and other outlets. She holds a master's degree in bioengineering from the University of Washington, a graduate certificate in science writing from UC Santa Cruz and a bachelor's degree in mechanical engineering from the University of Texas at Austin. Tia was part of a team at the Milwaukee Journal Sentinel that published the Empty Cradles series on preterm births, which won multiple awards, including the 2012 Casey Medal for Meritorious Journalism.