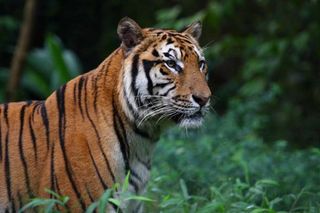 (Image credit: © Iorboaz, dreamstime)
An endangered species is defined by the U.S. Fish & Wildlife Service as "an animal or plant species in danger of extinction throughout all or a significant portion of its range." In the United States, these animals can be listed under and protected by the Endangered Species Act. Endangered Species in the United States include the black-footed ferret and the California red-legged frog. The International Union for Conservation of Nature also keeps a Red List of Threatened Species, the most widely recognized list of endangered and threatened species. On this list, for example, are all the surviving subspecies of tiger, which range from endangered to critically endangered.
Stay up to date on the latest science news by signing up for our Essentials newsletter.
Thank you for signing up to Live Science. You will receive a verification email shortly.
There was a problem. Please refresh the page and try again.