Tornadoes in February? Why That's Not Uncommon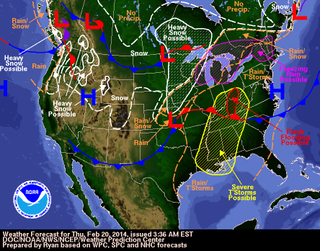 (Image credit: NOAA/NWS/Weather Prediction Center/NCEP/DOC)
An outbreak of severe weather battered parts of the midwestern and southern United States yesterday (Feb. 20) with damaging winds and strong storms, including several tornadoes reported in Illinois and Georgia. The same system is working its way over the East Coast today (Feb. 21), with several tornado warnings and watches issued already.
But it's February, not April, when tornado season usually gears up, so what gives?
While the main tornado season typically stretches from spring to early summer, wintertime twisters are not altogether uncommon, said Greg Carbin, a meteorologist with the National Weather Service's Storm Prediction Center in Norman, Okla.
"Tornadoes can happen at any time of the year, in any month of the year, and in just about any location in the country," Carbin told Live Science.
Yesterday's tornadoes in the Midwest struck during the so-called transition season — the period between winter and spring.
"Typically we see these tornado events in the transition season, and the reason for that is you have the vestiges of both seasons that can bring about the ingredients for strong, violent storms," Carbin explained.
In the winter and early spring, tornadoes are often associated with the jet stream, which is a band of strong winds high above the atmosphere that can influence weather patterns by jostling air masses around.
Tornadoes form in environments of unstable air, usually when warm, moist air is trapped under a layer of colder, dryer air. In Illinois, unseasonably warm, springlike temperatures mixed with cold air to produce stormy conditions, said Illinois state climatologist Jim Angel.
"We had a cold front that moved through the state, and at the head of it, we had warm moisture coming up from the Gulf of Mexico," Angel told Live Science. "The warm, humid conditions and the strong cold front pushing through triggered lines of thunderstorms."
Four possible tornadoes touched down in central Illinois yesterday, causing power outages and minor damage in the region, according to the NWS. Severe storms also ripped through Indiana, Kentucky, Alabama, Mississippi, Tennessee and the Carolinas, and several tornadoes were reported in Georgia.
Today, Angel and his colleagues are conducting surveys in the aftermath of the storms, but so far no casualties have been reported. Once the scientists parse the data, Angel will also be able to say precisely how many twisters touched down in the state.
Still, tornadoes in February are not necessarily harbingers of the main tornado season to come.
"There's no real connection that we've been able to find," Carbin said. "And, up until yesterday, we were running at a record low number of tornadoes for the year."
Follow Denise Chow on Twitter @denisechow. Follow Live Science @livescience, Facebook & Google+. Original article on Live Science.
Stay up to date on the latest science news by signing up for our Essentials newsletter.
Denise Chow was the assistant managing editor at Live Science before moving to NBC News as a science reporter, where she focuses on general science and climate change. Before joining the Live Science team in 2013, she spent two years as a staff writer for Space.com, writing about rocket launches and covering NASA's final three space shuttle missions. A Canadian transplant, Denise has a bachelor's degree from the University of Toronto, and a master's degree in journalism from New York University.