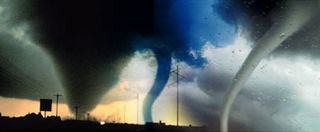 Tornadoes are the most powerful, unpredictable and destructive weather systems on Earth. The National Weather Service (NWS) defines a Tornado as a violently rotating column of air in contact with the earth's surface (land or water) and commonly associated with a severe thunderstorm.A tornado generally occurs when high winds within a low pressure system (such as a thunderstorm) cause water vapor in the air to condense in to a condensation funnel cloud. Many less severe tornadoes are not even visible to the human eye. Major tornadoes usually become more visible when the strong winds within the funnel lift up dirt and debris off the Earth's surface. Tornadoes are generally classified as either a land spout (a tornado on land), a water spout (a tornado that forms over water) or a gustnado (a small tornado caused by a strong downburst of wind from a thunderstorm).The average tornado has maximum wind speeds of about 112 mph or less, measures around 250 feet in width and travels approximately one mile before falling apart. Some of the most catastrophic tornadoes in recorded history have had winds in excess of 300 miles an hour (twice that of a category 5 hurricane), have measured more than 2 miles in girth, and have carved devastating paths of destruction miles and miles in length.
Stay up to date on the latest science news by signing up for our Essentials newsletter.
Thank you for signing up to Live Science. You will receive a verification email shortly.
There was a problem. Please refresh the page and try again.