University to Teach 'Intelligent Design' as Myth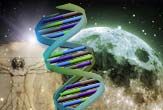 LAWRENCE, Kan. (AP) -- Creationism and intelligent design are going to be studied at the University of Kansas, but not in the way advocated by opponents of the theory of evolution.
A course being offered next semester by the university religious studies department is titled "Special Topics in Religion: Intelligent Design, Creationism and other Religious Mythologies.''
"The KU faculty has had enough,'' said Paul Mirecki, department chairman.
"Creationism is mythology,'' Mirecki said. "Intelligent design is mythology. It's not science. They try to make it sound like science. It clearly is not.''
Earlier this month, the state Board of Education adopted new science teaching standards that treat evolution as a flawed theory, defying the view of science groups.
Although local school boards still decide how science is taught in the classrooms, the vote was seen as a major victory for proponents of intelligent design, which says that the universe is so complex that it must have been created by a higher power.
Critics say intelligent design is merely creationism -- a literal reading of the Bible's story of creation as the handiwork of God -- camouflaged in scientific language as a way to get around court rulings that creationism injects religion into public schools.
John Calvert, an attorney and managing director of the Intelligent Design Network in Johnson County, said Mirecki will go down in history as a laughingstock.
"To equate intelligent design to mythology is really an absurdity, and it's just another example of labeling anybody who proposes (intelligent design) to be simply a religious nut,'' Calvert said. "That's the reason for this little charade.''
Mirecki said his course, limited to 120 students, would explore intelligent design as a modern American mythology. Several faculty members have volunteered to be guest lecturers, he said.
University Chancellor Robert Hemenway said Monday said he didn't know all the details about the new course.
"If it's a course that's being offered in a serious and intellectually honest way, those are the kind of courses a university frequently offers,'' he said.
Vatican Astronomer: Intelligent Design is Not Science
Pope Weighs in on Evolution Controversy
Vatican Cardinal: Listen to What Modern Science Has to Offer
Poll: Public Divided on Evolution
SPECIAL REPORT
Evolution & Intelligent Design
PART 1
An Ambiguous Assault on Evolution
This Trojan Horse for Creationism has become very popular. But who is being duped? And what does it all mean for morality?
PART 2
Intelligent design is presented as a legitimate scientific theory and an alternative to Darwinism, but a close look at the arguments shows they don't pass scientific muster. So why are scientists worried?
PART 3
As evolution takes a beating, scientists remind us of the difference between fact, theory and belief.
PART 4:
Anti-evolution Attacks on the Rise
Each time the effort to introduce creationism into classrooms starts up again, so does legislation aimed against evolution. Learn about the rash of recent cases, plus a look at historically pertinent court cases.
PLUS
Stay up to date on the latest science news by signing up for our Essentials newsletter.