New Glasses Require Piercing Bridge of Nose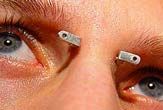 James Sooy and Oliver Gibson have come up with Pierced Glasses - the most minimalist eyewear since the Pince-nez glasses that clip onto your nose was invented in the 1840's.
Here's the step-by-step:
Get pierced - an internally-threaded barbell that goes through the skin above the bridge of your nose
Use a tabletop mill to cut the L-shaped metal pieces that screw onto the barbell
Attach rare earth magnets to the glasses; these hold the glasses on.
Don't get rid of the bridge pieces; they let the lenses sit on your nose and take the actual weight of the lenses.
For those who think that Pierced Glasses are dangerous or crazy, listen to what the creators say about other surgical alternatives to glasses: "Paying ... to have someone cut your eyes and shoot a laser in them (just so you don't have to wear glasses) seems extreme to me…"
My favorite extreme eyewear from science fiction are Molly's surgically inset glasses from William Gibson's 1984 novel Neuromancer. The glasses consisted of the lenses only, which were implanted so as to seal off her eye sockets completely. Her tearducts were rerouted to empty into her throat, as I recall.
Sfnal eyewear enthusiasts should take a look at these real-life examples:
Read more about pierced eyeglasses; visit the pierced glasses page. Also, for a possible co-invention credit, see the entry for Pierced Sunglasses at Halfbakery.
(This Science Fiction in the News story used with permission from Technovelgy.com - where science meets fiction.)
Stay up to date on the latest science news by signing up for our Essentials newsletter.
Bill Christensen catalogues the inventions, technology and ideas of science fiction writers at his website, Technovelgy. He is a contributor to Live Science.