Save over $50 with this Fitbit Sense Advanced deal
Don't miss this Fitbit Sense Advanced deal of 17% off a Fitbit Sense, which is loaded with health-tracking features.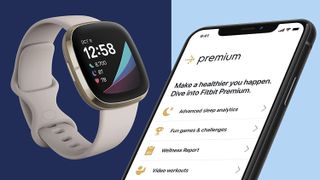 (Image credit: Fitbit)
Smartwatches are one of the most effective ways to track your health since they can connect directly to your phone and provide a real-time monitor of your health. With this Fitbit Sense Advanced deal, you can grab the smartwatch for $249.99 on Amazon, a saving of $50.95 on a top-of-the-line fitness tracker and smartwatch.
The Sense is one of the newest smartwatches in the Fitbit collection. It uses an EDA Scan app to detect electrodermal activity like your pulse and skin temperature. It also helps track atrial fibrillation, a common heart condition that causes a person's heart to go out of rhythm. You can share results for your doctor through the app, which generates an easy-to-read report. For new users, a 6-month free Premium subscription is included; the subscription helps to generate the reports from the sensors on the watch, along with other awesome features like recorded workouts and mindfulness sessions. And there's more: The smartwatch also tracks your blood oxygen levels up to an altitude of 28,000 feet.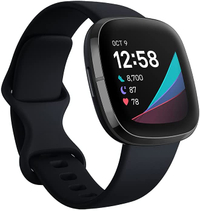 Fitbit Sense Advanced Smartwatch: $299.95 $249.00 on Amazon
The Fitbit Sense is one of the most hi-tech smartwatches on the market. With an original price of almost $300, you're saving over $50!
The Fitbit Sense Advanced Smartwatch can be used when you're working out indoors or outdoors. It has a built-in GPS system, so you can use it during hikes, outdoor runs and other exercise activities in nature. It also connects do other smart technologies like Google Assistant and Amazon Alexa so access even more features like controlling other devices at your home.
It's also one of the most durable smartwatches that Fitbit offers because it is water-resistant up to 50 meters and has an extended battery life of 6+ days. The package comes with a charger. Other accessories like fun bands and charger stands can be found on Amazon too, as this smartwatch allows some customization for appearance.
With Fitbit's Premium subscription services (6 months free with a purchase), you will receive personalized "daily readiness" scores to indicate whether you're green-lighted for an intense workout or you should spend the day recovering. The service will also send other insights based on your exercise, sleep and heart rate variability. On Amazon, nearly 22,000 reviewers rated the watch on average 4.4 out of 5.
Be sure to check out our roundup of all the Fitbit deals and our guide to the best running watches of 2021.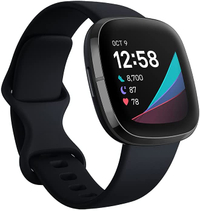 Fitbit Sense Advanced Smartwatch: $299.95 $249 on Amazon
For less than $200, the Fitbit Sense is one of the most hi-tech smartwatches on the market. With an original price of almost $300, you're saving over $110!
Stay up to date on the latest science news by signing up for our Essentials newsletter.
Bailee Boggess McCoy is a freelance writer and editor with a focus on adoption, clinical research, geriatrics, psychology, culture, social work, neuroscience and more. She has written for many health websites and publications, along with doing many ghostwriting projects and email campaigns. In addition to her work as a writer, she has worked as a researcher at an Alzheimer's disease research facility with projects focusing on Black older adults and racial trauma. Her scientific research has been presented at the Alzheimer's Association International Conference and published in the Journal of Alzheimer's Disease and Associated Disorders. She received her Bachelor's degree in Psychology from Georgetown College in 2018. She also studied neurolinguistics and developmental psychology at the University of Oxford. By the end of 2021, she will have her Master's in Social Work degree. When she's not writing or researching, she enjoys playing with her dog, trying new cuisines, reading, and traveling. She's also a true crime enthusiast, passionate creative, and a lover of all things poetry.