Meta has been on a mission to deliver VR experiences to as many people as possible, and its Quest lineup has long been the go-to for newcomers to virtual reality who want to explore space, dive underwater, or attend a concert from the comfort of their living room.
While the Meta Quest 2 is one of the best VR headsets you can buy right now, Meta also released the Meta Quest Pro in October of 2022, and it's certainly a big jump – both in specs and in price. That's because the Meta Quest Pro retails for no less than $1500, while the Quest 2 can be found for $399 – often with a game bundled with it.
Still, Best Buy has begun dropping huge deals in January, and the Meta Quest Pro is now down to $1099.99 (opens in new tab) – just over $400 off of the MSRP.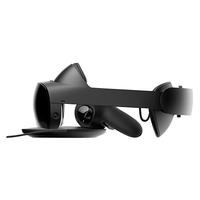 (opens in new tab)
Meta Quest Pro - was $1500, now $1099.99 at Best Buy (opens in new tab)
Save $400: Meta's biggest and best headset isn't cheap, but this huge saving from Best Buy can get you into the world of VR for less.
What does the Quest Pro do that the Quest 2 can't, then? Meta's more expensive headset can do everything that its cheaper sibling can do, but it's just as capable of accommodating mixed reality experiences as it is virtual reality ones thanks to its pass-through camera.
That means it can be a true pathway to working in the (still very vague) Metaverse, but it can also play Beat Saber and Resident Evil 4 with the best of them. It's also more comfortable than the Quest 2, and has more powerful hardware and a much higher screen resolution, so details will appear sharper when you're wearing the headset.
The controllers are different, too, and the Quest Pro includes a charging stand that charges the controllers and the headset wirelessly - a step up from the Quest 2's reliance on AA batteries for the pads.
User reviews are positive (opens in new tab), with an average rating of around 4 stars out of 5. Buyers have noted that the headset is expensive, but praised the comfort and clarity of the tech on offer.