Get 20% off this soon-to-be-retired Lego Robot Inventor building and coding kit
Learn to code with this Robot Inventor kit, now $287.99 in Lego's Black Friday sale. But with retirement on the way you'll have to grab it before it's gone.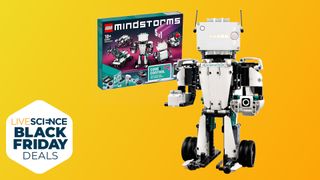 (Image credit: Lego)
EDIT: Sorry, edited this thinking this was a refresh.
Lego's Robot Inventor kit, a fantastic tool for learning to code, is set for retirement, which means one of two things. Either it's going to be paired with a maverick partner or it'll go for silly prices on eBay. The good news it's 20% off for Black Friday and if you hurry you can order it right now.
Rated for ages 10 and over, the Lego Robot Inventor kit is $287.99 from the official Lego store, and is part of Lego's Mindstorms series. What that means is that the fun doesn't stop when you've built it. In fact, the fun's only beginning.
There are five unique designs you can build and, thanks to the Robot Inventor App you can program these robots to undertake all manner of activities. And, thanks to the visual interface, stringing together commands should be a breeze.
So, while you're having fun you're learning to code, which also makes this an ideal tool for getting children into programming. We can see this being a boon for teachers and other educators too. But be quick, this robot's retirement is just around the corner.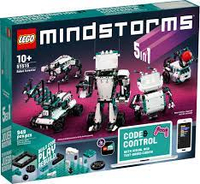 LEGO Robot Inventor| was $359.99 now $287.99 at LEGO
LEGO have slashed 20% off the price of their Robot Inventor set, although you'll have to be quick as this set is retiring soon.
The Robot Inventor features 5 different designs you can create; kids will gain essential STEM skills from building a tough, walking guardian which blast fires missiles, punches and hammers through obstacles; a quirky helper who can dance and play drums; a robot for any task; an advanced quadruped and a sports fanatic who loves shooting hoops and playing ball. Kids can also come up with their own tech toy creations and share them with other robot fans on LEGO Life.
It comes with Mindstorm software and robot inventor app which has a very easy learning curve, but you can make it as simple or as complex as you'd like — a great set to teach kids about programming. It features an intelligent Hub, 4 Medium Motors, Color Sensor and Distance Sensor with a break-out interface. This kit is a great alternative to taking online coding courses, and offers more hands-on experience with instant feedback (and you get a cool robot).
It's reviewed very well by customers, with many stating that it's not too complicated to build and the app is very easy to follow with step-by-step instructions and you can easily test out your creations. The overall customer rating is 3.8/5 stars, with 71% of customers saying they would recommend this product.
If your kids already love coding, check out our picks of the best coding toys and apps for kids. And for adults who want to explore more coding tech, we also have our best laptops for coding and programming too.
Stay up to date on the latest science news by signing up for our Essentials newsletter.
Kimberley Lane is a landscape & seascape photographer living in South Wales. Originally using photography as a way to cope with health issues, she aims to portray a feeling of calm and peace through her images. Her work has been featured in a number of national photography magazines. She writes camera reviews and articles for Live Science and Space.com.