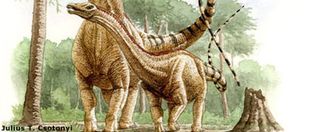 Dinosaurs types are many and varied, from small bird-like creatures to the largest animals ever to walk on Earth. The subject of blockbuster films, history museum exhibits and much more, dinosaurs continue to interest people today after first appearing approximately 230 million years ago. These vertebrate animals dominated the land for more than 160 million years before experiencing a catastrophic extinction at the end of the Cretaceous period 65 million years ago.The first dinosaur was recognized in the 19th century and ever since, dinosaurs have been the source of many questions.What contributed to the rapid extinction of the dinosaur? What do the latest fossil findings reveal about the dinosaur and its way of life? How is the modern bird connected to these prehistoric creatures? Could dinosaurs like Tyrannosaurus Rex and Brontosaurus really be brought back to life with mosquito DNA?Inside you'll find dinosaur news & features, along with plenty of pictures.
Stay up to date on the latest science news by signing up for our Essentials newsletter.
Thank you for signing up to Live Science. You will receive a verification email shortly.
There was a problem. Please refresh the page and try again.