Katrina Joins List of Worst Weather Disasters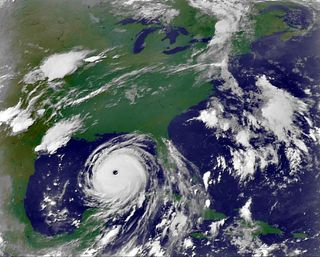 As Hurricane Katrina slows down and fades over the next couple of days, the full extent of her wrath will be evaluated and compared to previous weather disasters. So far, Katrina has been responsible for more than 80 deaths and billions of dollars of destruction along the Gulf Coast. In the next few days and weeks, those totals are likely to increase and Katrina will likely rank as one of the most devastating hurricanes ever.
Current Details of the Damage
So far, it appears that Louisiana and Mississippi--both directly in Katrina's path--were hit the worst.
In New Orleans, two levee breaches allowed water from nearby Lake Pontchartrain to pour into the city. Drinking water is not considered safe to consume unless boiled. Over 370,000 customers in southeast Louisiana are without power--and that number is expected to rise.
The entire city of 485,000 was ordered to evacuate, and nearly 80 percent of the city's residents left. Dozens of people were rescued from roofs and attics, and nearly 10,000 took refuge in the Superdome. But the Superdome didn't prove too super as 100 mile per hour winds ripped off chunks of its roof.
In Mississippi, which Katrina hit later on Monday, as many as 80 deaths have been reported--30 coming in the collapse of a beach-side apartment complex in Biloxi.
"We know that there is a lot of the coast that we have not been able to get to," said Mississippi Governor Haley Barbour. "I hate to say it, but it looks like it is a very bad disaster in terms of human life."
Flooding along the coast shutdown casinos, where emergency officials say water reached the third floors of some barge-mounted casinos. At least 450,000 customers have lost power.
In Alabama more than a half-million homes and businesses lost power and flooding reached 11 feet in mobile, matching a 1917 record. Authorities closed a bridge spanning the Mobile River after an oil drilling platform - which had floated away from a shipyard--slammed into it.
And in South Florida, 11 people died when Katrina--not yet at full strength--passed over the state last week. Over 155,000 South Florida homes were still without power Tuesday morning, and 77,000 Panhandle customers lost power when the eastern edge of the storm hit Monday.
How Katrina compares to past weather disasters
It may take a few weeks to fully assess the damage caused by Katrina, but this hurricane is already shaping up to be one of the costliest U.S. hurricanes of all time. 1992's Hurricane Andrew holds the number one spot with nearly $35 billion (in 2000 dollars, adjusted for inflation) in damage, but Katrina could be hot on its heels with estimates already at $26 billion in insurance claims.
Andrew (1992) - $34,954,825,000
Hugo (1989) - $9,739,820,675
Agnes (1972) - $8,602,500,000
Although Katrina has already accounted for 80 deaths, it is by no means in the ranks of the most deadly Atlantic based Hurricanes--it's not even in the top 10.
Martinique; St. Eustatius; Barbados; offshore (1780) - 20,000-22,000 deaths
Galveston, TX (1900) - 8,000-12,000 deaths
Honduras (1974) - 3,000-10,000 deaths
And hurricanes are not even the most destructive weather events in the U.S.--this title belongs to heat waves and droughts. In 1980 and 1988, severe drought and heat ravaged the central and eastern parts of the country - each yielding damage costs of $48 and $62 billion, respectively, in 2002 dollars. During each event, an estimated 10,000 deaths due to heat stress were reported.
And even these events pale in comparison to the Dec. 26, 2004 Sumatra tsunami, which had death tolls over 130,000 and an estimated $42 billion in damages. In fact, some might say that the U.S. has had it relatively easy in terms of weather disasters. Deaths and economic losses as a result of weather disasters are much higher in other parts of the world - including Central America, the Philippines, and parts of the Middle East and Africa.
Hurricanes getting worse?
This hurricane season has been the busiest on record, with hurricanes popping up at a torrid rate well ahead of past seasons. Already Hurricanes Dennis and Emily became the first ever recorded Category 4 hurricanes in July. When Irene grazed the east coast in mid-August, she became the earliest named ninth hurricane ever.
So what is causing all this? A recent study suggests that global warming has caused both Atlantic and Pacific-generated storms to increase in duration and intensity by over 50 percent since 1970. Warmer temperatures in the Atlantic Ocean may also be responsible for generating so many hurricanes this early in the season.
Global warming also causes the seas to rise - by as much as four inches this century - which could swamp coastal villages and towns, making the effects of hurricanes and other extreme weather events even more catastrophic.
The Associated Press contributed to this report.
Top 10 Ways to Destroy Earth
Stay up to date on the latest science news by signing up for our Essentials newsletter.
For the science geek in everyone, Live Science offers a fascinating window into the natural and technological world, delivering comprehensive and compelling news and analysis on everything from dinosaur discoveries, archaeological finds and amazing animals to health, innovation and wearable technology. We aim to empower and inspire our readers with the tools needed to understand the world and appreciate its everyday awe.