Farmer's Almanac: Roller Coaster Temperatures Ahead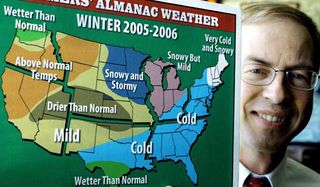 LEWISTON, Maine (AP) -- Get your sweaters, mittens and hats ready. The Farmers' Almanac warns that the coming winter will bring unusually sharp fluctuations in temperature, and says readers "may be reminded of riding a roller, or in this case, 'polar' coaster."
"Mother Nature seems to be in the mood for some amusement this winter season," the almanac said in its 2006 edition, just off the presses.
The coldest weather will be in the Northeast, which also will get plenty of snow, the almanac said. It predicts cold weather for the South and Mid-Atlantic regions and snowy but mild weather in the Great Lakes and Midwest.
Parts of the Rockies and the Great Plains may have drier-than-normal weather, adding to the area's continuing drought, but wetter-than-normal weather is predicted for the Pacific Northwest and lower Texas.
The 189-year-old almanac claims 80 percent to 85 percent accuracy for the forecasts written under the name Caleb Weatherbee.
The forecasts are prepared two years in advance using a secret formula based on sunspots, the position of the planets and the tidal action of the moon, said editor Peter Geiger.
The National Weather Service questions the accuracy of such long-range forecasts, but almanac officials say its predictions stack up well against those of traditional meteorologists.
Chris Vaccaro, a weather service spokesman in Silver Spring, Md., wouldn't comment on the almanac's predictions without knowing "the methodology or algorithms" used to produce them, but said any forecast more than a week in advance is subject to change.
The almanac, not to be confused with the New Hampshire-based Old Farmer's Almanac 24 years its senior, claims a circulation of nearly 5 million. Most are sold to businesses that give them away as a goodwill promotion. Other versions are sold by retailers in the United States and Canada.
This year's almanac contains the usual mix of recipes, anecdotes, corny jokes, quizzes and helpful hints.
"In today's busy world, people want an escape," said managing editor Sondra Duncan. "They look to the almanac to connect to the simple pleasures."
Pumpkins get plenty of ink this year, first in recipes that include pumpkin pie, pumpkin gratin, pumpkin dip and pumpkin pancakes.
But an article also describes how a hollowed-out pumpkin can be used as a boat, as is done each year at the Windsor-West Hants Pumpkin Festival and Regatta in Nova Scotia.
Potential participants beware: "Your pumpkin, or personal vegetable craft (PVC) as they are known, can rarely be used twice due to structural ravages," the almanac says.
3D Rain Helps Hurricane Forecasts
Stay up to date on the latest science news by signing up for our Essentials newsletter.