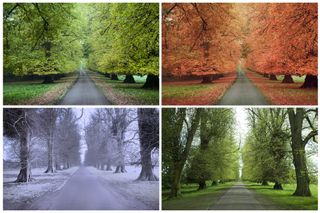 (Image credit: <a href="http://www.shutterstock.com/gallery-439312p1.html">Shelli Jensen</a> | <a href="http://www.shutterstock.com/">Shutterstock</a>)
Earth's seasons — winter, spring, summer and autumn(or fall) — are caused by the yearly revolution of the Earth in its orbit around the sun and the planet's tilt. When the Northern Hemisphere is pointed toward the sun, it is summer, and when it is pointed away, it is winter (and vice versa for the Southern Hemisphere). Summer and winter are heralded by their respective solstices, while spring and fall begin at an equinox, when the sun crosses Earth's equator and night day are roughly equal length. Below, our stories that relate to Earth's seasons and the ways they affect us.
Stay up to date on the latest science news by signing up for our Essentials newsletter.
Thank you for signing up to Live Science. You will receive a verification email shortly.
There was a problem. Please refresh the page and try again.