Weather Service: 5-Day Forecasts More Accurate Now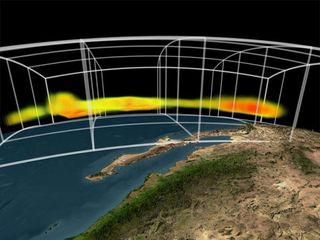 (Image credit: JPL/NASA)
A new instrument for measuring water vapor will improve the accuracy of the timing of medium-range weather forecasts by as much as six hours, scientists said today.
Researchers used experimental data from the Atmospheric Infrared Sounder (AIRS) instrument on NASA's Aqua satellite, which takes 3-dimensional pictures of atmospheric temperatures, water vapor, and trace gases.
With these data, scientists narrowed the window for when things would happen in medium-range predictions (generally 5-6 days out) in Northern New Hampshire by up to six hours, a four percent increase over previous timing accuracy.
The work was done by scientists at NASA and the National Oceanic and Atmospheric Administration (NOAA).
"A four percent increase in forecast accuracy at five or six days normally takes several years to achieve," said John LeMarshall, director of the Joint Center for Satellite Data Assimilation. "This is a major advancement and it is only the start of what we may see as much more data from this instrument is incorporated into operational forecast models at NOAA's Environmental Modeling Center."
Based on the success of the New Hampshire experiments, the NOAA's National Weather Service has officially incorporated AIRS data in its operational weather forecasts.
"Climate and weather forecasts are dependent upon our understanding current global ocean and atmosphere conditions," said retired U.S. Navy Vice Admiral and NOAA administrator Conrad C. Lautenbacher, Jr. "If we want to be able to predict what the weather will be like in the future, we must adequately define the global conditions today. Satellite data, like AIRS provides, is a vital link for NOAA to continuously take the pulse of the planet."
Until now, the AIRS has been primarily used to measure air temperature, humidity, clouds, and surface temperature. Scientists use these data to better understand Earth's weather and climate.
AIRS is also used to track hurricanes, like July's Hurricane Dennis. Hurricane intensity, and whether it is getting stronger or weaker, can be estimated by measuring the amount of rainfall in the storm.
Stay up to date on the latest science news by signing up for our Essentials newsletter.
Bjorn Carey is the science information officer at Stanford University. He has written and edited for various news outlets, including Live Science's Life's Little Mysteries, Space.com and Popular Science. When it comes to reporting on and explaining wacky science and weird news, Bjorn is your guy. He currently lives in the San Francisco Bay Area with his beautiful son and wife.