Hair Regrowth Products for Women & Men: Who Pays More?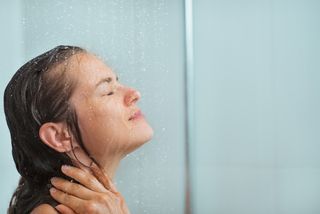 (Image credit: Alliance/Shutterstock)
Products aimed at regrowing hair cost more when they are marketed to women than when they are marketed to men, a new study finds.
Researchers found, for example, that one popular product, Rogaine, cost 40 percent more when it was marketed to woman than when it was marketed to men. One foaming Rogaine product marketed to women cost $11.27 per 30 milliliters (mL), but a product of the same strength and with the same ingredients that was marketed to men cost $8.05 per 30 mL.
This isn't the first time that researchers have uncovered gender-based price differences for consumer products. Indeed, this price mark-up practice for products marketed to women has a name: the "pink tax," said study co-author Dr. Jules Lipoff, an assistant professor of dermatology at the University of Pennsylvania. [7 Bizarre Drug Side Effects]
But in the case of hair-loss products, the product involved contains a medication, called minoxidil. This phenomenon — of gender-based price differences in medications — has not been reported before, Lipoff told Live Science.
In the new study, published June 7 in the journal JAMA Dermatology, researchers looked at hair-loss products sold at 24 national chain pharmacies — including CVS, Kroger, Rite Aid, Target, Walgreens and Walmart — in four states: Pennsylvania, New York, Ohio and Indiana. The researchers examined the prices, compositions and other information related to a total of 41 products. All of the products contained minoxidil, an over-the-counter topical medication approved for treating hair loss. The researchers looked at a total of 14 products marketed to women and 27 products for men.
In the study, the researchers considered that different products contained different concentrations of minoxidil.
In one part of the study, the researchers compared the prices of "extra-strength" products sold to men with the prices of "regular-strength" products sold to women. In both cases, the products were to be applied twice daily. They found that the prices of these two types of product were almost the same: about $7.60 per 30 mL, on average, even though the "extra-strength" product contained 5-percent minoxidil and the "regular-strength" product contained 2-percent minoxidil.
In other words, women were being asked to pay the same amount for a product that contained a lower concentration of minoxidil.
And when the researchers looked at the prices of products that contained equal concentrations of minoxidil, they found that those marketed to women were significantly more expensive.
In this case, the products in question were a 5-percent minoxidil Rogaine foam product marketed to men and 5-percent minoxidil Rogaine foam products marketed to women. For men, the 5-percent solution was to be applied twice daily, and for women, the 5-percent solution was to be applied once daily.
All in all, the products marketed to women were about 40 percent more expensive than those that were marketed to men, they concluded. [Busted! 6 Gender Myths in the Bedroom & Beyond]
This means that "Although women use minoxidil foam once daily compared with twice daily for men, the group of people (women) who require the same medication less often are paying more for each dose," the researchers wrote.
Even though there may be differences in the costs of testing the product, submitting it for approval and marketing it to women versus men, "it remains that women are paying significantly more than men for an identical medication," the researchers wrote.
There is, however, a simple way for women to overcome this issue, Lipoff said.
"There is nothing that restricts women from just buying the other product," he said. "I can say as a general rule, when I think Rogaine for women would be indicated, I have no hesitation in telling them to use the Rogaine for men."
Marc Boston, a spokesperson for Johnson & Johnson, the makers of Rogaine, said that the price of its Unscented Foam product, which contains 5-percent minoxidil, is the same for the men's version as it is for the women's version. "Both men's Rogaine Unscented Foam and women's Rogaine Unscented Foam are priced the same when sold in the same size volume, can for can, both on our Rogaine brand retail web page and when we sell to retailers," Boston told Live Science in an email.
In the study, the researchers focused on prices at retail stores. They did not include Rogaine's website in their analysis.
Originally published on Live Science.
Stay up to date on the latest science news by signing up for our Essentials newsletter.