Hyperloop Pod Hovers for the First Time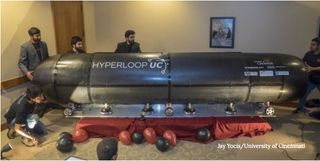 (Image credit: Jay Yocis/University of Cincinnati)
One small hover for man, one giant levitation for mankind. It was only a quarter of an inch, but a team from the University of Cincinnati got their sizable Hyperloop pod prototype to hover above the tracks in front of a cheering crowd.
The interdisciplinary UC Hyperloop team, led by aerospace engineering graduate student Dhaval Shiyani, wants their pod to one day carry passengers from Cincinnati to Chicago in a mere 30 minutes. Their modular prototype calls for separate passenger and engine areas. According to their description, the pod is outfitted with Arx Pax hover engines.
This pod is one of several participating in a student competition organized by SpaceX CEO and Hyperloop idea originator Elon Musk. His vision: Create futuristic high-speed transportation pods that travel through low-pressure vacuum tubes. Musk and SpaceX have no affiliation with the commercial companies that have sprung up to develop the tech, but they are encouraging students from around the world to go all out.
RELATED: Hyperloop for Canada: Montreal to Toronto in 45 Min.
UC's team definitely took that to heart. Their 14-foot-long prototype Hyperloop pod achieved magnetic levitation during a demo last week. Other big challenges remain for this transportation system beyond levitation — including some that may stymie even the brightest researchers — but seeing a pod prototype hover for real is exciting.
Earlier this year, more than 100 student teams competed in the SpaceX Hyperloop Pod Competition at Texas A&M University for a chance to turn their concepts into real prototypes. The UC Hyperloop pod is among 30 picked to head to a test track at SpaceX headquarters in early 2017.
Team captain Shiyani told the university he's proud of their design. "We are confident that we will be a force to reckon with come January," he said. Watch their pod get some air here:
Originally published on Discovery News.
Stay up to date on the latest science news by signing up for our Essentials newsletter.