Urinary Tract Infection: Causes, Symptoms & Treatment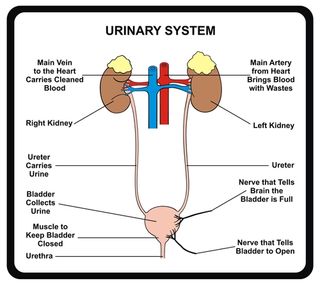 (Image credit: <a href="http://www.shutterstock.com/gallery-150193p1.html">udaix</a> | <a href="http://www.shutterstock.com/">Shutterstock</a>)
A urinary tract infection, or UTI, is a bacterial infection of any part of the urinary tract, which includes the bladder, kidneys, ureters (tubes that connect the kidneys to the bladder) and the urethra (the tube that allows the bladder to be emptied). Infections of the bladder or the urethra are the most common.
In the United States, about 8.1 million people visit the doctor due to a urinary tract infection each year, according to the American Urological Association.
Causes
Most often, a UTI occurs because bacteria enter the urethra and travel up to the bladder, where they multiply.
Bladder infections are typically caused by Escherichia coli (E. coli) bacteria, which are common bacteria in the human gut, according to the Mayo Clinic. Infections of the urethra can be caused by E. coli, or by sexually transmitted infections, such as herpes or chlamydia.
Bacteria in the bladder can also move up to the kidneys and cause a kidney infection (known as pyelonephritis), which can cause permanent kidney damage. An untreated UTI in the bladder can lead to such an infection.
Symptoms
According to the National Institutes of Health, symptoms of a UTI include:
A strong and frequent urge to urinate often, even after you've just emptied your bladder
Pain or burning while urinating
Cloudy or bloody urine
Pain in the lower abdomen or back (pelvic pain for women, rectal pain for men)
Signs of a kidney infection may include:
Chills or night sweats
Fever
Pain in the side, back or groin area
Flushed or reddened skin
Nausea and vomiting
In older adults, mental changes or confusion are often the only signs of a UTI, according to the NIH. For this reason, UTIs in the elderly are often missed, said Dr. Ketul Shah, a urologist from The Ohio State University Wexner Medical Center. If an elderly patient comes to the hospital because they are confused and not feeling well, it's important that doctors rule out common problems (such as UTI) first, before they start treatment for other, less common problems, Shah said.
Risk factors
Women are more likely than men to get a UTI. One reason for this is that women have a shorter urethra than men do, and it is closer to the anus. Both of these reasons explain why bacteria can reach the bladder more easily in women. Sexual activity also increases a woman's risk of UTI.
The drop in estrogen levels that women experience after menopause also can make the urinary tract more vulnerable to infection, according to the Mayo Clinic.
Blockages of the urinary tract, such as those caused by a kidney stone or an enlarged prostate, can block the flow of urine and increase the risk of UTI.
People with an impaired immune system, such as those with diabetes and other conditions, have a decreased ability to fight off infections, which can increase the risk of UTI.
People who have a urinary catheter are also at increased risk for UTI.
People who hold their urine for long periods of time may also be at risk for a urinary tract infection, Shah said. Urine has a high amount of glucose and proteins, which can allow bacteria to grow, Shah said. "The bacteria has more time to multiply" when people hold their urine, Shah said.
Diagnosis
To diagnose a UTI, doctors collect a urine sample to look for bacteria or byproducts from bacteria, such as red and white blood cells, Shah said. Doctors can also perform a urine culture — in which the urine sample is cultured in a lab to see if it grows bacteria — which takes about 24 to 48 hours, Shah said. The latter test can help doctors determine which antibiotics are most suitable to treat the infection, Shah said.
Treatment
Usually, a urinary tract infection is treated with antibiotics to prevent the infection from spreading to the kidneys. Symptoms of a bladder infection usually go away within one to two days after starting antibiotics.
Patients who are prescribed antibiotics should take them exactly as it was recommended by your healthcare provider, and they should not stop taking the drug until your provider says it is safe to do so, according to the Centers for Disease Control and Prevention.
A recent opinion article published in The BMJ (British Medical Journal) has questioned the long-held advice of finishing a course of antibiotics even if a person is feeling better to prevent the relapse of an infection. The article suggests this advice might be contributing to an increase in antibiotic-resistant bacteria.
Women with recurrent UTIs — meaning having more than two or three UTIs in a year — may be told to take antibiotics after sexual activity to prevent infection. Longer courses of antibiotics, or stronger doses, also may be required for people with recurrent infections.
A more severe infection of the kidneys may require hospital treatment. Hospital treatment involves injecting fluids and antibiotics through a vein. Some people may need surgery if the infection is caused by a problem with the structure of the urinary tract, according to the NIH.
UTIs in children can be serious because the infection can sometimes affect the growth of the kidneys, Shah said. Children who have had a UTI may require further testing to make sure their urine is not traveling back up into the kidneys, Shah said.
Prevention
Ways to help prevent UTIs include drinking plenty of water to dilute urine and flush out bacteria, and urinating after intercourse. Women who've gone through menopause may use estrogen cream around the vagina to reduce the risk of infections, the NIH says.
A 2012 review suggested that cranberries may help prevent UTIs, according to the University of Maryland Medical Center. Cranberries may interfere with the way bacteria attach to urinary tract cells.
The idea that cranberry juice can prevent UTIs is controversial, because although some studies show a benefit, other studies find little evidence of a benefit, or suggest that the benefit is a placebo effect, Shah said. Still, because cranberry juice is safe and not very expensive, Shah said he does recommend it as a way to help prevent UTI.
Additional reporting by Cari Nierenberg, Live Science Contributor.
Follow Rachael Rettner @RachaelRettner. Follow Live Science @livescience, Facebook & Google+.
Additional resources
Stay up to date on the latest science news by signing up for our Essentials newsletter.
Rachael is a Live Science contributor, and was a former channel editor and senior writer for Live Science between 2010 and 2022. She has a master's degree in journalism from New York University's Science, Health and Environmental Reporting Program. She also holds a B.S. in molecular biology and an M.S. in biology from the University of California, San Diego. Her work has appeared in Scienceline, The Washington Post and Scientific American.