History of Plenty: How the Thanksgiving Menu Evolved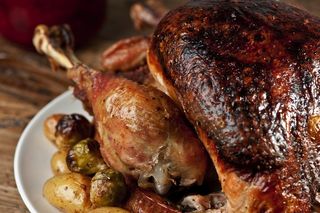 (Image credit: <a href="http://www.shutterstock.com/gallery-438640p1.html">Ekaterina Nikitina </a>, <a href="http://www.shutterstock.com">Shutterstock</a>)
This Thursday (Nov. 28), most Americans across the country will sit down with family and friends to share nearly the exact same meal.
But the Thanksgiving menu wasn't always so set in stone. At the holiday's inception, turkey was a mere part of the meal, not a necessary centerpiece. Mincemeat pie would have made an appearance. And green-bean casserole was undreamed-of.
The story of how modern Thanksgiving came to be is filled with myth, commercialization, regional influences and a dash of pragmatism, food historians say.
"Thanksgiving is based on a national myth," said food writer Cynthia Bertelsen, who blogs at Gherkins & Tomatoes.
A brief history of Thanksgiving
First, the basics: As you've likely heard, the whole Pilgrims-and-Indians' first Thanksgiving tale is more legend than fact. Yes, English colonists and Wampanoag Native Americans got together for a harvest festival in 1621. Harvest festivals are a common tradition in many cultures, as a matter of practicality. In late fall, the crops are in, the livestock need to be slaughtered and it's time for one last feast before the lean times of winter. [10 Facts About the 13 Original Colonies]
And so harvest festivals continued throughout the colonial days and early years of the United States, celebrated by different states at different points throughout the autumn. Northern states, in particular, celebrated the fall with harvest feasts, while the tradition was largely ignored in the South.
These harvest celebrations would have set the table groaning with their variety, according to Sandy Oliver, a food historian and co-author of " Giving Thanks: Thanksgiving Recipes from Pilgrims to Pumpkin Pie" (Clarkson Potter, 2005). The turkey, a bird that matures for slaughter in the fall, would have made an appearance, as would chicken, pork, beef and goose. Semisavory, semisweet foods — such as plum pudding — would have made up the side dishes. [Sidebar: See Menus From the Origin of Thanksgiving]
Thanksgiving was a good excuse to serve mincemeat pies, which were filled with chopped meat, dried fruit and spices, Oliver told LiveScience. At the time, mincemeat was strongly associated with Christmas, a holiday spurned by Protestants as too Catholic. Because of the hostility toward the holiday, Protestants broke the mincemeat-Christmas association by eating it on Thanksgiving instead, Oliver said.
There was no official Thanksgiving holiday until Sarah Josepha Hale, a 19th-century writer, made it her mission to combine all of the states' harvest festivals under one national umbrella. Finally, in the aftermath of the Civil War, then-President Abraham Lincoln got on board, and Congress established Thanksgiving as a national holiday in 1863 — 150 years ago.
The turkey takes its place
The foundation of Thanksgiving as an official holiday set off a process of myth making. Even though venison (deer) is the only meat confirmed to have been present at the Pilgrims' harvest feast in 1621, turkey gradually became the centerpiece of the new holiday, thanks, in part, to Hale, Bertelsen told LiveScience.
In her 1827 novel "Northwood, A Tale of New England," Hale rhapsodizes about the ideal Thanksgiving menu, including the turkey at a "lordly station" at the head of the table. She also mentions beef, pork and mutton (sheep), however — not to mention pickles and preserves, vegetables, custards, cheese, cake and pies.
"In the 19th century, the turkey has the additional charm that most Victorians in Yankeeland were positive that the Pilgrims had it too," Oliver said. "[The Victorians] were 200 to 300 years after the first settlement here, and they were romanticizing the past pretty energetically."
The turkeys of the 19th century weren't like today's big-breasted Butterballs, said Andrew Smith, a lecturer on food history at The New School in New York City. There were six or seven varieties of wild bird that would have been consumed depending on the region of the country, Smith told LiveScience. In the last few years, Smith said, foodies have embraced the past with heirloom turkeys that boast more dark meat than modern farmed birds. [Gobble, Gobble: 8 Terrific Turkey Facts]
A parade of sides
Like the turkey, some Thanksgiving sides were associated with the meal from its official beginning. Stuffing poultry with bread chunks dates back to Roman times, Bertelsen said. Cranberries and pumpkins are both Northeastern crops that are ready in the fall, making their inclusion in a fall harvest feast a no-brainer. Potatoes' place in the meal reflects their general popularity.
"We like having potatoes at Thanksgiving because people like having potatoes at every meal," Oliver said.
Potatoes originated in South America and were taken to Europe by Spanish explorers. They made their way back to the United States with Scots-Irish settlers, ethnic Scots who were resettled in Ireland and then immigrated to the Americas, Smith said. White potatoes didn't become a keystone of the American diet until about 1872, Bertelsen said, when botanist Luther Burbank developed the Russet potato that is ubiquitous today.
Some Thanksgiving staples, however, reflect a non-Northern heritage. The South took its time jumping on the Thanksgiving bandwagon, as the holiday was seen as a Yankee invention. When the Southern states joined, though, their influence was felt far and wide. Cornbread stuffing (or dressing, as Southerners call it) hails from the South, as do sweet potatoes. In fact, both dishes reflect African American cultural heritage, said independent culinary historian Michael Twitty.
"Sweet potatoes were one of the many root crops that were a staple in the West Indies," where enslaved Africans were pressed into service on sugarcane plantations, Twitty told LiveScience.
Slaves were given small plots of land unfit for sugarcane production on which to grow food to feed themselves, Twitty said. Some of these slaves worked as sugar-boiling men, who took harvested sugarcane and boiled it down into molasses to make rum. These men would take a cast-iron dish of sweet potatoes to the boiling house and spoon ladles of the molten sugar over the dish. The boiling sugar was so hot it cooked the potatoes as it cooled.
"If you think about one of our favorite dishes at Thanksgiving — candied yams — that started out as food for slaves," Twitty said. (Sweet potatoes are often called yams, but they're actually different plants.)
Cornbread is a Native American food adapted by European Americans and African Americans alike, Twitty said. West African meals typically include "mushes" like couscous or other grains, he said. Cornmeal played that role for enslaved Africans, who would mash up day-old cornbread with pepper, salt and herbs.
"People loved it," Twitty said. "It came to be part and parcel of the enslaved table and the table of their owners as well. So, it was a clear influence on how we eat."
The modernization of Thanksgiving
In many ways, Thanksgiving remains a throwback to old ways of eating: Whole roast birds, a giant meal at midday instead of a big evening dinner, foods cooked from scratch. But modernization has influenced the holiday meal, to some extent.
Green-bean casserole — usually made with mushroom soup and fried onions on top — was a 20th-century invention. In 1955, a Campbell Soup Co. home economist named Dorcas Reilly invented the recipe, which was made with Campbell's Cream of Mushroom Soup and French's French fried onions. It caught on.
"About 50 percent of French fried onions are sold during Thanksgiving, Christmas and Easter because of that casserole," Oliver said.
Canned cranberry sauce is relatively new on the scene, too. In 1912, the Cape Cod Cranberry Company started selling canned cranberry sauce under the now-familiar Ocean Spray name, Bertelsen said. Cranberries had long been associated with the holiday, but now there was a convenient food that made serving them as easy as wielding a can opener.
Of course, various regions have their own spins on Thanksgiving. The South prefers its sweet-potato pie to the pumpkin variety, Twitty said, and pecan pie has Southern roots as well. Norwegian Americans make a potato flatbread called lefse, which they serve with meatballs, Bertelsen said. The deep-fried turkey is catching on around the country, perhaps inspired by Southern ways of cooking. [Avoiding Fried Turkey Disaster (Infographic)]
"I speak as a connoisseur: The deep-fried turkey has a flavor all to its own," said Smith.
It remains to be seen how Thanksgiving will evolve next, but individual menus are usually open to at least a little bit of change. As people join new families by marriage, they bring their Thanksgiving traditions along with them, Oliver said.
"It wouldn't be Thanksgiving without … fill in the blank," she said. "That's one of the most interesting things anyone can ask."
Follow Stephanie Pappas on Twitter and Google+. Follow us @livescience, Facebook & Google+. Original article on LiveScience.
Stay up to date on the latest science news by signing up for our Essentials newsletter.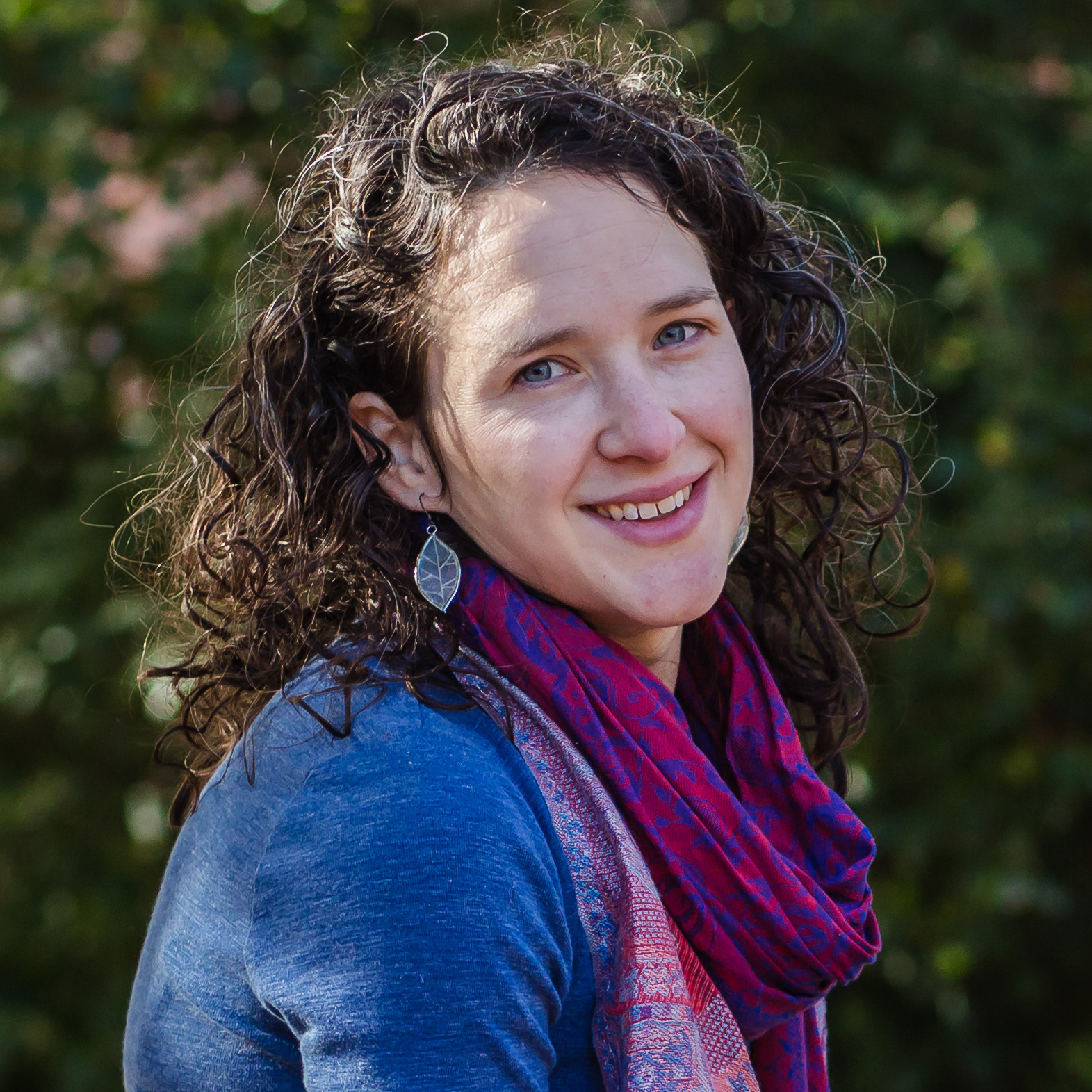 Stephanie Pappas is a contributing writer for Live Science, covering topics ranging from geoscience to archaeology to the human brain and behavior. She was previously a senior writer for Live Science but is now a freelancer based in Denver, Colorado, and regularly contributes to Scientific American and The Monitor, the monthly magazine of the American Psychological Association. Stephanie received a bachelor's degree in psychology from the University of South Carolina and a graduate certificate in science communication from the University of California, Santa Cruz.