Typhoon Francisco to Strengthen, Track Toward Japan Next Week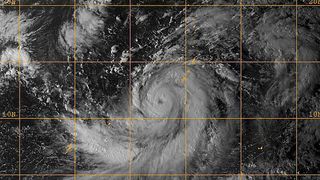 (Image credit: The Naval Research Lab.)
This article was provided by AccuWeather.com.
Typhoon Francisco continues to become better organized as it spins to the southwest of Guam.
Francisco has developed in a similar area to where former Typhoon Wipha formed last week.
Francisco, which became a typhoon Thursday, will bring heavy downpours to the Mariana Islands, including Guam, over the next day or two as the storm tracks northward.
As the storm strengthens through the end of the week, damaging winds should remain west of the Mariana Islands.
Later this week into early next week, Francisco will travel over the open waters of the Western Pacific, south of Japan. Warm water and low wind shear should allow for further intensification as Francisco takes a track very similar to that of former Typhoon Wipha.
By early next week, Francisco will begin to interact with a frontal boundary to the north that approaches Japan. This will front will attempt to steer Francisco northward then turn the storm northeast toward southern and eastern Japan.
Depending on the exact timing of the front coming in from the west, Francisco could be guided on a track very similar to the one taken by Wipha.
RELATED: Typhoon Wipha Leaves Dozens Missing in Japan AccuWeather Severe Weather Center AccuWeather Hurricane Center
If this scenario unfolds, another round of flooding rain and damaging winds would slam eastern Japan, including Tokyo.
If Francisco were to miss the connection with this frontal boundary, the storm would likely slow in speed and track off to the west before being lifted northward by a later frontal boundary.
This would likely take the greatest impacts of Francisco into the Korean Peninsula or western Japan, similar to the track of Tropical Storm Kong-Rey, earlier this year.
© AccuWeather.com. All rights reserved. More from AccuWeather.com.
With much of the country experiencing an unseasonably warm winter, fears of climate change come to mind. See how well you understand recent weather, climate and the difference between them.
Weather vs. Climate Change: Test Yourself
Stay up to date on the latest science news by signing up for our Essentials newsletter.