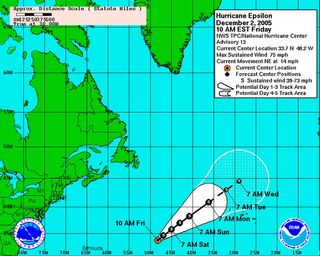 Hurricane season may be officially over, but nature is paying no attention. Overnight, a tropical storm named Epsilon turned into a hurricane out in the Atlantic.
Update: Still a Hurricane
2 p.m. ET Monday,
Epsilon is the 14th Atlantic-basin hurricane of the record-setting 2005 season, which started June 1 and ended Nov. 30.
December hurricanes are rare but not unprecedented. According to the National Weather Service, Epsilon is only the fifth December hurricane recorded in more than 120 years.
A Category 1 hurricane named Lili developed in mid-December in 1984. In 1988, hurricane Nicole, likewise a Category 1, formed in the tropics in late November but was still raging when December came around.
Friday morning, Epsilon was located about 1,200 miles west of the Azores, a group of volcanic islands in the Atlantic Ocean.
Epsilon was a Category 1 hurricane with winds of about 75 mph at this writing. It's expected to lose hurricane status by Saturday morning and be downgraded back to a tropical storm, said Dennis Feltgen, a meteorologist and public affairs spokesman for the National Oceanic and Atmospheric Administration (NOAA).
"It's not a threat to land at all," Feltgen said. "The circulation of the storm and its effects will pass to the northwest of the Azores."
September and October are typically the peak months of hurricane season.
December hurricanes are rare because by now, there's typically a marked increase in wind shear—the strengthening and turning of winds high up in the atmosphere—and the shear strips the tops off storms and prevents their full development.
Also, ocean sea surface temperatures cool dramatically by December. Warm water is the basic fuel for any hurricane. Together, these two factors act to quell hurricane formation, Feltgen said.
"In the case of Epsilon, just by chance, the system actually moved over a very narrow ridge of warmer sea last night and this morning which allowed it to build up to hurricane strength," Feltgen said.
Epsilon is named after the fifth letter of the Greek alphabet. This year is the first time U.S. hurricane experts have run out of traditional names in the history of weather-record keeping, forcing the move to Greek names.
Stay up to date on the latest science news by signing up for our Essentials newsletter.