Fernand Drifting Over Mexico With Flooding Threat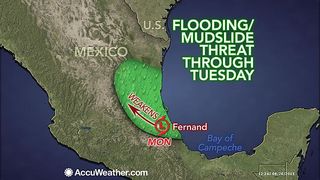 (Image credit: AccuWeather.com)
This article was provided by AccuWeather.com.
As Fernand pushes inland over Mexico Monday as a tropical rainstorm, it will bring both beneficial rain and the risk of flash flooding.
Fernand took shape in the Bay of Campeche over the weekend and made landfall Sunday night as a tropical storm.
The very warm waters of the Bay of Campeche, located in the southwestern Gulf of Mexico, helped a tropical low organize and strengthen into the sixth tropical storm of the 2013 Atlantic Hurricane Season Sunday evening.
Fernand will likely weaken Monday as it is no longer over the warm waters of the Gulf of Mexico that fueled its development over the weekend.
RELATED: AccuWeather.com Hurricane Center Latest Statistics on Tropical Storm Fernand Tropical Atlantic: Multiple September Hurricanes Possible
Regardless of its exact classification, torrential rain will accompany the storm into eastern Mexico. Between 4 and 8 inches (100-200 mm) of rain will pour down near the storm's center.
Dangerous flash flooding from the rain could lead to mudslides and washed-out roadways from Coatzacoalcos to Veracruz to Tampico through Monday night.
Locally flooding downpours are still possible on Tuesday, westward to the Sierra Madre Oriental, as the storm fully dissipates.
Winds capable of causing tree damage and power outages, as well as tossing about and damaging loose lawn items, will also be a concern in the vicinity of where the storm makes landfall.
AccuWeather.com Senior Meteorologist Kristina Pydynowski and Staff Writer Mark Leberfinger contributed to the content of this story.
© AccuWeather.com. All rights reserved. More from AccuWeather.com.
The only sure thing about weather forecasts is that they're wildly different all over the planet. Test your knowledge on the wild ranges in temperature, precipitation and more.
Extreme Weather Facts: Quiz Yourself
Stay up to date on the latest science news by signing up for our Essentials newsletter.