Three Storms Keep Hurricane Hunters Busy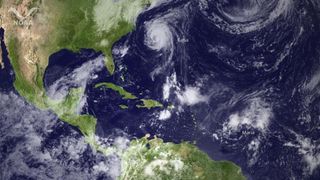 With Hurricane Katia and Tropical Storms Maria and Nate swirling in the Atlantic and over the Gulf of Mexico, Air Force Reserve hurricane hunters are keeping busy this week, sending planes into all three storms the maximum capability for the 10 weather-chasing WC-130J aircraft the unit owns.
Pilots, meteorologists and crew from the 53rd Weather Reconnaissance Squadron have been flying the massive planes out of their forward operating base on the island of St. Croix, in the Caribbean, and from their headquarters at Keesler Air Force Base in Biloxi, Miss.
Although Lt. Col. Sean Pierce, director of operations, said that juggling schedules for the 53rd's 10 aircraft and 20 flight crews is certainly a big challenge, he told OurAmazingPlanet the current situation isn't extraordinary. [In the Eye of the Storm: NASA's Hurricane Hunters ]
Another day, another storm
"Three storms it's somewhat routine business for the squadron here," Pierce said. "For us, August through September is race day. You train all year," he said, adding that although hurricane season starts months earlier, the pace of operations picks up dramatically when August arrives.
Fourteen named storms have formed in the Atlantic so far this year, in a hurricane season just hitting its stride, according to Dennis Feltgen of the National Hurricane Center.
"September is the most active month in what is turning out to be a very active season," Feltgen told OurAmazingPlanet.
The latest storm to burst onto the scene is Tropical Storm Nate , which is lingering over a corner of the southwestern Gulf of Mexico.
Yesterday (Sept. 7), the first flight headed into the storm, flying just 500 feet (152 meters) over the Gulf of Mexico. "We will increase our altitude as storm intensity increases for obvious safety reasons," Pierce said.
The weather officer on board the aircraft saw the telltale signs that indicated the system had rotation; in addition, its winds were whipping along at a brisk 60 mph (97 kph). The information was passed on to the National Hurricane Center, which then radioed back to the crew that it was official: Tropical Storm Nate had been born.
Pierce was aboard the flight. "It was great day for us, actually, because oftentimes you're out there looking and it takes several days," he said, "so we were able to accomplish a lot in one flight."
Storm trouble
It was a welcome change from last week, when the 53rd had to evacuate Keesler Air Force Base planes and personnel to Houston and St. Croix, as Tropical Storm Lee barreled across the United States. Although the storm wasn't forecast to rain down destruction on Biloxi, Pierce said that the high winds would have made it impossible for the 53rd's planes to get off the ground.
"Even though we fly in hurricanes, we can't take off and land in them," Pierce said. And when storms are raging the unit can't decide to just stay home, he added.
Instruments and crew aboard hurricane-hunting aircraft provide information that forecasters can't get any other way. Tropical cyclones the umbrella term for tropical storms and hurricanes occur over the ocean, a vast region that lacks the network of weather-sensing instruments available on land. Storms at sea can only be tracked by satellite.
"Satellite technology is not sufficient to penetrate the upper level clouds," Pierce said. "The only way to do that over water is to put an aircraft into the storm environment."
"We need these hurricane hunter aircraft planes," said the NHC's Feltgen, who described what the planes do as essentially performing an MRI of a hurricane. "It's going into the storm to figure out its structure, its strength, and all that data is used in computer models to better track these storms," he said.
Although none of the storms now raging in the Atlantic and the Gulf of Mexico appear to be headed for a direct hit on the continental United States very soon, Feltgen said the Leeward Islands may feel the effects of Maria soon, and that Nate is gaining steam.
"Nate could become a hurricane by Saturday, but as far as where it's going to go, that's anybody's guess right now," Feltgen said, and said that anyone who lives within the reach of a hurricane should always have a plan ready.
Reach Andrea Mustain at amustain@techmedianetwork.com. Follow her on Twitter @AndreaMustain.
Stay up to date on the latest science news by signing up for our Essentials newsletter.
Andrea Mustain was a staff writer for Live Science from 2010 to 2012. She holds a B.S. degree from Northwestern University and an M.S. degree in broadcast journalism from Columbia University.