Telecommuting Gets People Back to Work Post-Sandy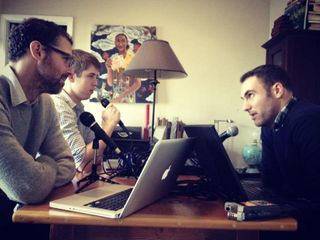 (Image credit: MLSsoccer.com)
Despite the economic damage already wrought by Hurricane Sandy, many businesses are staving off further losses by telecommuting. Employees are logging in from their homes, coffee shops, or nearby offices that have opened their doors to workers displaced by the storm.
Especially in New York, where 250,000 people in Manhattan have been without electricity, with downtown offices shuttered, very recent technology is allowing business to proceed — not exactly as usual, but close enough.
"We are getting everything done, although we are doing it in makeshift fashion," said Greg Lalas, editor-in-chief of MLSSoccer.com, the official site of Major League Soccer. Lalas's team needs to produce a daily, five-minute video and a twice-weekly podcast, in addition to other work. "We've been using Google Hangouts, live each morning" to produce the video, he said.
To meet the demands of stir-crazy employees, co-working spots have opened their doors, often offering reduced rates. Offices with extra cubicles have announced space for other companies' employees to bring their laptops, plug in and use the office Wi-Fi.
[SEE ALSO: Techie Volunteers Get New Yorkers Online After Sandy]
Just half a decade ago, economic losses could have been even worse. Many businesses and their employees would have been stuck and unable to work back then, said Eddie Hold, an analyst with NPD Group.
For one thing, hardware has changed. "Five years ago, we all had desktop computers. Now we all have laptops." That means an employee has easy access to files and can easily move from office to home to coffee shop with minimal interruption. With Wi-Fi now available nearly everywhere, an employee can theoretically work as well at the office as at a Dunkin Donuts or a neighbor's house. (Comcast, for example, has offered up its normally password-protected network of hotspots for everyone in Sandy's path.)
Moreover, employers are already more likely to let their workers telecommute, perhaps one or two days a week. So, many companies already have systems set up so that employees can access theirwork files from home, allowing workers to dig right in after a disaster. More importantly, Hold said, the computer servers that host those work documents are less likely to fail than they were half a decade ago. "I was surprised that some websites were down for a while," Hold said. Because computer servers keep documents in multiple places in "the cloud", one data center crashing isn't as important anymore — another server elsewhere will pick up the slack.
MLSSoccer.com's email, by all rights, should still be down, Lalas said. "Our IT department set up this emergency rerouting system, so it's being diverted before it gets to the servers that are down. I don't think that stuff would have existed" five years ago. His team is also using SMS and Twitter to stay in touch with each other and with fans. And, given that the first iPhone hit shelves (and spawned a new generation of powerful smartphones) just five years ago, workers have only recently been able to connect without wired Internet service or electricity (so long as batteries hold up).
[SEE ALSO: The iPhone 5 — How Did We Get Here?]
MLSSoccer.com relies on another factor to stay up and running: four employees in a San Francisco satellite office can pick up a lot of work that the New York team can't handle.
With more companies employing people scattered around the country or globe, these businesses can better weather a natural disaster. "If you live in San Francisco, and work for a New York City company, that's great" for situations like these, said Hold, calling it "the cloud with people."
On the other hand, for companies still based in a central office, with employees commuting from nearby, a big storm like Sandy still poses a big problem, since the employees' homes will likely lack power, too, Hold said.
Hence, Lalas decided to host four of his team members in his apartment. "They first started coming over when they were like, 'Dude, I have to get out of the house.'" But having the staffers together also helped them produce their site's podcast. "I pulled out a bunch of my old microphones from when I was in bands when I was a kid. We made it happen," Lalas said. Reached by phone, Lalas told us that all of MLSSoccer.com's New York-based employees are telecommuting — right before his cell signal dropped.
This story was provided by TechNewsDaily, a sister site to LiveScience.
Stay up to date on the latest science news by signing up for our Essentials newsletter.
Rachel is a writer and editor based in Washington, D.C., who covers a range of topics for Live Science, from animals and global warming to technology and human behavior. Rachel also contributes to National Geographic News, Smithsonian Magazine and Scientific American, and she is currently a senior editor at Next City, a national urban affairs magazine. She has an English degree with a journalism concentration from Adelphi University in New York.