Fabio Weakens, Spotted Chasing Emilia's Remnants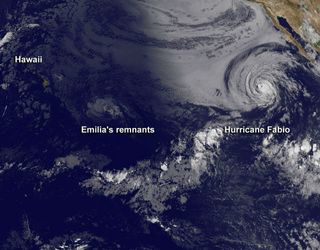 (Image credit: NASA GOES Project)
After more than a week of back-to-back storms, the East Pacific is finally beginning to quiet down, with Hurricane Fabio weakening into a tropical storm.
Fabio was still a hurricane yesterday (July 16) when a satellite caught a glimpse of it chasing the remnants of Hurricane Emilia.
The National Oceanic and Atmospheric Administration's GOES-15 satellite snapped an infrared image of the two storm systems at 11 a.m. EDT on Monday, while Hawaii was still in the pre-dawn hours. At the time, the remnants of Emilia, which was the strongest storm to form so far this season, were about 800 miles (1,300 kilometers) east-southeast of Hilo, Hawaii, and moving west at 20 mph (32 kph).
Hurricane Fabio, which was in daylight, was weaker than its peak strength over the weekend, but was still a Category 1 hurricane.
Fabio has since been downgraded to a tropical storm and has maximum sustained winds of 45 mph (75 kph). The storm is expected to weaken further as it moves over cooler ocean waters.
Fabio is located about 670 miles (1,100 km) west of the southern tip of Baja California and is moving to the north, though it is expected to begin turning more toward the northeast, according to the latest update from the U.S. National Hurricane Center. The NHC warns that the storm is producing swells that could cause dangerous surf and rip currents along the west coast of Baja California.
Fabio is the sixth named storm of the 2012 hurricane season for the East Pacific basin and was the fifth hurricane. The Atlantic basin, after some early season activity, has remained quiet.
Four named storms have formed in the Atlantic this season, two of which spun up before the official June 1 start to the season. The Atlantic has seen only one hurricane so far.
The 2012 Atlantic hurricane season is forecasted to be a normal one, with 15 named storms (tropical storms and hurricanes), with between or to eight hurricanes. The busiest months of the season are typically August and September.
Stay up to date on the latest science news by signing up for our Essentials newsletter.
Andrea Thompson is an associate editor at Scientific American, where she covers sustainability, energy and the environment. Prior to that, she was a senior writer covering climate science at Climate Central and a reporter and editor at Live Science, where she primarily covered Earth science and the environment. She holds a graduate degree in science health and environmental reporting from New York University, as well as a bachelor of science and and masters of science in atmospheric chemistry from the Georgia Institute of Technology.