Epilepsy May Have Caused Chopin's Hallucinations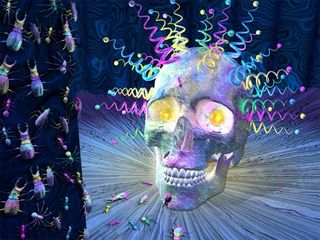 (Image credit: dreamstime.com.)
The classical composer Frédéric Chopin suffered from a litany of health problems, but one may have been overlooked until now: Temporal-lobe epilepsy may have caused his hallucinations, according to researchers.
Chopin, who was born in Poland in 1810, suffered from bouts of melancholy that are suggestive of depression or bipolar disorder, and his lifelong respiratory problems have been diagnosed as cystic fibrosis. He died at 39.
"The great composer Frédéric Chopin was the epitome of a frail and sensitive man, his illness enhancing the romanticized cliché of a sentimental artist," write two researchers from a Spanish hospital, whose work was published online today (Jan. 24) in the journal Medical Humanities.
The debate over Chopin's maladies had overlooked the hallucinations from which he suffered. Based on accounts from his mistress, a pupil and Chopin himself, the authors suggest that epilepsy – a disorder marked by abnormal electrical activity in the brain – might have been responsible.
In a letter to his mistress's daughter, for instance, Chopin described halting a piano performance and walking out of the room.
"I saw emerging from the half-open case of my piano those cursed creatures that had appeared to me on a lugubrious night at the Carthusian monastery," Chopin wrote, referring to a trip taken with his mistress on the Spanish island of Majorca. "I had to leave for a while in order to recover myself, and after that I continued playing without saying a word."
In focal, or partial, epilepsy, the electrical storm is confined to one area of the brain, and it can produce visual hallucinations. If the temporal lobe of the brain is affected, the hallucinations tend to be complex but fragmented and brief, according to the authors, who rule out other possible causes, such as migraines. [Epilepsy: Symptoms and Treatment]
"We doubt that another diagnosis added to the already numerous list will help us better understand the artistic world of Frédéric Chopin, but we do believe that knowing he had this condition could help to separate romanticized legend from reality and shed new light in order to better understand the man and his life," write radiologist Manuel Várquez Caruncho and neurologist Francisco Brañas Fernández, from the Xeral-Calde Hospital Complex in Lugo, Spain.
Stay up to date on the latest science news by signing up for our Essentials newsletter.
Wynne was a reporter at The Stamford Advocate. She has interned at Discover magazine and has freelanced for The New York Times and Scientific American's web site. She has a masters in journalism from Columbia University and a bachelor's degree in biology from the University of Utah.