There's nothing quite like a Mac, but Apple's pricing certainly doesn't make it easy to get into its computing ecosystem – particularly if you're a student.
While Apple's new Mac Mini with M2 is a great place to start, it needs a monitor, keyboard, and mouse, and won't offer the flexibility of a laptop. For that, your options are the MacBook Pro and MacBook Air, and while there are M2 versions of each, this does make the M1 versions more affordable.
In fact, the M1 MacBook Air is now the cheapest MacBook you can buy right now, with Best Buy offering a $200 discount (opens in new tab), too. That brings the laptop down to $799.99, and it still offers all of that "Mac goodness". Not bad for one of the best laptops for students.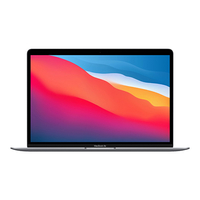 (opens in new tab)
MacBook Air M1 - was $999.99, now $799.99 at Best Buy (opens in new tab)
Save $200 on the M1 MacBook Air and get into the Mac ecosystem for less than you'd think, with a powerful, efficient laptop.
The MacBook Air M1 may not look as nice as it's newer, M2-sporting successor, but there's something to be said for its more classic design – although, yes, it still has a 720p webcam.
That disappointment aside, you can find plenty to admire for a laptop under $800. There's a Retina display, the machine weighs less than 10 pounds, and it's still the slimmest Apple laptop thanks to its tapered front.
The M1 chip may be a couple of years old, but it's still capable of running everything you'll find on the Mac App Store, and plenty more that you'll find elsewhere. It's remarkably power efficient, too, so you can enjoy all-day battery life. There may be a newer model out, but this is still one of the best MacBooks for students (opens in new tab).
We will concede, however, that 256GB is not quite enough for many users these days, so you may want to consider the 512GB version which is down to $1124.99 (opens in new tab) – a saving of $125. You can also check out our MacBook Air M2 review to see what upgrades the newer model has.
In our 4-star MacBook Air M1 review (opens in new tab), we noted that the MacBook Air M1 is a great entry-level device to get started with macOS. We could've done with a better camera and more ports, but for many users it's the perfect laptop.