Build muscle without weights for less than $25 with this discounted resistance band set
Save 29% on this five-band set with up to 50lbs of resistance, carabiner clip attachments, and ankle straps for effective home workouts.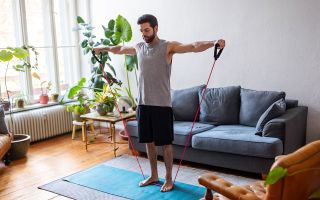 (Image credit: Getty Images)
Dumbbells and kettlebells are great for home workouts, but they can be expensive and difficult to store. Resistance bands are a great alternative if you're just starting out, especially since this HolaHatha Resistance Band Set is just $23.49 at Target right now.
There are five bands ranging up to 50 lbs of resistance with carabiners on each end, so you can connect them to form a loop or attach them to the included handles or ankle straps, depending on the exercise you're doing.
You also get a carry bag to store the bands and accessories when not in use. However, like a lot of resistance bands, they're made from latex, so you'll want an alternative like the Meglio Latex-Free Resistance Bands if you have a latex allergy.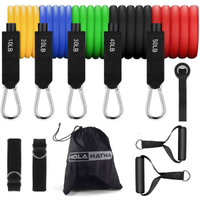 HolaHatha Resistance Band Set | was $32.99, now $23.49 at Target
This five-band set ranges from 10lbs up to 50lbs, comes with ankle straps and door anchors, and includes two cushioned handles for a varied workout. The bands are color-coded and labeled for quick identification and come in a carry bag for easy storage.
The 48-inch bands are a versatile way to increase the resistance of bodyweight exercises like squats and lunges and can be attached to a door or other anchor point so you can practice your biceps curls technique. And as there are strengths from 10lbs up to 50lbs, you can increase the load as you get stronger.
The included ankle straps also mean you can attach the bands to an anchor and target your lower body, or switch to the door anchor and work your core. And if you're worried about whether resistance bands build muscle, they're an effective tool, especially if you're new to resistance training or recovering from an injury.
That doesn't mean adjustable dumbbells and other weights don't have their place, though. If you're training to build muscle, you'll want to follow the progressive overload technique to gradually increase the weight. But as these bands max out at 50lbs, at some point you may need to grab a kettlebell or dumbbell to keep progressing.
Stay up to date on the latest science news by signing up for our Essentials newsletter.
James is a Staff Writer for Live Science's sister site, Fit&Well. Before joining Future in 2021, he was the Buyer's Guide Editor and a Senior Staff Writer for the consumer technology website MakeUseOf and has bylines at Blocks Decoded, Lifewire, and Happiness.
He regularly tests out fitness equipment, including smartwatches, headphones, and writes about affordable ways to improve your health and wellbeing. James studied Mechanical Engineering at the University of Surrey, which is where he learned about the fundamentals of thermodynamics, fluid mechanics, and material design.