The Gigabyte Aero 16 delivers near-unbeatable power for coding, development, and photo-editing, and its stunning AMOLED display is well-suited to creative workloads. The battery is poor though, and don't expect much in the way of physical connectivity.
Pros
+

Fantastic processing and graphics power

+

Tremendous AMOLED screen

+

One of the best keyboards on the market

+

Robust, smart exterior
Cons
-

Poor physical connectivity options

-

Disappointing battery life

-

Could be even faster
Why you can trust Live Science Our expert reviewers spend hours testing and comparing products and services so you can choose the best ones for you. Find out more about how we test.
Key specs:
CPU: Intel Core i7-12700H or i9-12900HK
GPU: Nvidia GeForce RTX 3070 Ti/RTX 3080 Ti
RAM: 16 GB, 32 GB
Storage: 1 TB, 2 TB, 3 TB
Screen size: 16 in 3840 x 2400 AMOLED
Weight: 5.07 lbs (2.3 kg)
Dimensions: 14.01 x 9.76 x 0.88 in (356 x 248 x 22.4 mm)
The Gigabyte Aero 16 is a serious bit of kit for serious bits of work – like coding, programming, and development. With its huge computing horsepower and stunning aluminum design, there's plenty to like about this impressive rig. It's even earned a spot on our best laptops for photo editing.
On the inside you'll find some of Intel's most powerful laptop processors alongside benchmark-breaking Nvidia graphics cores. And, arguably, those aren't even the best components here because the Gigabyte includes a stunning AMOLED display with a 4K-busting resolution.
It's the kind of fearsome specification that'll stand up to the best coding laptops, like the Apple MacBook Pro 16 and Dell XPS 15, but there's no denying that the Gigabyte Aero 16 is a pricey portable (although they have recently dropped their prices) – in the U.S. these models start for $1,611, and in the U.K. you'll have to pay at least £2,399.
If the Gigabyte Aero 16 can impress, it'll easily justify the outlay and form part of your development setup for years. However, can the Aero topple Apple?
Gigabyte Aero 16 review: Design & features
Exceptional build quality from a slick-looking aluminum design
One of the best keyboards you'll find on any laptop, anywhere
A dearth of physical ports mean this laptop could be more practical
Ease open the Gigabyte Aero 16's aluminum-alloy lid and you'll be hard-pressed to get away from one hard fact: this machine takes inspiration from Apple. That's no wonder as the Aero is made from CNC-milled metal and black bezels surround its display.
It may not be original, but there's no denying the Aero looks good. Its CNC-milled edges are clean and clinical, the milled speaker grilles look sharp, and bezels are seriously tiny. All that aluminum means that the Gigabyte is rock-solid, too, and we've got no qualms about slinging the laptop in a bag.
The impressive build quality carries through to the keyboard. The unmoving base helps create a fast and satisfying typing experience, and the keys have plenty of travel. It's one of the best laptop keyboards we've used (and we've used a lot), and well-suited to long days of development work. Our only issue is the lack of a number pad, which could prove irritating for some coders.
The quality continues to the trackpad. It's huge and responsive, and its in-built buttons are fast and shallow – as close as you'll get to a proper mouse on a laptop.
It's a good start, but the Aero is not infallible. At 5.07 lbs (2.3 kg) in weight and 0.88 in (22.4 mm) thick, it's larger than the Apple and Dell notebooks. And, given the size, the Gigabyte's connectivity is underwhelming. You'll find two Thunderbolt 4 ports and a USB-C connector here, but there are no full-size USB ports, no card reader, and no HDMI. The webcam supports Windows Hello, but there's no fingerprint reader. Plus, there's no native wired internet – just Wi-Fi 6E and Bluetooth 5.2.
Image 1 of 2
These omissions are not unusual, but they're annoying on a large laptop. Gigabyte addresses this issue by throwing a port hub into the box. It adds HDMI, mini-DisplayPort, Gigabit Ethernet, and a full-size USB port, but it's awkward and just adds bulk to the laptop. Whereas the MacBook Pro goes further with an HDMI output and SD card slot, and the Dell also includes an SD reader. Both support fingerprint biometrics.
Gigabyte Aero 16 review: Specs & performance
Sensational processing and graphics ability for coding and creative tasks
Consistently cool and quiet operation, no matter the workload
Components will run a little faster in louder, larger laptops elsewhere
The Gigabyte Aero 16 is sold in two configurations. The more affordable option is called the Aero 16 XE5. It has an Intel Core i7-12700H processor alongside an Nvidia GeForce RTX 3070 Ti graphics core with 8 GB of dedicated memory. It's also got two 1 TB SSDs and 16 GB of DDR5 memory.
The Gigabyte Aero 16 YES is also available if you want more performance. That's the beefier of the two models, and it combines a Core i9-12900HK processor, GeForce RTX 3080 Ti graphics core, and a pair of 1 TB SSDs with 32 GB of DDR5 memory.
They're fearsome specifications. The Core i7-12700H scored around 1,700 and 11,100 points in the Geekbench single- and multi-core benchmarks. While the i9-12900HK can score about 1,900 and 13,000 points in this laptop.
The Dell uses the same processors, so expect similar performance. The Apple M1 Pro (a more affordable MacBook) is comparable to the i7-12700H, while the more expensive Apple M1 Max is slightly slower than the Core i9 CPU.
The Core i7 version of this laptop has ample power for almost all development tasks, while the Core i9 rig will tackle everything, including the toughest encoding and VM workloads – you'll only get a significant performance gain from a desktop workstation.
Nvidia's GeForce RTX 3070 Ti and RTX 3080 Ti graphics cores are excellent, and can tackle any graphical workload. You'll only need the RTX 3080 Ti if you need to churn through tough tasks, like 4K video development or demanding CAD design. Neither the Dell or MacBooks are available with remotely similar levels of graphical performance, which is why we've tipped the Gigabyte Aero 16 as one of the best laptops for photo editing.
It's an almost clean bill of health for the Aero, although its thermal performance is a double-edged sword. Impressively, the Aero is cool and quiet in the most challenging workloads. That's great, but it does mean that the processor and graphics core don't quite run at their full speeds. If you're willing to buy a heavier, thicker, and louder laptop, you'll get even more grunt.
Gigabyte Aero 16 review: Screen & speakers
Incredible AMOLED display with perfect contrast and punchy colors
High resolution and 16:10 aspect ratio deliver loads of space
Disappointing, tinny speakers are no good for decent background music
The Aero's stunning 16-in panel has a 16:10 aspect ratio and a huge resolution of 3840 x 2400, plus it's an AMOLED display with Pantone validation.
AMOLED technology means incredible depth and infinite contrast. The taller aspect ratio makes it easier to see more in office tools and browser windows, and the huge resolution means crisp imagery and loads of space.
Benchmarks impress, too. The colors are accurate and this screen produces all of the sRGB, Adobe RGB, and DCI-P3 color gamuts. The brightness level approaches 400 nits, so it's suitable for indoor and outdoor use.
You don't necessarily need AMOLED quality and a high resolution to handle coding, although having lots of on-screen space certainly helps. However, the high-quality display makes media and games look incredible, and it also gives you the visual clout to handle content creation.
This screen is marginally better than the Liquid Retina XDR display in the MacBook, even if that panel is a bit brighter. The Dell's default display can't compete, and while it has an OLED option available, its resolution is a bit lower than the Aero's display.
Don't expect the audio gear to match the screen, though. The Aero's speakers are tinny and underwhelming, and both rivals make significant improvements.
Gigabyte Aero 16 review: Battery life
Expect three hours of battery life at best from this machine
Both Gigabyte's main rivals will last throughout the working day
Sadly, the Gigabyte Aero 16's battery didn't last very long, which is no surprise considering the powerful internals.
In a conventional work benchmark the Aero lasted for just over three hours. You should expect the rig's battery to last for just two hours if you want the screen at a higher brightness level or if you need to push the internals.
Unsurprisingly, other laptops are better. You'll get a full day of use out of the MacBook, and the Dell XPS 15 isn't far behind.
Gigabyte Aero 16 review: Price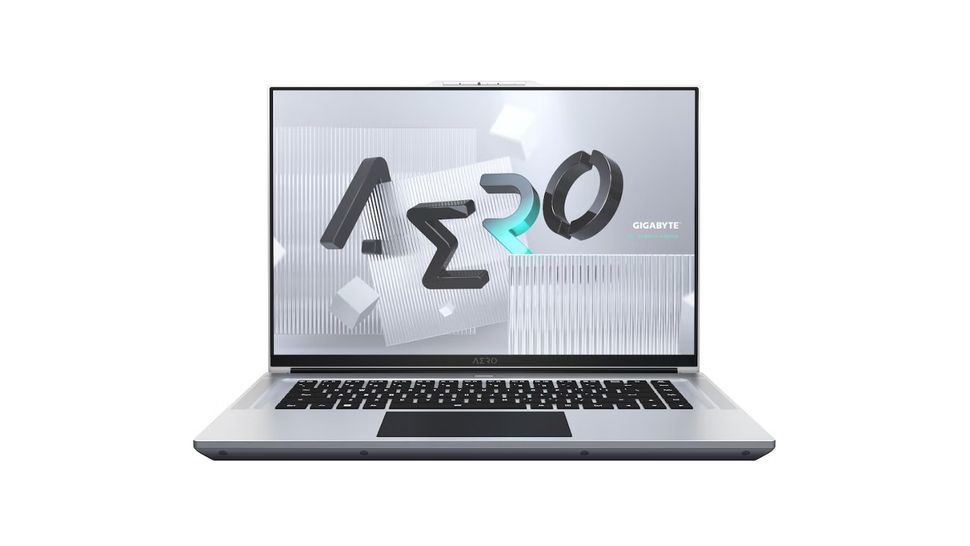 U.S. prices start from $1,611
In the U.K. you can expect to pay £3,300 plus
In the U.S., you'll have to pay $1,611 for the Gigabyte Aero 16 XE5, and that price rises to a monstrous $4,200 if you want the Core i9-based Aero 16 YE5.
The prices are more daunting in the U.K., where the XE5 arrives at £3,300 and you'll have to shell out £3,999 for the YE5.
Still, those prices don't look bad when lined up against the Apple. The cheapest M1 Pro MacBook Pro 16 costs $2,499 (although we have seen it on sale on Amazon for $2,000) and it comes with 16 GB of memory and a 512 GB SSD. Upgrade to a 1 TB drive to try to match up with the Aero's specification and you'll pay $2,699. In the U.K., those prices sit at £1,937 and £2,399 for 1 TB. If you'd like the M1 Max chip in the MacBook, be prepared to pay at least $3,499 or £3,249 – and remember that the Core i9-12900HK is faster.
The Dell XPS 15 is cheaper than the Aero and Apple laptops. XPS models with the Core i7 CPU and a 3.5K OLED screen cost $1,899 or £2,199. Prices of course rise if you upgrade to a 2 TB or 4 TV SSD, but the Dell remains an affordable option too.
Should you buy the Gigabyte Aero 16?
The Gigabyte Aero 16 is a powerhouse, but irritating design inconsistencies mean it won't suit everyone.
Positively, its processor and graphics card options handle virtually any coding and photo-editing task, and no rival can match its pace: the XPS 15 has the same processors but weaker GPUs, while the various Apple M1 chips either compete or fall behind Core i7 and i9 silicon.
Elsewhere, Gigabyte's machine delivers a sensational 4K AMOLED screen, a market-leading keyboard, and admirable build quality.
It also delivers disappointment, though. For a serious work laptop with a 16 in screen, more ports would have been welcome, plus the battery is poor. It's expensive, too – on par with the MacBook but pricier than the Dell.
If you want a powerful laptop for coding with a fantastic keyboard and display, then the Gigabyte Aero 16 should be at the top of your list. However, if you'd prefer a better battery or connectivity, then keep shopping.
If this laptop isn't for you?
The battery is the Aero's biggest flaw, and if you want to rectify that fault then you should buy the Apple MacBook Pro 16. That laptop is a development powerhouse, and its battery will last for all of your working day.
Similarly, the Dell XPS 15 has an all-day battery life, so it's an ideal alternative if you want to stay on Windows. It's cheaper than the Aero at the expense of graphics ability, too, and it's lighter than the Gigabyte and Apple notebooks.
And if a 15.6 in or 16 in laptop is just going to be too big for coding on your commute, consider the Apple MacBook Pro 13 – it's been updated with Apple M2 processors and only weighs 3 lbs (1.4 kg).
Mike is a freelance technology journalist and consultant who is fascinated with gaming, futuristic technology and motorsport. Previously, Mike has worked as a writer for PC Pro magazine writing and published articles on technology for many other media outlets, including TechRadar, Wired, PC Advisor, Stuff, The Inquirer and Red Bull Gaming.