The Dell XPS 15 is a strong, good-looking laptop with a great keyboard, loads of processing power and vibrant screen options, but it's not cheap, and it's hindered in a handful of practical areas.
Pros
+

Stunning, robust design

+

Powerful processors and plenty of customization

+

Bold, high-resolution displays and an OLED option

+

Impressive keyboard
Cons
-

Limited physical connectivity

-

Color accuracy could be better

-

Only moderate battery life

-

Potentially expensive
Why you can trust Live Science Our expert reviewers spend hours testing and comparing products and services so you can choose the best ones for you. Find out more about how we test.
Dell XPS machines are usually some of the most luxurious laptops around, and the latest Dell XPS 15 doesn't stray from a familiar blueprint.
Key specs
CPU: Intel Core i7-11800H or Core i9-11900H
GPU: Nvidia GeForce RTX 3050/3050 Ti
RAM: 16GB, 32GB, or 64GB
Storage: 512GB, 1TB, or 2TB
Screen size: 15.6in 1920 x 1200 IPS, 3840 x 2400 IPS, or 3456 x 2160 OLED
Weight: 3.9 – 4.3 lbs (1.8 – 1.96kg)
Dimensions:13.5 x 9 x 0.7 in (345 x 230 x 18mm)
That's not necessarily a problem. The XPS 15 has received subtle improvements since its last iteration, and the laptop impresses with powerful internals and enhanced display options.
While there's no doubt that the Dell XPS 15 looks the part and has the power to scythe through tough tasks, there are some areas where its design doesn't quite stack up. And, as ever, Dell XPS machines are not cheap, so we've delved into the pricing situation too.
If you're looking for one of the best laptops for coding or programming though, we think the Dell XPS 15 is a top contender. it has a large screen and excellent keyboard which makes it s a dream to work on for longer periods of time, and under the hood it has all the power you'll need to compile and test your works.
And when you need to unwind and play a few games or watch a movie after work, the XPS also has a great screen and solid GPU to make the latest blockbusters shine. if that sounds like your kind of machine, then read our full Dell XPS 15 review below to find out the full story.
Dell XPS 15: Design & features
A stunning, sturdy and familiar notebook
Great keyboard
Solid features but underwhelming port selection
The Dell XPS 15 is one of the best-looking laptops you can buy today. Its body remains made from CNC-milled aluminum, and the keyboard deck still uses carbon fiber – and it still all looks brilliant.
The XPS 15 is available in two different color schemes – there's platinum silver and black model we've tested alongside a white model with a glass fiber keyboard deck.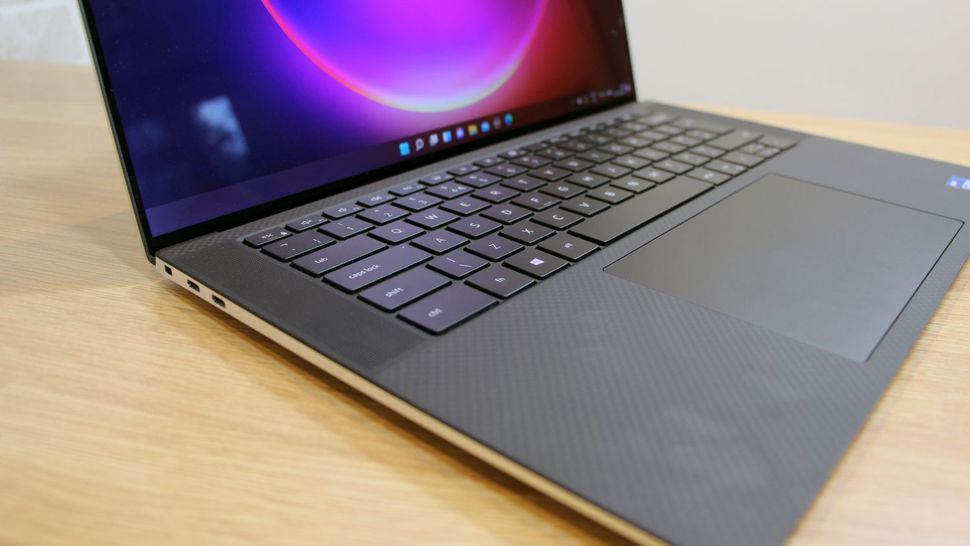 Dell's machine has superb build quality, and it weighs between 1.8kg and 1.96kg depending on the specification. It's also just 18mm thick. Combine the robust design and modest dimensions and you've got a device that's reassuringly easy to use on the road.
The keyboard's large buttons hammer down into a rigid base, and the keys have a crisp, comfortable and consistent typing action – it's easy to use this unit all day. The only downside is the lack of a numberpad. The trackpad is great, too: large, accurate, and with full gesture support.
Dell's machine has a 720p webcam with Windows Hello support, and the power button includes a fingerprint reader. Connectivity comes from dual-band 802.11ax wireless and Bluetooth 5.1.
In some practical areas, though, the Dell doesn't match up. This laptop has two Thunderbolt 4 ports and a USB 3.2 Type-C connector alongside an SD card reader and headphone jack. That's it for physical connectivity, though – there are no full-size USB ports, no HDMI output and no wired internet. Dell includes a USB and HDMI adapter in the box, but that's not ideal.
Dell XPS 15: Specs and performance
Impressive Intel processors
Decent thermal performance
An entry-level graphics core
The Core i7-11800H has eight cores and a top speed of 4.6GHz, and it's superb. When combined with the default 16GB of memory, it can tackle most everyday tasks, from running loads of browser tabs to handling Office tools and mainstream content creation.
This chip is marginally faster than the AMD Ryzen 7 5800H that's often included in rivals, and it's miles beyond the low-power Core i7 CPUs used in lighter laptops. Dell's machine does a great job in the thermal department, too – the XPS was never too hot or loud.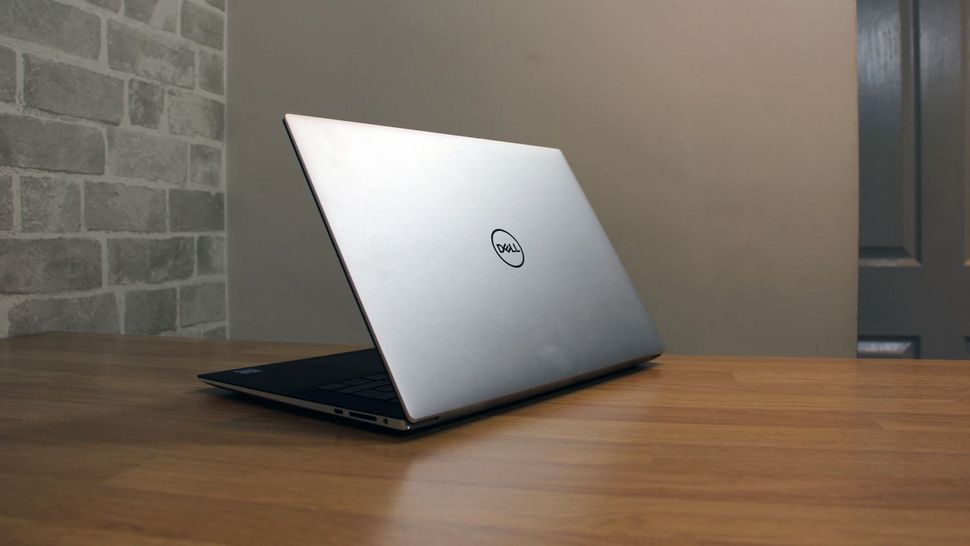 If you spend more on the Core i9-11900H, don't expect a huge performance boost. Both chips have eight cores and the Core i9 part is only 300MHz faster. The processor upgrade will deliver some extra ability in creative tasks, but it's only worth consideration if you want to run demanding apps, like 4K video tools or high-end design software.
If you want to wait for Intel's 12th generation chips, you'll see small improvements to single-threaded tasks alongside significant gains in multi-core tests. If you want to run really demanding creative software, it's worth – although the boosted Dell XPS 15 will likely be more expensive than the models listed here.
The default 16GB of memory is ample for everyday situations, and you only need to consider a 32GB boost to run tougher professional and creative tools. The 64GB upgrade will be overkill for most users – only the most demanding designers and creatives need apply.
The RTX 3050 and RTX 3050 Ti graphics cards are unimpressive. They're quicker than any integrated graphics core, but they've only got the power to help in mainstream content-creation tools. On the gaming side, they'll only handle esports and single-player titles at 1080p.
Dell XPS 15: Screen and Speakers
Bold, bright and high-resolution display options
Good colors that could be a bit better
Excellent audio gear
The XPS 15 is available with three screens – the two IPS models and the sole OLED alternative. All three use a 16:10 aspect ratio, which gives you more vertical space than conventional 16:9 panels.
The 3,840 x 2,400 IPS unit has a peak brightness level beyond 450 nits, so it's ideal to use indoors and outside, and its contrast ratio hovers at 1,750:1. That's great for an IPS panel, and it helps this screen serve up impressive depth and vibrancy – everything is bold and punchy.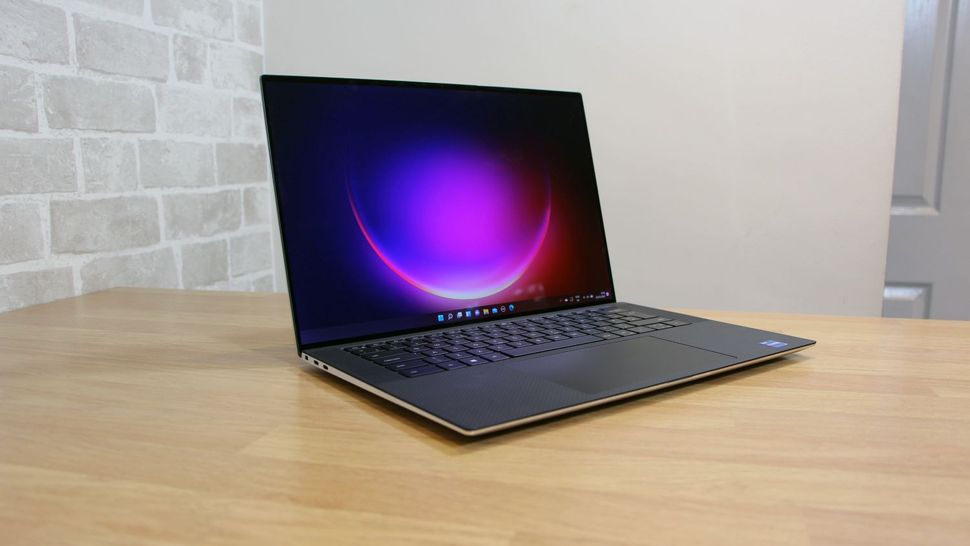 Dell's panel takes a bit of a turn in the color department. Positively, this screen displays the entirety of the sRGB color gamut and almost all of the Adobe RGB and DCI-P3/HDR color spaces, so it's capable of working in those areas. Negatively, the display's color accuracy is good, but not great.
The slightly wayward color accuracy isn't noticeable in everyday use and it's fine for everyday work. Indeed, the Dell's vibrancy, resolution and contrast make this one of the best laptop panels around today. Expect the same quality on the lower-resolution IPS option.
That said, if you work in tasks that need picture-perfect color accuracy then you should look at other machines or consider Dell's OLED screen despite its slightly lower resolution. It's a solid photo editing laptop, but there are better options out there.
No matter the display, you're always going to get good audio here. The Dell's speakers are excellent: loud, crisp, and detailed. Our only criticism is some slightly strong bass. They're among the best speakers you'll find on any laptop.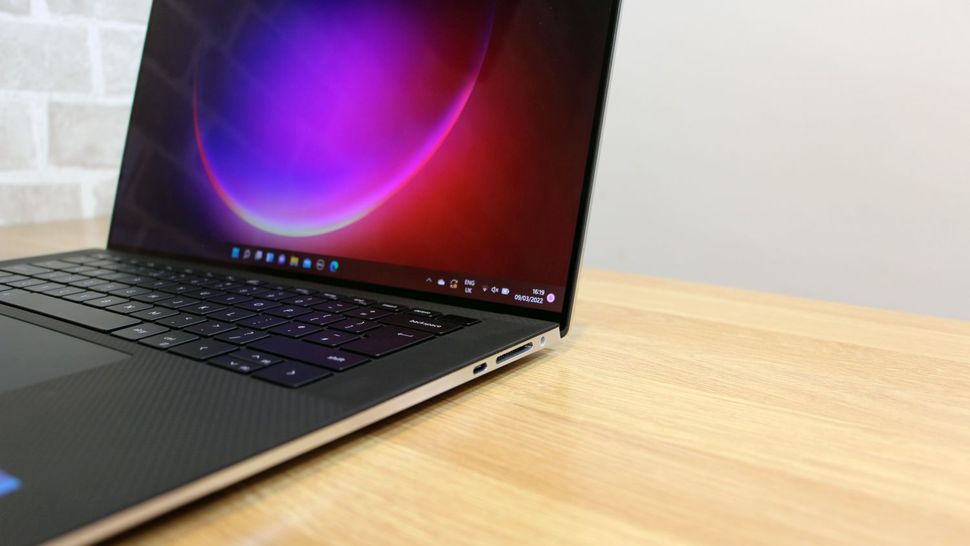 Dell XPS 15: Battery life
All-day lifespan in moderate workloads
Longevity drops in tough apps or with the OLED display
In a work benchmark with the screen at half brightness, we found that the XPS lasted for nine hours and four minutes. That's a reasonable result for a 15.6in laptop with a powerful processor, and if you use this notebook for everyday tasks then you'll get through the working day.
Running the processor at maximum pace, we found that the XPS 15 had about six hours of longevity. You can expect both of those results to drop by around an hour if you buy the OLED screen.
These are not bad results for this kind of machine – but they don't push the envelope either. If you want a significant improvement to battery life, then you'll have to opt for notebooks with weaker performance.
The decent battery life and excellent performance mean that we would happily recommend the Dell XPS 15 as one of the best laptops for students, if it wasn't for the high entry price. Speaking of which...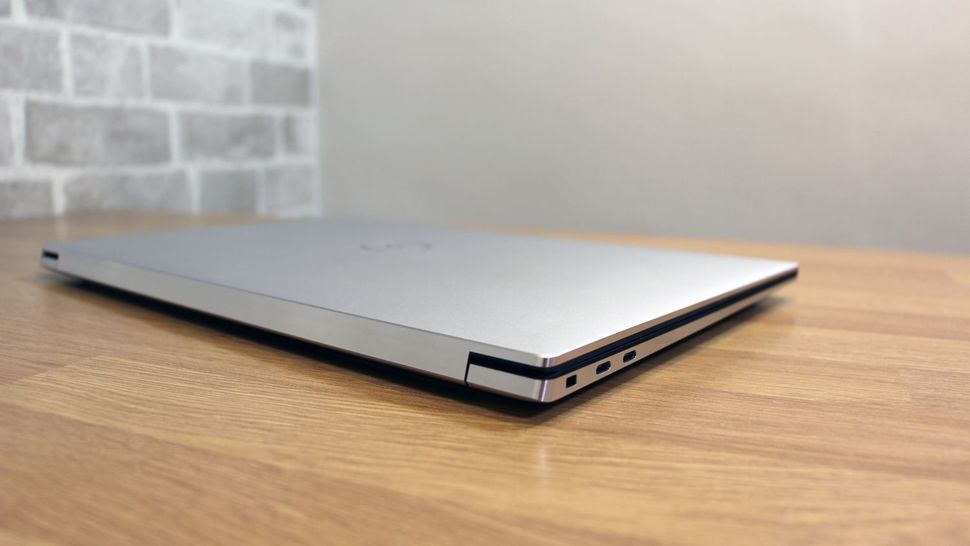 Dell XPS 15: Price
American buyers will typically get better value than their UK counterparts on the XPS 15, but they're not cheap anywhere. The cheapest XPS 15 in the US costs $1,499 and includes the Core i7-11800H, 16GB of memory and a 512GB SSD. It only has Nvidia GeForce RTX 3050 graphics, but it's barely a step behind the RTX 3050 Ti.
Upgrading the American model to the Core i9-11900H costs $400, and it costs the same amount to switch to the high-resolution OLED display. The RTX 3050 Ti costs $100, and the same memory and storage upgrades are available to US customers.
US laptops aren't currently available with the 3,840 x 2,400 IPS display, although that part is likely to come back into stock and re-appear on spec lists.
Also remember that Dell will almost certainly update the XPS with Intel 12th Gen processors. We've detailed the sort of performance gains you should expect, but it's worth waiting if you need every ounce of processing power.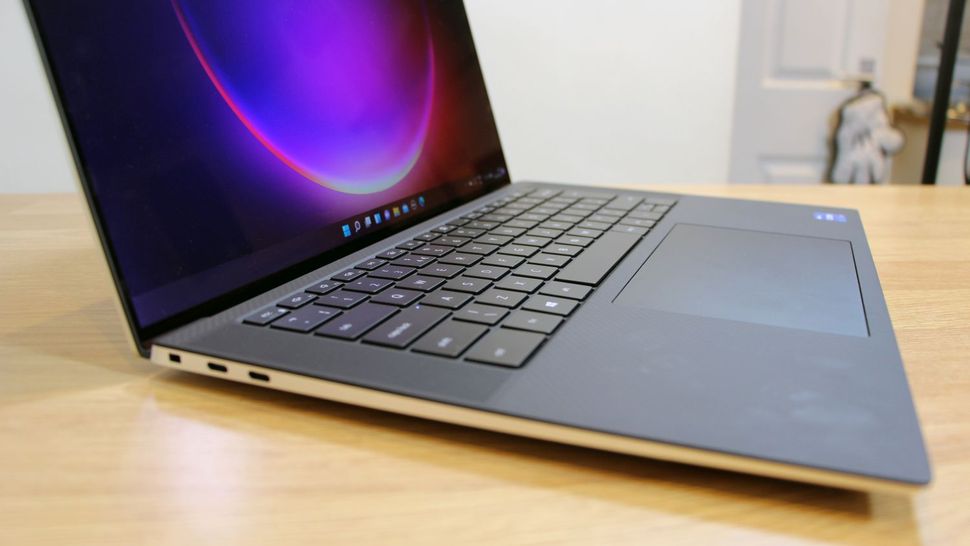 By comparison, the £1,749 XPS is the most affordable UK model available directly from Dell, and it comes with a Core i7-11800H processor, 16GB of memory, and the entry-level display, which is a non-touch IPS panel with a 1,920 x 1,200 resolution. If you want a cheaper option, the XPS is also available with a Core i5-11400H processor for £1,499 at John Lewis, but that machine is only suitable for modest everyday workloads.
As usual, the XPS is upgradeable. It'll cost £450 to deploy the Core i9-11900H processor, and it's available with 32GB or 64GB of memory and 1TB or 2TB SSDs.
You can pay £250 more for Dell's brand-new OLED touchscreen, which has a 3,456 x 2,160 resolution. And if you want an upgraded IPS display with a resolution of 3,840 x 2,400, you'll have to pay at least £2,299 – in the UK, it's only available in laptops with 32GB of memory and 1TB SSDs. No matter which XPS you buy in the UK, you'll get Nvidia GeForce RTX 3050 Ti graphics.
Should you buy the Dell XPS 15?
The Dell XPS 15 has moderate battery life, then, but there's still plenty to like about this laptop. It looks fantastic, it's got great build quality, and its keyboard impresses. On the inside, it's got lashings of processing power and bright, vibrant displays.
It's not flawless, though. The screens could have slightly better color accuracy, physical connectivity is limited, and XPS devices are never cheap.
But if you've got the money and need a good-looking, robust, and powerful work laptop, there aren't many better than the Dell XPS 15.
If this laptop isn't for you?
The Dell XPS 15 has a few flaws: its physical connectivity, color accuracy, and battery life. Happily, several alternatives ably address those issues.
If you demand color accuracy – and if you're happy switching operating systems – then the Apple MacBook Pro 16 is a superb alternative. Its battery will last a little longer, too, and prices aren't far removed from the XPS: Apple's laptop starts at $2,499 in the US and £2,399 in the UK.
If you want to remain with Windows, the Lenovo ThinkPad P15s Gen 2 offers more accurate colors on 4K displays, and that machine has more ports too. Negatively, it doesn't have the sleek looks of the Dell, and it's slower thanks to its low-power processors. Pricing starts at £1,759 and $1,269.
If battery life is your priority, you can sacrifice power and opt for the Dell Latitude 9520, which will last for more than sixteen hours with its larger battery. Expect to pay around £2,000 or $2,000 for a Core i7 model though.
Finally, if you're looking for something with a lower barrier to entry, the Microsoft Surface Laptop 4 starts at just $899 and offers decent specs, excellent battery life, and a stylish design.
Mike is a freelance technology journalist and consultant who is fascinated with gaming, futuristic technology and motorsport. Previously, Mike has worked as a writer for PC Pro magazine writing and published articles on technology for many other media outlets, including TechRadar, Wired, PC Advisor, Stuff, The Inquirer and Red Bull Gaming.