Science news this week: Civil War haul and the moon's hot blob
July 16, 2023: Our weekly roundup of the latest science in the news, as well as a few fascinating articles to keep you entertained over the weekend.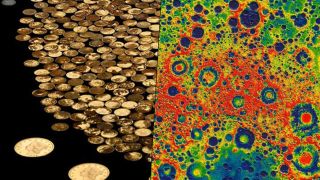 (Image credit: Numismatic Guaranty Co. / NASA/ARC/MIT)
There's gold in them thar hills! Or at least in the farmlands of Kentucky, if you're the lucky farmer who discovered a haul of more than 700 Civil War-era coins buried in his cornfield. The "Great Kentucky Hoard" includes hundreds of U.S. gold pieces dating to between 1840 and 1863, in addition to a handful of silver coins. But that's not the only thing we unearthed this week — there was a giant 300,000-year-old hand ax, a World War II aircraft in Ukraine, an opulent Bronze Age tomb and an elite Roman man who may have come to a grisly death. As if that weren't enough, a hidden "underworld" linked to the Zapotec "cult of the dead" was discovered beneath a church in Mexico.
Back aboveground, we had a baby volcano emerging in Iceland, spiders with bizarre feeding behaviors, a "gravity hole" in the Indian Ocean and a $500,000 chunk of "floating gold."
Even farther up, the moon has been delighting us with more mysteries, such as "What, exactly, is the heat-emitting blob on the far side?" and "How old is the man in the moon? Both answers are a little clearer this week, unlike the night skies, which are being photobombed by Starlink satellites.
As ever, there was plenty more. Did you miss the male monkeys having sex with each other in Puerto Rico, or the "seemingly impossible" number identified after a 32-year search? What about the fuzzy caterpillar with a hideous sting, or this unfortunate person's furry green tongue? If so, make sure you head over to Live Science for the latest science news, and follow us on Facebook, Twitter and Instagram. You can also sign up to our daily newsletter using the form below.
Picture of the week
This stunning shot shows conservationists looking on as an elephant is dramatically hoisted feet-first by a truck, with the giant animal's long trunk dangling toward the ground. It is one of the winners of this year's Environmental Photography Award, the third annual photo contest hosted by the Prince Albert II of Monaco Foundation.
Human settlements are increasingly overlapping with elephant habitats, resulting in problems for both elephants and people. In Malawi's Liwonde National Park, elephant numbers have risen to almost 600 in the past eight years as a result of better law enforcement and security. The local population, which was increasing at a rate of 10% each year, had been spotted raiding crops in nearby villages. Translocation — in which the animals are moved to a different area away from people — is one solution to mitigate conflict in surrounding villages.
"Translocations have come to symbolize the mixed feelings I have about our relationship with the natural world," photographer Marcus Westberg said in a statement emailed to Live Science.
"On the one hand, they are an essential tool for strengthening endangered wildlife populations, bringing them back to areas from where they have disappeared. So, they are worth celebrating," Westberg said. "On the other hand, they are only necessary because we have relentlessly destroyed habitats, blocked migration corridors and hunted wild animals to the brink of extinction."
Weekend reading
And finally…
It's not often we get to celebrate the biggest blockbuster movies of the summer on Live Science, but when renowned filmmaker Christopher Nolan's epic "Oppenheimer" hits the big screen, we'll be first in line with our popcorn and soda in hand.
The biopic follows the story of American theoretical physicist J. Robert Oppenheimer — hailed as the "father of the atomic bomb" — and how, during World War II, he became the first director of Los Alamos Laboratory, established by the Manhattan Project, and led the team that created the atomic bomb.
The film — marketed as a cautionary tale and a reminder of the astounding destructive power of nuclear weapons — is based on the book "American Prometheus: The Triumph and Tragedy of J. Robert Oppenheimer" (Knopf, 2005), by Kai Bird and Martin J. Sherwin. (You can read an excerpt here.) We spoke to Bird about about the physicist's fascinating life and legacy.
So, if you can't wait to book your seats, check out everything you need to know about "Oppenheimer," or discover some fascinating facts about the man himself.
Stay up to date on the latest science news by signing up for our Essentials newsletter.
Editor-in-Chief, Live Science
Alexander McNamara is the Editor-in-Chief at Live Science, and has more than 15 years' experience in publishing at digital titles. More than half of this time has been dedicated to bringing the wonders of science and technology to a wider audience through editor roles at New Scientist and BBC Science Focus, developing new podcasts, newsletters and ground-breaking features along the way. Prior to this, he covered a diverse spectrum of content, ranging from women's lifestyle, travel, sport and politics, at Hearst and Microsoft. He holds a degree in economics from the University of Sheffield, and before embarking in a career in journalism had a brief stint as an English teacher in the Czech Republic. In his spare time, you can find him with his head buried in the latest science books or tinkering with cool gadgets.