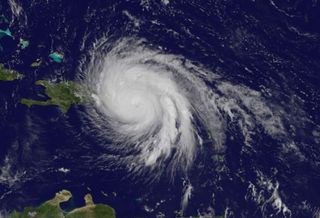 (Image credit: NASA/NOAA GOES Project)
Hurricane Maria, a powerful Category 3 storm that is currently blasting Puerto Rico with rain and winds not seen there in modern history, seemed to come out of nowhere.
The storm underwent a dramatic transformation in less than a day, strengthening from a Category 1 to a monster Category 5 hurricane over 18 hours Monday (Sept. 18). Yesterday (Sept. 19), Maria briefly dipped to Category 4 status before devastating the island nation of Dominica. It then immediately strengthened to a Category 5 storm before weakening again in time for its descent on Puerto Rico.
But how, exactly, did this menacing storm go from a humdrum tropical depression to a deadly force of nature?
It turns out that Maria's compactness, with hurricane-force winds spanning 60 miles across (95 km) is one factor, said Neal Dorst, a meteorologist with the Atlantic Oceanographic and Meteorological Laboratory, part of the National Oceanic and Atmospheric Administration (NOAA). [Hurricane Season 2017 Guide]
"Although it has not been quantified, we have seen in the past that smaller hurricanes will often intensify and weaken faster than hurricanes with large circulations," Dorst told Live Science in an email.
Another factor may be Maria's tiny "pinhole" eye, which evidence suggests can help fuel quickly intensifying storms, one study found.
Short, nasty history
As of 2 p.m. EDT, Maria was just off the northwest coast of Puerto Rico, battering it with maximum sustained wind speeds of 115 mph (185 km/h), according to the National Hurricane Center (NHC). The storm is likely the worst hurricane Puerto Rico has seen in a century, and the entire territory was without power, the BBC reported.
Being petite, it seems, has its advantages if you're a hurricane. That's because, as in other systems, big objects have more inertia than smaller ones, meaning it takes more more time to change its motion. Meteorologists have long noticed that small storms often strengthen or weaken very rapidly, Dorst said.
"This seems to be related to the fact that it requires less energy to accelerate or decelerate a small volume of air versus a large volume of air," Dorst said.
As of the most recent advisory from the NHC, Maria has hurricane-force winds extending 60 miles (95 km) from its eye, and tropical-storm-force winds extend up to 150 miles (240 km) from the eye. Although Maria is impacting a huge area, it's still much smaller than the region impacted by Hurricane Irma, which, at its most devastating point, was battering almost the entire state of Florida at once.
Pinhole eye
Another possible reason Maria gained strength so quickly is the storm's pinhole eye.
"There is not a set relationship of the size of the eye to the overall size of the storm," Dorst said.
But smaller eyes do cause hurricanes to spin more swiftly.
However, since the 1980s, meteorologists have known about "eyewall replacement cycles," in which major hurricanes of Category 3 or greater form an outer eyewall around the primary eyewall, the terrifying outer ring fringing the deceptively placid eye, where violent winds and thunderstorms reign. Both eyewalls then contract, and sometimes, the inner eyewall contracts so far that it becomes a "pinhole" eye, which is defined as 10 nautical miles (11.5 miles, or 18.5 km) across or smaller, Dorst said. Eyewall replacement cycles can cause hurricanes to dip in strength initially, and then surge back just as strong after the process is complete, Live Science previously reported.
In Maria's case, the eyewall replacement cycle meant the peak winds experienced in the storm's tiny eyewall may have dropped, but the overall wind field may have broadened, said Michael Bell, an atmospheric scientist at Colorado State University.
"It's sort of a good news, bad news sitaution," Bell said.
A study presented at the 28th Conference on Hurricanes and Tropical Meteorology in 2008 found that storms that intensified quickly tended to develop these pinhole eyes. Using data gathered by hurricane hunters from 1998 to 2006, the study researchers found that about half of the tropical storms that reach major hurricane intensity had a pinhole eye at least one time during measurement. By the same token, 60 percent of tropical storms that had a pinhole eye did develop into a Category 3 or greater hurricane.
"The pinhole eye is actually one of the signs we look for," Bell told Live Science.
Usually, pinhole eyes are signs that a hurricane can intensify quickly, Bell told Live Science.
Originally published on Live Science.
Stay up to date on the latest science news by signing up for our Essentials newsletter.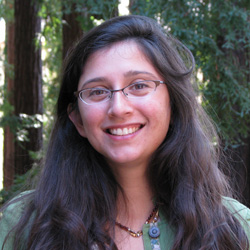 Tia is the managing editor and was previously a senior writer for Live Science. Her work has appeared in Scientific American, Wired.com and other outlets. She holds a master's degree in bioengineering from the University of Washington, a graduate certificate in science writing from UC Santa Cruz and a bachelor's degree in mechanical engineering from the University of Texas at Austin. Tia was part of a team at the Milwaukee Journal Sentinel that published the Empty Cradles series on preterm births, which won multiple awards, including the 2012 Casey Medal for Meritorious Journalism.