CDC Issues New Guidelines for Travelers from Ebola-Outbreak Countries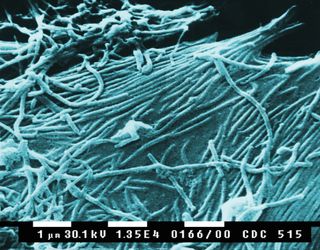 (Image credit: Cynthia Goldsmith | CDC)
In new guidelines for people who enter the U.S. from countries in West Africa where the Ebola outbreak is ongoing, officials recommend that some travelers undergo "direct active monitoring" of their health by public health authorities for 21 days, the director of the Centers for Disease Control and Prevention announced today (Oct. 27).
For example, a public health authority should witness a daily check of some people's temperature, according to the new recommendations.
Travelers will now be placed into four categories, based on their level of risk of developing Ebola, CDC Director Dr. Tom Frieden said today at a news conference. People will be considered to fall into the "high risk" category of developing the deadly disease if they are known to have had direct contact with an Ebola patient, Frieden said. For example, a health care worker who was stuck with a needle while caring for an Ebola patient, or a person who helped to care for a family member with Ebola, would fall into this group.
People at high risk will be recommended to voluntarily quarantine themselves in their homes, and should undergo "direct active monitoring" of their health, Frieden said. This means that, daily, a public health authority should observe the person's temperature check, as well have conversations with the person about how they are feeling. The individual will go through a detailed list of symptoms, and discuss what activities they have planned.
The new guideliness will "increase the protection of the health and safety of Americans," Frieden said. The CDC is "engaging in discussions" with states and local health authorities, which are not obligated to follow CDC recommendations, he said. "If states wish to be more stringent, that's within their authority."
But the new guidelines add "a strong level of protection," for people in the U.S., he said. Rules and procedures that make it difficult for health care workers to return to the U.S. could make it less likely that people will disclose the fact that they are health care workers, he said. [Ebola Virus: Why Isn't There a Cure?]
The second category consists of people at "some risk" of developing the disease, such as returning health care workers who were caring for Ebola patients, or people who had a member of their household develop Ebola, but who did not have direct contact with the sick person themselves. People in this group are recommended to also undergo direct active monitoring, and local public health authorities should determine, based on the person's individual situation (such as exactly what the person's Ebola exposure may have been, and how quickly they could be isolated if they were to develop symptoms), whether the person should be recommended to avoid public transportation, their workplace, or public gatherings, during their monitoring period.
Frieden noted that in a previous CDC study of 78 people in Africa who lived in a household with an Ebola patient, but did not have direct contact with the sick person, none became ill with Ebola. "Ebola only spreads from people who have symptoms, and only through direct contact," he said. The highest risk is seen in people who are caregivers, and in Africa, those who perform certain burial rituals for people who died of the disease, he said.
The third group includes people at "low, but not zero" risk, such as those who traveled in the affected countries, and health care workers in the U.S. who cared for Ebola patients here. People in this group should undergo active direct monitoring, by telephone, with a local public health authority, Frieden said.
The fourth category includes people at "no identified risk" of developing Ebola, such as those who did not actually travel to the affected countries, and have no symptoms of the disease.
The new recommendations come on top of existing measures being implemented to catch travelers who may develop Ebola early in the course of their illness. On Oct. 11, the CDC began screening all passengers arriving at JFK International Airport in New York from the outbreak region for symptoms, as well as possible exposure to people with Ebola. On Oct. 16, four more airports began this screening as well.
Frieden said that before that screening began, it was estimated that 130 to 150 travelers from the outbreak region were arriving daily to the U.S. However, the actual number has been less than 100 travelers daily, he said.
Of the 807 people who have arrived from the region, and who were screened, it turned out that 46 were health care workers returning from the region, he said.
The CDC is continuing to closely monitor the health of Dr. Craig Spencer, who was diagnosed on Thursday (Oct. 23) with Ebola in New York. As for reports today that a 5-year-old boy in New York, who recently returned from Guinea, is being tested for Ebola, Frieden said: "From what we've seen, the [boy's] illness would be quite unusual as a presentation of Ebola."
Follow Karen Rowan @karenjrowan. Follow Live Science @livescience, Facebook & Google+. Original article on Live Science.
Stay up to date on the latest science news by signing up for our Essentials newsletter.

Karen came to LiveScience in 2010, after writing for Discover and Popular Mechanics magazines, and working as a correspondent for the Journal of the National Cancer Institute. She holds an M.S. degree in science and medical journalism from Boston University, as well as an M.S. in cellular biology from Northeastern Illinois University. Prior to becoming a journalist, Karen taught science at Adlai E. Stevenson High School, in Lincolnshire, Ill. for eight years.