5 Cool DIY Tech Trends from World Maker Faire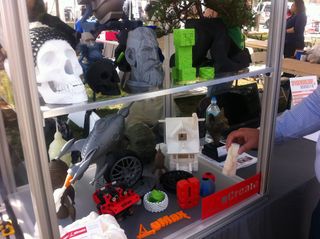 (Image credit: Kelly Dickerson/Live Science)
NEW YORK — About 700 inventors and innovators gathered here at the New York Hall of Science last weekend (Sept. 20-21) to show off cool creations and fun DIY projects at the fifth annual World Maker Faire.
The two-day event, nicknamed "the Greatest Show (and Tell) on Earth," celebrates science, technology and the creative spirit. Innovations on display ranged from 3D-printed spider robots to automated brewing machines that can be linked to an iPhone.
Here are some of the coolest trends in DIY tech from World Maker Faire:
DIY drones
Drones are becoming more affordable, but now companies like "Drone It Yourself" sell kits that everybody can use to assemble their own robotic flyers. [See Photos from the Maker Faire]
Other organizations and companies, including the Brooklyn-based DroneKraft, are helping to connect drone owners and enthusiasts. Drone racing and drone "battling" have also emerged as popular recreational activities.
But as more drones take to the skies, regulating their use will pose new challenges, attorney Brendan Schulman, a special counsel at Kramer Levin Naftalis & Frankel in New York City, said during a presentation at Maker Faire.
The Federal Aviation Administration, the regulatory agency that oversees civil aviation, has its work cut out for it in determining who should be allowed to fly drones, where the devices should be allowed to fly and what kind of tech drones should be permitted to carry.
Art meets 3D printing
Manufacturing isn't the only area taking advantage of 3D printing. Artists are also incorporating 3D printing and 3D-printed parts into their pieces.
Diemut Strebe, an artist who frequently incorporates 3D printing and nature in his work, used 3D printers to build a living replica of Vincent van Gogh's ear, and the London Science Museum has an entire exhibit dedicated to 3D-printed art. This summer, the Brooklyn Museum offered a class teaching middle school students how to design and print their own 3D art pieces.
3D printing is expandingthe art world and opening up a whole new medium for artists to explore, Ana Fernandez, a Brooklyn-based artist, said at a Maker Faire presentation.
Arduino
The Arduino electronics platform helps all users become inventors and design their own high-tech creations, such as simple robots and motion sensors.
The company launched in 2005, but it has taken Arduino a few years to catch on. According to the company's website, "Arduino is a tool for making computers that can sense and control more of the physical world than your desktop computer [can]."
The open-source platform uses a control board, and users can write their own code in C or C++ for the board. Users can purchase these boards pre-assembled or as DIY kits. [Super-Intelligent Machines: 7 Robotic Futures]
Common beginner projects include robots, systems to turn LED lights on and off, simple keyboards, and thermostats.
Unusual wearables
Wearable technologies, such as fitness trackers, are becoming increasingly popular, but many designers sporting nonconventional wearable techmade appearances at Maker Faire.
Kate Hartman, for example, created two wearable-tech hats in front of a live audience during a presentation at Maker Faire. Each hat had a circuit connected to a button sewed onto the garment. When a person wearing one of the hats touched his or her button, the circuit on the other hat would vibrate.
So, if a person gets off topic or is in danger of losing a client during a business meeting, the speaker's partner could use the button to signal the danger, Hartman said.
"Conversation at a cocktail party or business meeting only represents a small part of the communication that's going on," Hartman said during the presentation. "A lot of it is nonverbal, and these wearables can add a whole other dimension to nonverbal communication."
Other inventors at Maker Faire shared ideas for wearable Wi-Fi accessories. The Wi-Fi receptors could be embedded in things like hair clips or wristbands and give users a hands-free wireless connection wherever they are.
Interactive music
Several inventors at Maker Faire are working on ways to make music a more interactive experience.
Ototo, a synthesizer and "musical invention kit," allows users to create their own instruments out of any object. The small synthesizer board has sound-producing buttons arranged like a keyboard; it also includes a speaker, along with a headphone plug and USB plug.
People can hook the synthesizer up to a pipe, a piece of fruit, a chair or any number of other items using an alligator clip — and the object becomes a musical instrument. Users can even create a drum set made of fruits or turn a pipe into a crude-looking clarinet.
Another musical interactive project called Smomid links homemade musical instruments to light displays and robots that flash and move as the user plays music.
Follow Kelly Dickerson on Twitter. Follow us @livescience, Facebook & Google+. Original article on Live Science.
Stay up to date on the latest science news by signing up for our Essentials newsletter.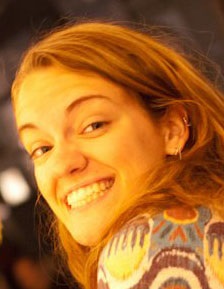 Kelly Dickerson is a staff writer for Live Science and Space.com. She regularly writes about physics, astronomy and environmental issues, as well as general science topics. Kelly is working on a Master of Arts degree at the City University of New York Graduate School of Journalism, and has a Bachelor of Science degree and Bachelor of Arts degree from Berry College. Kelly was a competitive swimmer for 13 years, and dabbles in skimboarding and long-distance running.