How Soy Supplements May Affect Breast-Cancer Genes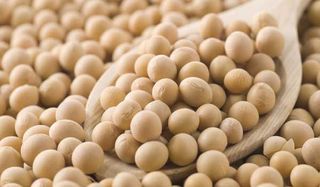 (Image credit: Ockra | Dreamstime)
Taking soy protein supplements may lead to some concerning genetic changes for women with breast cancer, a new study suggests.
In the study, half of 140 women diagnosed with invasive breast cancer took soy protein powder and the other half took a placebo for between seven and 30 days before they had surgery to remove their cancer. The researchers compared tumor tissues from before and after surgery, and found changes in the expression of certain genes that promote cell growth among women in the soy group and that could potentially accelerate breast cancer progression.
"These data raise concern that soy may exert a stimulating effect on breast cancer in a subset of women," the researchers wrote in Sept. 4 issue of the Journal of the National Cancer Institute. [6 Foods That May Affect Breast Cancer Risk]
However, the researchers do not know if these changes in the expression of some of the genes are reversible, said study author Dr. Jackie Bromberg, a breast cancer oncologist at Memorial Sloan Kettering Cancer Center in New York.
"We do not know what the consequences of taking soy for longer [periods] or taking higher amounts of soy, would have on the biology of a breast tumor," Bromberg said. The study also did not look at the effects of soy on preventing breast cancer.
Additionally, the researchers did not observe any changes in the tumor's rate of growth as a consequence of soy, Bromberg said.
The researchers cannot extrapolate their findings to suggest that taking soy is 'good' or 'bad' for women, Bromberg said.
In the study, conducted between 2003 and 2007, almost 61 percent of women were postmenopausal, and their average age was 56- years-old. The women were instructed to take two packets containing 25.8 grams of protein powder a day, or a placebo.
Previous research on the relationship between soy supplementation and breast cancer has yielded conflicting results. For example, some studies in Asian populations have shown that soy consumption was related to a lower risk of breast cancer incidence and recurrence, the researchers said. However, soy intake was unrelated to breast cancer risk in a number of other studies in western populations. Still, patients with breast cancer are often advised to avoid soy foods, the researchers wrote.
"I think the study provided preliminary evidence that soy supplementation can affect gene expression in breast tumors," said Dr. Michael S. Cowher, an associate staff and quality improvement officer at Cleveland Clinic's Breast Services, who was not involved with the study. "However, evidence is still lacking on any outcomes" of this change in gene regulation when it comes to the patients' survival, recurrence of breast cancer, or response to therapies such as chemotherapy, Cowher told Live Science.
"We still don't know whether or not soy supplementation is beneficial or harmful to patients with breast cancer," Cowher added.
"For the individual patient with breast cancer, soy intake is part of the discussion to have with your doctor regarding potential modifications," Cowher said. "I generally advise both patients with and those at higher risk for breast cancer to avoid excessive soy intake, but remind them that it is possible that future research will find that for some patients soy supplementation may be beneficial, while harmful to others."
Follow Agata Blaszczak-Boxe on Twitter. Follow LiveScience @livescience, Facebook& Google+. Originally published on Live Science.
Stay up to date on the latest science news by signing up for our Essentials newsletter.